Writer: Jed MacKay / Artist: Stefano Landini / Marvel Comics
Pain and fear cause utter turmoil in our hero's mind. They get the opportunity to embrace their loved ones who want him to have a normal life but they'll never be safe. The melodrama tears our hero apart. That's right ladies, gentlemen, and the gender nonconforming . . . it's time for a Daredevil comic. Man Without Fear #2 continues the aftermath of Matt Murdock's devastating auto accident; breaking a body that despite being a honed weapon, has become fragile from injury after countless injury. Last we left, Murdock had come out of a coma that was a triumph over his own fear that would protect his body out of self-preservation with a comatose state.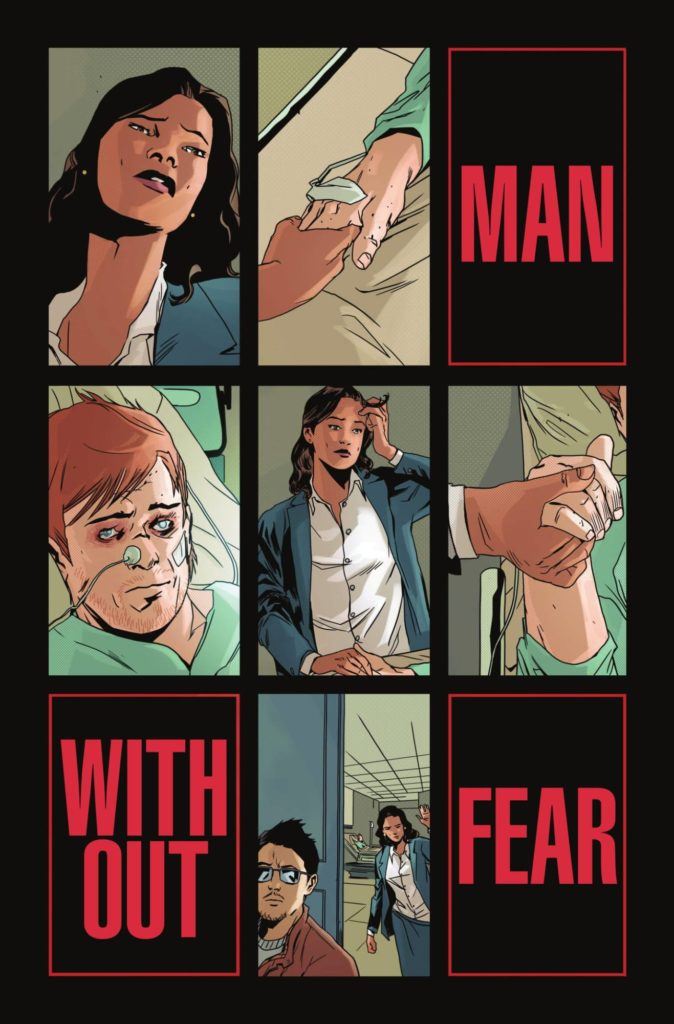 In this issue, MacKay and Landini take us through the next portion of Daredevil's recovery or lack thereof. Unable to walk and reflecting upon his battered state, Murdock seems closer than I've ever read to giving up the mantle for good. Matt's most recent love interest, aside from a brief night a passion with Electra, returns to him and offers to stay by his side through an arduous recovery.
Inclined to take the offer, his two minds are well represented by Foggy and Blindspot. The former is elated at the prospect and the latter says, "Fuck that. You get your ass back on those rooftops". That night a mediator helps him through at least part of the decision in the form of his embodiment of fear from the last issue. The skeletal, yellow costumed figure brutally guides him through his grisly thought process that lands him on a predictable decision. What is in store throughout his recovery, though, is very much in the air.
I mentioned last time that this is a regular part of the Daredevil ebb and flow. The journey from low point to fighting shape is a normal hero troupe but it is always the perfect time for a reflection on the core of the character. While longtime readers can tire of this, I'm glad newer comic nerds inspired by the Netflix show get to experience it here. The highlight of this rendition is the same as last issue in the horrifying embodiment of Daredevil's fear. The low point is the artist's decision (bizarrely unlike the last issue) to make Foggy look exactly like the Netflix show's character. Creative choices aside, though, I enjoy taking the trip through this superhero journey's trough.
7 Lady Stilt-Mans out of 10
Reading Daredevil? Find BNP's other reviews of the series here.
Are you following Black Nerd Problems on Twitter, Facebook, Tumblr or Google+?