Hip-Hop homage to nerd culture video number fucking one: ALL CAPS by MF DOOM! Say something, I dare you! (I thought so.) ALL CAPS has everything a growing nerd needs. Bomb ass MadLib-produced jazz standard sampled track? Sound like you got Chick Correa and Roy Ayers in your headphones taking cues from Miles Davis. Boom.
ALL CAPS had MF DOOM dropping wild crazy NYC-related bars about a time long lost in the annals of Hip-Hop. This is a deep cut backflipping off another deep cut into an even deeper cut. The levels are stupid on this track and the video that went with it was godlike! Below: MF DOOM busting through these meta ass levels.
This joint was bleeding edge geek coolness. The album was titled MadVillainy (a personal favorite), and the whole shit is a concept album told from the perspective of two villain archetypes: the nemesis (Bane) and the antithesis (Joker). Album cover: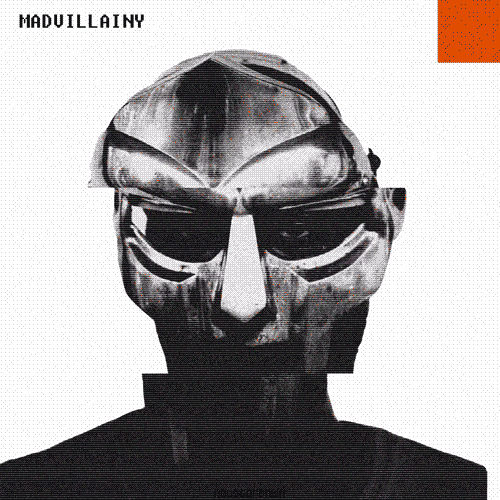 "All bets off! The Villain got the dice rigged"
The video for ALL CAPS tells the story of how two innocent men become changed by fate and circumstance (by science!) to become misunderstood by society at large; as the villainously perceived duo: MadVillain!
Somebody. Did. Their. Homework. 'Cause this video looks like some secret project Jack Kirby left in a cryogenic safe that could only be opened by Stan Lee's breath or Jon Romita's thumbprint. It even had the little commercials for the scammy 'send me your money' products that offered you nothing in life but buyer's remorse! The artwork is hella brilliant!
You could swear they took the whole aesthetic out of the 70s Fantastic Four with the fly ass squiggle lines from the old-school idea of what the future would look like. Seriously, what exec at Stones Throw had to cut the brolic check for the New Gods' look, not to mention the crisp ass animation, and the lettering of course: in ALL CAPS! Peep the video below, and rest assured that if you're not up on ALL CAPS you're losing. Like a 'super-hyper-combo-finish leading into a stage-specific fatality with a perfect' losing, ya dig?
Are you following Black Nerd Problems on Twitter, Facebook,Instagram, Tumblr, YouTube or Google+?