Great movie was great! That's my review. Go see it.
Okay, they're telling me I need to write more than that… gurl, I guess…
When Moana was first announced, as a Disney Kid of Color I was that heady mix of hopeful, optimistic, cautious, and fatalistic. Non-white Disney heroines are so few, each one holds the weight of the entire culture she represents on her shoulders. It's an impossible charge and one that Disney's often mostly white creative teams mishandle in some ways. Thanks to social media amplifying so many marginalized voices that otherwise would be ignored in the rooms where decisions are made, some of these films have more nuance and respect for the people they depict. Is it always enough? No. And we need to hold these studios accountable when they fall short.
So with all of this in mind (and fresh off a viewing of Fantastic Beasts' all white e'rythang) I stepped into a screening of Moana. And, lawd, were my spirits lifted. Any praise I heap upon this movie in no way negates any criticisms from Polynesian people. Is Moana a fantastic movie? Yes. Does that mean it can't be problematic? Absolutely not. So listen when people speak up and acknowledge the good and the bad. That said, REVIEW TIME!
Moana is fun and I loved every minute of it. Let's state that first and foremost. There's sight gags, pratfalls, and jokes to keep the kids laughing. There's a few pee jokes included but I can let those slide in the name juvenile humor in a film for…juveniles. I'd be interested to see the original script penned by actor and director Taika Waititi but I think Jared Bush's final screenplay tells the story masterfully. We sail through the Hero's Journey with Moana, daughter of a chief and a hero through and through. It's what makes this film a great time for kids craving action and adventure or a fairytale journey. There are no gender norms here, just a film helmed by a heroine every bit as capable as we expect heroes to be. It's nice to see the genders reversed in the "student becomes the master" trope and watch Moana learn, master, and save the day on her own terms again and again. And despite men (lovingly) telling her she's wrong to try.
Current Disney darling Lin-Manuel "MacArthur Genius" Miranda, Te Vaka founding singer and songwriter Opetaia Foa'i, and Hollywood composer Mark Mancina craft a gorgeous flow of songs with Mancina handing us a driving score that leads your heart along on a string. And I promise you'll be happy to take the trip. One of Miranda's lesser-acknowledged superpowers is writing songs that play to a performer's vocal strengths. The English and Tokelauan language lyrics blend beautifully and the driving drum lines cut straight to your heart, a steady pulse that pulls you deeper into the adventure. Newcomer Auli'i Cravalho's voice soars and you fly along with the daring adventurer, finding strength as she does, feeling fear and hope and despair right along with her. Jermaine Clement is delightfully menacing as Tamatoa, possibly a little too frightening for some little ones so hold them tightly in the realm of monsters. And y'all, why y'all ain't tell me Dwane "Box Office Platinum" Johnson can sing? I feel like y'all betrayed me by not preparing me for this turn of events.
The stunning animation keeps eyes glued to the screen. The stunning blues and greens of the sea and islands contrasted with the clothing of the Motunui Island tribe are so lovingly rendered in brilliant colors. Spring the extra for the 3D experience (you won't often hear me say this because ya girl wears bifocals). The ocean, a fully-expressive character in its own right, MUST be experienced in full dynamic 3D. The boss battles spark and stun but may prove a little intense for really young viewers. Be prepared to comfort (real-talk, you may be a little unnerved too, no shame in that, fam). And be ready for an obsession with HeiHei the chicken, (justifiably) named the "dumbest character in the history of Disney animation" by director Ron Clements and voiced delightfully by internet darling Alan Tudyk.
If you haven't seen this movie yet, immediately stop reading this review and go see it. Like now. Get your family and go. Buy the soundtrack, pre-order the Blu-Ray and DVD special edition with the downloadable digital copy. Seriously. This 113 minute exciting, encouraging, emotional, harrowing, heartbreaking, hopeful adventure must not be missed. I left the theater with my heart so full. Go now and see Moana, this beautiful brown girl who saves her home and reminds herself and everyone around her who they truly are. Man, I'm getting emotional all over again.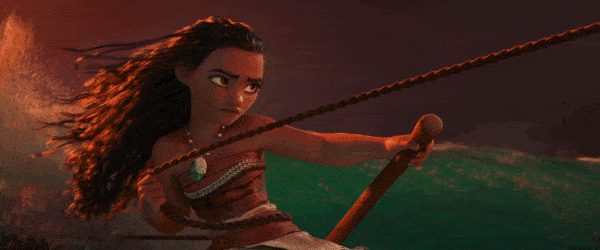 9 Maui Transformations Out of 10 + ½ a Point for a Shark-Head + ½ a Point for Shark-Butt
Are you following Black Nerd Problems on Twitter, Facebook, Tumblr or Google+?