Writer: Majorie Liu / Artist: Sana Takeda / Image
It's been quite a while since I have caught up with critically acclaim Monstress, having resigned myself to keeping up with the ongoing with trade paperbacks. The epic fantasy world that Liu and Takeda built together is truly one of the more iconic realms out in the market today, and I always think back to the visceral memories of the first read through the gorgeous and haunting first volume. Of course, when Monstress: Talk Stories came through my feed and I saw the familiar face of Kippa on the cover, I decided to see what the short two-shot was about and get myself excited to catch up for the series proper. And get excited for the series proper, I did.
While I was admittedly unfamiliar with how this Talk Stories fits into the overarching narrative, Liu does a fantastic of establishing the mood of the framing device and transition into a one-off story that can be appreciate on its own. As Kippa recounts the best thing she's ever eaten, we get a glimpse back to her childhood and some insight into how she grew up.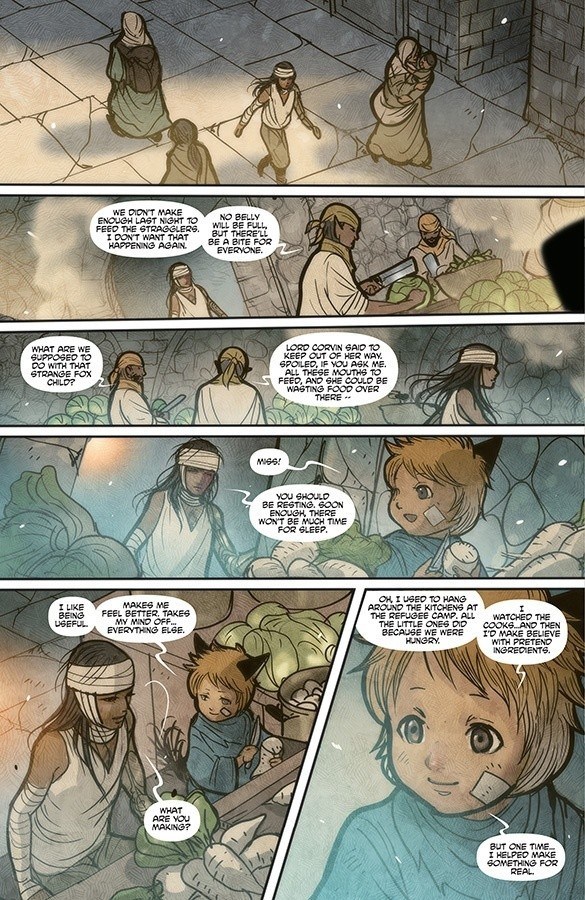 Liu tells a touching story about survival and friendship in a desolate place, all within the trappings of the Monstress universe and the story is resonates. Kippa's hardships and struggles with hunger and survival hit hard and hit home. And Takeda's artwork is top notch. All of the illustrations in the book are just fantastic, between the phenomenal pencil work and the dreary colors that help sell the atmosphere of the book as a whole.
As an individual story, it holds up because of the universality of its message, but also how it incorporates and embraces the specifics of the universe. I can only imagine that the fans that have been keeping up with the series proper probably have an even greater appreciation for the interlude before Monstress returns. It certainly did its job and I'm adding the missing volumes of my collection to my pull list immediately.
8.8 "Soups" out of 10
Want to get Black Nerd Problems updates sent directly to you? Sign up here!
Follow us on Twitter, Facebook and Instagram!