Writer: G. Willow Wilson / Artist: Adrian Alphona / Marvel Comics
We're at the second to last issue for the first installment of Kamala Khan's fulll album, and track 18 featuring Carol Danvers is that plot moving piff. For those not so slang inclined, we've reached a great turning point this issue. Kamala's ex-crush (no killa) Kamran abducted her brother Aamir and tried to unlock his inhuman gene but the mist he is using is Terrigen. Which makes me question where one would acquire knock off mutagen gas unless since it's the end of the world the black market is having some kind of discount sale.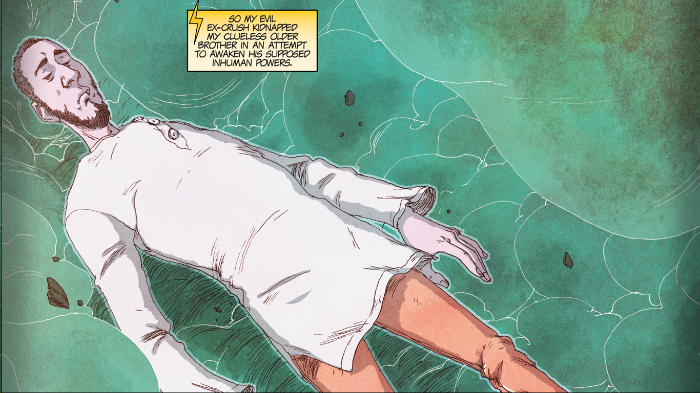 Jokes aside, G. Willow Wilson (G. Dubs),  Aamir takes center stage this issue as he comes to and has to deal with these strange new developments that have been thrust upon him. However, the biggest issue is Kamran himself. Aamir's laid back nature (which is very similar to Naruto's Nara Shikamaru) is out the door this issue. His older brother level is at +999 and he gets all up in Kamran's grill QUICK! Aamir ain't here for any of his mansplaining, victim blaming, or meticulously ironed cardigans. Aamir shows a side of himself that Kamala (as it appears) rarely seen, although he is rough on her and her actions at times, he is always on her side. We also get to see a lot more of who Aamir is as a person as well.
It was nice to see our two main heroes take a back seat as a supporting character gets that development upgrade. The ending tho? Oooooooooooh Lord that ending is showing something that may come to be the norm of this new generation of heroes and I am fucking with it.
Alphona's art is incredible as always, particularly in how Aamir's powers manifest. The ability looks new and protective somehow to both the audience and Aamir himself as he manifests it (unknowingly).
My favorite scene from this issue was actually a shot of Jersey City as the incursion is about to happen. The focusing on the scenery was an important and needed visual. This is creative team made it damn near impossible for you to get through an issue of Ms. Marvel with a reaction of "Eh". As they've done for the entire series G. Dubs and Alphona have moved the story and characters at an incredible pace building up Kamala's legacy as well as supporting characters coming into their own.
9.3 bootleg Terrigen Mists out of 10
Are you following Black Nerd Problems on Twitter, Facebook, Tumblr or Google+?