Writers: G. Willow Wilson, Saladin Ahmed, Rainbow Rowell, and Hasan Minhaj / Artists: Nico Leon, Gustavo Duarte, Bob Quinn, Elmo Bondoc / Marvel Comics
After 4 years, Ms Marvel has made it to 50 issues! (That's in total, not #50, just to be clear. We don't count that high at Marvel anymore.) This celebratory double-sized comic is the joy you expect it to be, especially considering the 3 guest writer/artist teams that G. Willow shares these pages with. Joining Wilson and Nico Leon are, in order:
Saladin Ahmed (Black Bolt, Exiles) and Gustavo Duarte on art
Rainbow Rowell (Runaways) and Bob Quinn on art
Hasan Minhaj (The Daily Show, Homecoming King) and Elmo Bondoc on art
That's a stellar writing cast of diverse styles and voices, which works perfectly inside the frame story written by Wilson. That frame is Kamala trying to have a sleepover with her best girls — Zoe, Nakia, and Mike. She needs to unload the latest drama of her life to them: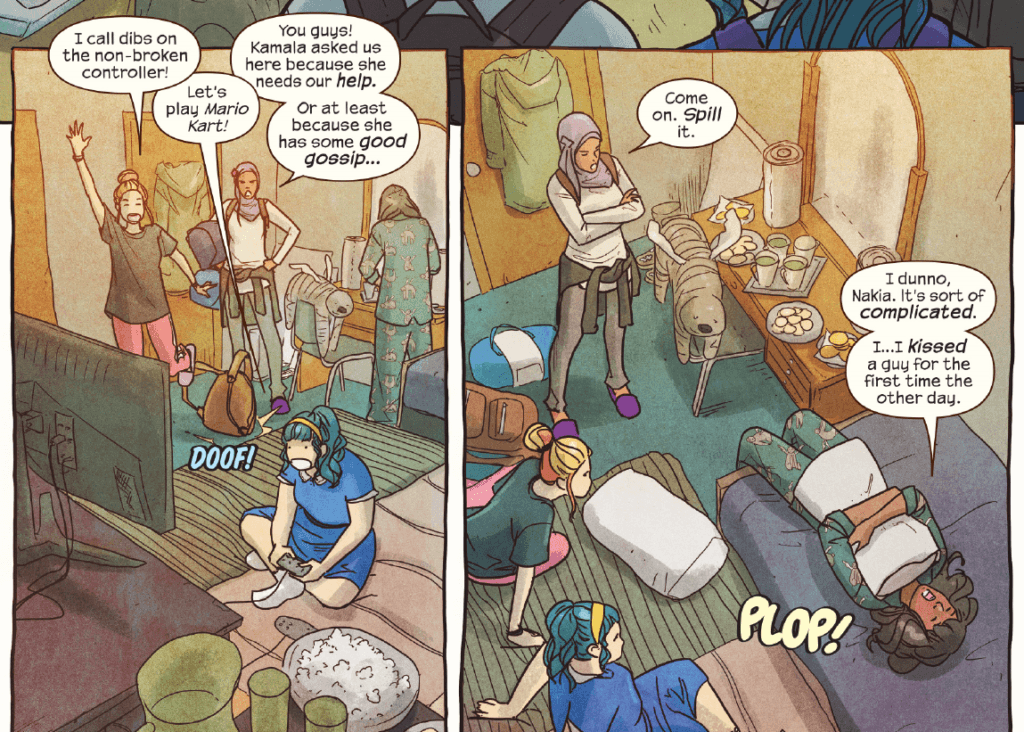 But in typical fashion, ever time she's about to dish the dirt, she's called away to do some superhero-ing. First, she has to help Lockjaw.

Ahmed handles this mini adventure perfectly, and even seems to be poking fun at perpetually serious Inhumans in general. This bit is anything but serious.
Kamala returns and orders pizza, only to find out that the Pizza Delivery Person is not who they appear to be.

This story from Rowell starts out humorously but turns to heartbreak inside of 5 comic pages. This is how her Runaways comic reads, so you should get on that one immediately.
Lastly, once the pizza situation is handled, Kamala gets a text from her co-genius teen across the Hudson, Miles Morales.


In the hands of Minhaj, their friendship deepens and drives Kamala to some realizations about her friends and, dare I say it, her loves?
As always, it comes back to her crew.

We members of the Kamala Korps continue to fan for Ms. Marvel so faithfully that there are plans to have Kamala on the big screen in the next few years. She's featured in the Avengers Assemble animated series and Lego Marvel Super Heroes 2. She's in graffiti in San Francisco and in the Merriam-Webster dictionary. But the bigger news is the fact that Ms. Marvel made it here at all. In a country that demonizes Muslims and Immigrants with equal measure, Kamala Khan's story seems doubly doomed. Khan's story is unbelievable not because she's touched by terrigen mist but because Those People's President wouldn't have allowed her and her family into Jersey in the first place. And her friends? Queer or traditional, religious or atheist, all revolutionary in their own special way — these are the voices that Those People would stamp out, would erase entirely from our country's narrative. But Kamala and her friends are still here in this comic, just like we, the people they are based on, are still here.
I can't overstate the significance of Ms. Marvel. In the words of Sana Amanat, the editor for the comic:
Kamala literally and figuratively stretches across barriers that attempt to divide and destroy. She saves us by bringing us together and asks us to do the same."
That's hard work, which Kamala does with humor and heart and awkward grace. You're already a fan, you know all this. And if you're not a fan, if this is the first Ms. Marvel comic, welcome to the club. As good as this special issue is, the rest of the series is just as entertaining.
9.5 Flying Sloths out of 10
Want to get Black Nerd Problems updates sent directly to you? Sign up here!
Follow us on Twitter, Facebook,Instagram, Tumblr, YouTube and Google+.