Season: 4 / Episode: 16
Yeah, I know, it took sixteen episodes, but we finally getting some quality times with the best boys Todoroki and Kacchan. They trying to get their provisional licences and bruh, I think they would rather have fought Overhaul than this assignment. And yes, everyone is as we left them. Todoroki just trying to chill and do the job with as little drama as possible. But Kacchan is ON SIGHT. Like, with muthafuckas you ain't even supposed to be fightin'. Like, how are you pissed off that people trying to be friends with Todoroki, LOL? What are we doin' man?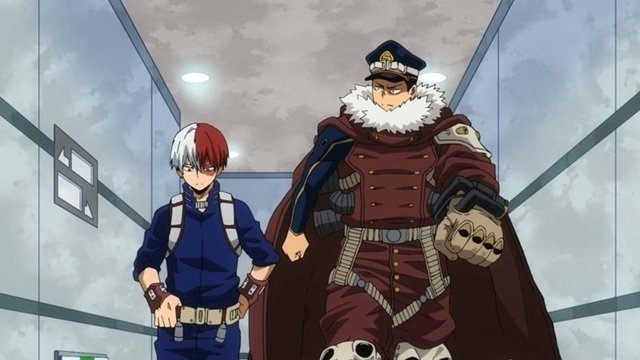 To spectate this, Present Mic, All Might, and Endeavor walk up in the spot. All Might wants to keep a low profile, and Endeavor honors that by shouting out his son from the nosebleed section with a damn megaphone. Bruh. Endeavor is the worst soccer dad.
Of course, Inasa remembers when Endeavor pushed your boy to the ground when he was just trying to get an autograph. I'm sure that won't come up again…
We got 11 students training today, up from 10. Apparently when Camie got jacked by Himiko, it put her out of commission. So now, she retaking this shit.
Man, Gang Orca walked in like Solomon Grundy with a Don Corleone mentality. So fresh and so fuckin' clean. First thing he do is kick Kacchan, Todoroki, Camie & Inasa the fuck out. He like, yeah, your combat is cool, but your heart is actually trash. So, they got training for that specifically. Mostly, a bunch of little ass kids. Terrors. The things that go bump in the night and ask for some warm milk while you sleeping. They done unleashed a bunch of elementary school kids on our heroes and basically said, work that shit out.
These little kids are WYLIN. They callin' Bakugo "Bomb." They callin' Todoroki "wee-wee."
They just taking turns punching Inasa. And…being extremely perverted with Camie. Like…sigh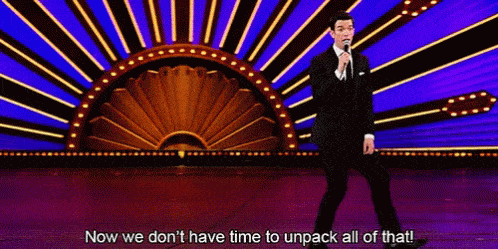 And because this shit needs livened up, Present Mic gotta start reporting on this shit. Through all the lighthearted madness, we get a poignant moment between Endeavor and All Might. Even though Endeavor is now the number 1 hero, he knows he's not the symbol of peace. Something is missing in the public trust, and he doesn't know how to reconcile it.
Back to our young heroes, they still out of their depth. They done stole Kacchan's gauntlets and playing with those shits like they were Plushies. The young heroes finally decide they need a plan, and you can guess how that shit goes with their differing personalities. Your boy Bakugo really challenges these kids to a fight.
BUT WHO IS THIS BOSS BABY BASTARD IN THE CORNER MAKING POWER MOVES?!? My dude shooting down all of Bakugo's attempts. Inasa tries to be nice to everyone and guilt the kids into being nice. He talkin' about you can't become a hero if you make trouble for your teachers. But then the kids are like, but didn't you make trouble for them by failing before and having this class be made especially for you, so you can't become a hero either, right?
Jesus.
Bakugo is fed up. He's like, the time for violence is now. I want to remind you, he's talkin' about fighting a group of eight-year-olds. This shit is hilarious. Todoroki tries to say that's not the way, and Bakugo is like, well that's how I was raised.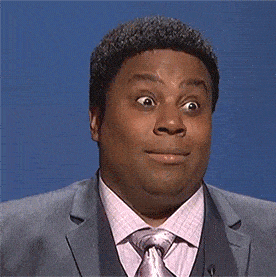 Todoroki is like, well, we just need to talk to them. Let me break it down for them. Fam, the only thing broken down was their attention span. I love Todoroki. We all love Shoto. But your dude got the character of an Iowa paper ballet.
Finally Camie is like, shouldn't we just demonstrate our quirks to them?
Bruh, this looks like the dopest Avengers style action shot. But it's even more hilarious when you see they are powering up to take on some pre-pre teens.
And apparently, that's what the kids been waiting on. They like, what y'all punk ass heroes gonna do with them punk ass quirks. Maaaan, listen. I never thought I'd be excited to see a showdown between some of our favorite heroes and some third graders, yet, here we are. Here we are.
Watching My Hero Academia? Check out BNP's other reviews of the show here.
Want to get Black Nerd Problems updates sent directly to you? Sign up here!
Follow us on Twitter, Facebook and Instagram