A few years back Nickelodeon launched "The 90's Were All That," a two-hour block hosted by Nick alumnus Kenan Thompson that aired reruns of classic 90's/early 2000's children's programming. Needless to say the block ended up doing numbers fam, and in its first week alone the block increased ratings between eight and sixty times the networks previous ratings from past weeks and became a trending topic on social media. Well it looks like Nick got the message, as the network is currently considering revisiting some of its classic catalog for the next generation.
As Russell Hicks, Nickelodeon's President of Content and Development, told Variety [quote_simple]"We are looking at our library to back ideas, shows that were loved, in a fresh new way. We are ready to bring back some of the shows that fans asked multiple times to bring back."[/quote_simple] Hicks also mentioned that although everything (read: some of your favorites) won't get picked up to full series, but they could possibly air as movies or TV specials. Over at Disney, this format is currently working wonders for the Toy Story franchise so it's no surprise that Nickelodeon wants to head in that direction. I think that format could work wonders for shows such as Invader Zim; a show that is currently getting a spiritual successor in the form of a comic book, or Rugrats, which has already been given 9 seasons, 172 episodes, three films, 2 spin-off's, multiple specials, numerous awards and its own star on the Hollywood Walk of Fame. We at Black Nerd Problems know how hard it is to concoct fire content (though we do make it look effortless, don't you agree?) so we thought we'd give the House that Spongbob Built a hand in retooling a few selections from their catalog for the next generation. Dear Nickelodeon, please cut the check accordingly.
100 Deeds For Eddie McDowd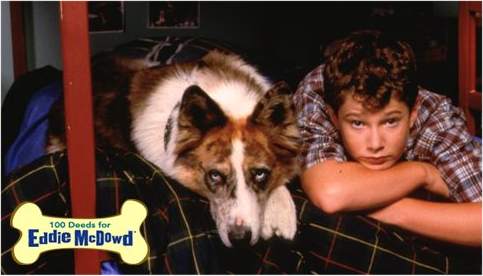 From 1999 to 2002, Nickelodeon aired 100 Deeds For Eddie McDowd, a sitcom about a bully who is turned into a dog by a drifter and sent to live with the family of the last kid he tormented as punishment for his misdeeds. The only way Eddie can get changed back into a human is to perform one hundred good deeds. The series was a bit wacky and alienating, but nevertheless ended up getting three seasons before it got the axe (by the time it got cancelled poor Eddie had only performed about 60 good deeds). It's only right that a premise as animated as this be turned into an animated series. Look if Nickelodeon can make an animated series about a family of Fairies disguising themselves as goldfish work then a animated series about a talking dog performing good deeds to lift the Based God curse is light work, fam.
Rocket Power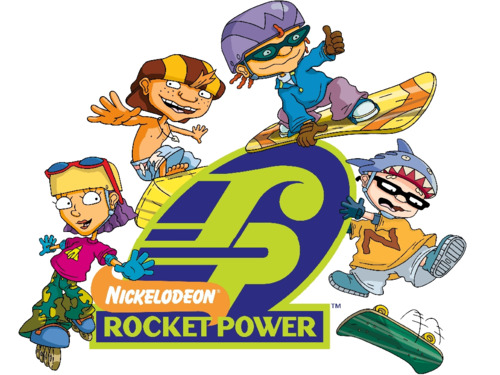 I know, I know, you're probably asking yourself "Gee, we sat through an epic race across New Zealand, a Tony Hawk cameo and the wedding of Otto and Reggie's dad. What more could this series have to offer?" Disney's "Girl Meets World" (Yes, I watch GMW, shut up or fight me!) shows me that people get older, old plot threads need to be revisited in order to tie up loose ends and in exchange the character gains a sense of peace. I would like to think Otto would have grew up to achieve his dream of becoming a pro extreme sports athlete. What if he had gotten hurt? What if the damage was too severe to fix entirely and he had to retire early? What if Otto's older sister Reggie (who runs the most successful extreme  magazine in the entire Western hemisphere) gave Otto a loan to buy and renovate their old stomping grounds from when they were kids; Madhouse Skate Park. I wouldn't watch a full series of that, but a 70-90 minute TV movie? I can make time for that. C'mon Nick, I just did at least 60% of the leg work on this one. Make it happen.
The Wild Thornberries
From the late 90's to mid 00's, The Thornberry clan entertained and educated the masses for over 92 episodes and a movie (and a half?). The shows premise was pretty simple: Girl travels the globe with her family. Girl secretly gains the power to talks to animals from a half naked fat guy. Girl's powers yields mixed results, which most times lead to something happening to her parent's motor home (traveling down a waterfall, getting stuck in the mud, falling off the edge of a cliff) or leads to her family narrowly escaping a horrific death caused by the animal of the week. Rinse, wash, and repeat. Any addition to the series has to be a soft reboot continuation as the groundwork has already been established.
The revamp could kick off with a made for TV movie. Nigel's nature show is getting low ratings and on the verge of being cancelled *cough* again *cough*. Nigel realizes he has to bump it up a notch, drags his family in search of the fabled Megalodon. The largest shark known to man that went extinct yet some scientists still believe an ancestral successor is still out there. Air it during Shark Week, BOOM, that's your ratings right there.
All That
It was a sketch comedy show, performed by talented teen actors, on arguably one of the most successful children's networks ever..uh why was this show cancelled again? If SNL can still drag its ass onstage and perform after forty years of being on the air (Oh look, Justin Timberlake is hosting… again… yay?) then there is no excuse as to why All That couldn't do the same thing. We were so blessed to sit through so much talent back then. Remember the joy you felt sitting back watching Ask Ashley, Superdude, Repairman, Randy & Mandy, Vital Information, Pierre Escargot and The Inconvenience Store? What kind of monsters would we be if we didn't at least try to give the new generation a chance to achieve sketch comedy greatness.
The Game Shows. EVERY.SINGLE.LAST.ONE.OF.THEM.
Over the course of the past two Presidential term, our beloved First Lady Michelle Obama has been fighting diligently to combat childhood obesity and urging children to put down 2k and go outside to shoot real hoops instead. Let's face it, while her intentions were noble her battle was always an uphill one. I mean, McDonald's is launching an all-day breakfast. Did we really need an all-day breakfast? (He asked while smuggling two McGriddles under his shirt). No, if Michelle Obama wants to get America moving again she gotta host a two hour block of revivals of some of our favorite game shows from yesteryear. I'm talking Wild & Crazy Kids, Legends of the Hidden Temple, BrainSurge, Double Dare, Figure It Out, Slime Time Live, Guts "D-d-do-do you have it?" Bring em all back and let's hope life eventually imitates art.
So what shows do you hope that Nick brings back?
Sound off in the comment sections below.
Are you following Black Nerd Problems on Twitter, Facebook, Tumblr or Google+?