writer: Kurtis J. Wiebe / artist: Stjepan Sejic / Image Comics
Straight out of the gate I need to be honest about something.
Are you ready?
Here goes.
*deep breath*
I LIKE STJEPAN SEJIC AS THE ARTIST AND HOPE ROC UPCHURCH NEVER COMES BACK.
PHEW.
Glad I could get that off of my chest.
Because seriously, before I get started gushing over the writing of this issue, I need to praise the artwork. Sejic is putting his foot in these panels, and every page is both delightful and delicious to behold. The tiniest details are captured so wonderfully, but it's the expressions and body language he gives the characters that I'm just in love with. Slight eyebrow cocks here, snarky smirks there…it's glorious. From action scenes to emotional up close and personal moments, he's doing some amazing work. I'm SUCH a fan.
Ok. On to the story.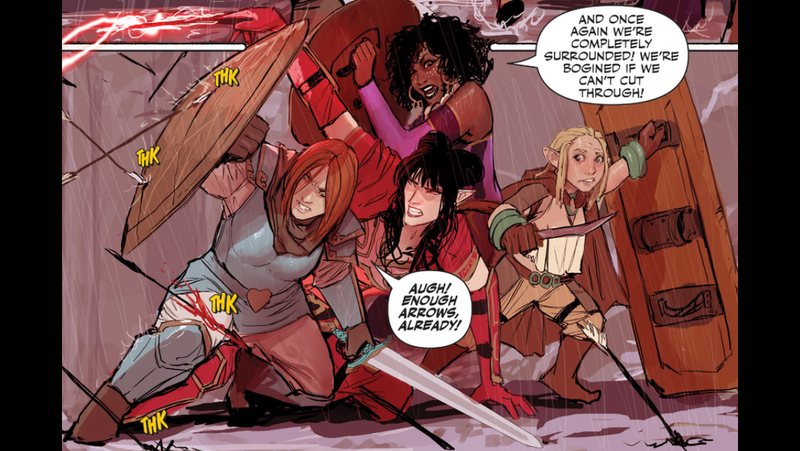 So here in the 10th issue we are concluding the current story arc, and the past few issues have shown us an almost completely flattened Palisade, a chained up and nekkid Sawyer, and Gerrig, who has completely lost his damn mind.  Issue #10 opens up with another flashback, where we see that Hannah and Tizzie (we know her from the first issue) attended Mage University together and apparently got along pretty well at one point. When we travel back to the present, Tizzie shows up just in time to save Hannah from an arrow with her name on it, make a D&D quip, and kick some ass with her former pal in a two mage combination spell called Death Shower.
Tizzie isn't the only member of a rival gang we see in this issue; Braga makes an appearance to chop some heads off (naturally), and Bluebird Dave shows up to clear the way for the Queens, get all weepy, and snatch Violet up into a passionate, squeal worthy kiss.
 Eeeeeeeeeeee!!!
Back on the rooftop with Gerrig and Nekkid Sawyer, we are treated to yet another flashback. Okay, so I know I'm not the only gal who has been wrapped up in glorious afterglow with my Bae when he's all like, "Come on girl we should go together for real for real like change our Facebook statuses and everything." and you're all, "Naw we said no strings attached like WTF are you saying I don't have anything left to give you emotionally plus LOOK I HAVE HORNS UNDER MY BANTU KNOTS."
It's such a drag, ya' know?
Especially when your Bae doesn't take that revelation too well.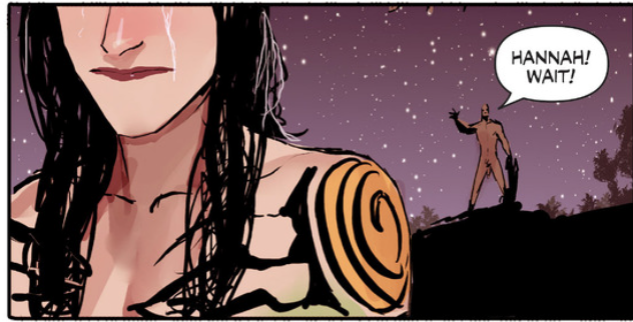 Ouch.
Needless to say, this is the kind of flashback that may incapacitate a chick for a minute or two, so down goes Hannah, and up steps Dee. It's really Dee's battle anyway, on so many levels. And how she handles it…I mean…you kinda need to see for yourself.
---
Out of 5 stars, I'd have to give this issue 4.
Why?
Because that's how many panels Betty is in.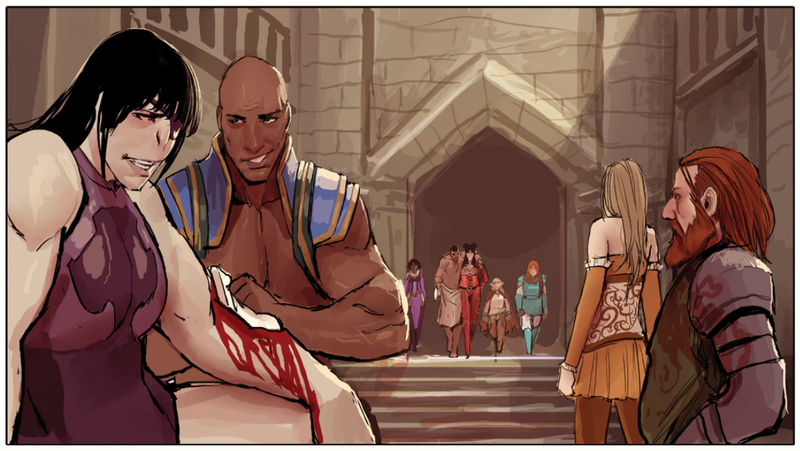 This is one of them.
What's up with that?
I can has moar Betty in future issues, plz?
*crosses fingers*
Fix it, N'Rygoth.