Writer: Nick Spencer / Artist: Roman Rosanas / Marvel Comics
Ant-Man is back with pathos to astonish. Nick Spencer and Roman Rosanas only put out 5 issues of Ant-Man in his last series volume, but that was enough to give him a quantum leap of character development. Scott Lang was the epitome of an underdog story, we bore witness to that via his trials and tribulations under this creative team; however, what makes him so unique is the way he is able to keep his humor when things get even bleaker.
The issue is truly a continuation of the last volume as we jump straight into Scott taking care of his business but still risking it just to spend time with his daughter (unbeknownst to her). Lang is watching her life under the radar as not to put her in any more danger, a fact she doesn't know. Spencer gives Scott a front row seat to her disappointment in him, believing that he shrinks away when times get hard.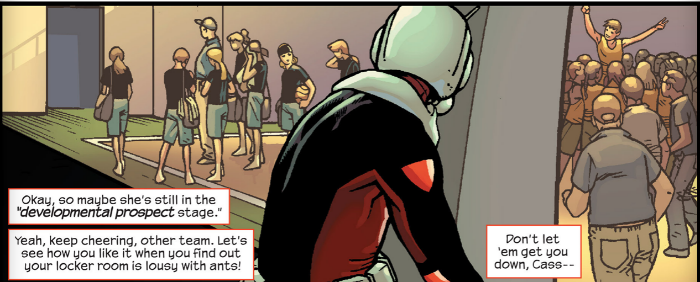 The action comes when Scott tries landing a business deal that gets interrupted by Whirlwind. A new villain named Power Broker is using Ant-Man as an example of the proficiency of his Hench app. We saw this app way back in issue 3 and thought it was just a joke but we're seeing a huge fleshing out of the idea behind the app. It's as genius as it is hilarious, they so cold blooded they even asked Lang to rate the ass whooping via email review.
Rosanas on art for this book is still the perfect extension and provides best platform to breathe Spencer's work to life visually. He ain't fucking around, man. The way he depicts Scott having to watch his daughter from a shrunken state beats you with somberness and empathy. Rosanas makes you feel for every shitty situation that Lang comes across. The beautiful thing about Scott is that the shittier the situation he finds himself in the more charming he becomes — that is his true power and what gets you so invested into this book.
I don't know how many times I can tell y'all to read this book, man. This book divvies up the focus between family, heists, action, story, and character depth with excellent execution. The direction that we're being taken at the book's end raises many questions and a mountain of anticipation. Look, Marvel could have closed up shop on Ant-Man after the movie dropped, but this creative team has been doing something special with Scott Lang. Scott is the epitome of the everyman representation in the Marvel universe. Do yourself a favor and jump on to this series now.
8.8 Hench App Stars out of 10
Are you following Black Nerd Problems on Twitter, Facebook, Tumblr or Google+?