[dropcap1]W[/dropcap1]hile rummaging through the depths of the Internet, I first encountered Marco D' Alfonso's work on the website Longboxes on 22's. This is a site that mashes hip-hop album covers and superheroes predominately. The piece I came across was the infamous Batman & Iron Man cutting the top off the Batman Begins Batmobile in homage to Kanye and Jay-Z's "Otis" music video. I remember thinking, "this guy gets it". He has since gone on to do work for two of the big comic publishers Marvel and DC Comics. Marco also happens to be a laid back & easy going guy as well. That being said we can now delve into this interview with the Ink Gawd himself Marco D' Alfonso.
Black Nerd Problems: Marco, I want to thank you for doing this, I will try to keep the fan boy in me on 5 instead of one hunna. The first question I gotta ask is your origin story, did you see yourself as a nerd growing up and if so, what moment gave you that realization?
Marco: It's a huge honor to answer these questions! Got to definitely thank you for checking out my work in the first place! It really means a lot!
From as far back as I can remember I've always been surrounding myself with comics. In elementary school it was always cool to be the kid with the massive comic collection and the guy who had a little drawing ability. Things definitely changed round the age of 12 or so when puberty and hormones started to kick priorities changed and I was willing to do anything to impress the opposite sex. Unfortunately at the time comics weren't as accepted as they are now and the girls I liked weren't into any of that geek stuff. So during my teenage years and high school career, comics were my deep dark secret, I tried my hardest to keep my nerdiness on the low. I'd run my secret comic store missions every Wednesday and bought toys discreetly.
BNP: Solid Snake covert missions for comic pick ups? Hilarious! Marco, you're the first artist we have on the site for an interview. You have a very distinct style both with how smooth the colors and portrayal of your characters as well as the hilarious situations you put them in (GoGo Yubari [Kill Bill] swinging a Chain Chomp, Rocket Raccoon shooting Space Invaders, The Dark Knight Returns His Presents), how did you develop and refine your style?
Marco: I've always been in love with comics as an art form, I can remember using my pencil crayons and my HB pencils trying to imitate all my favorite artists from back in the day. I've appreciated and been influenced by so many artists over the years, so as an appreciation of a wide arrange of styles I like to stay versatile and well versed in all kinds of styles whether it be Norman Rockwell or Jim Lee. For my personal style I love a clean crisp approach line work wise and really flesh things out with color and textures. That being said styles always change I don't really have a plan but hopefully I can keep my style ever evolving and have people dig my work.
BNP: I've seen tons of hip-hop mash ups within your artwork as well (which is boss as hell). What brought you to the idea of combining hip-hop and comic books together?
Marco: In all honesty combining hip-hop and comics wasn't a purposeful thing. All of my drawings are just fusing together things love, and things that just make sense to me. The billionaires boys club of Bruce Wayne and Tony Stark, it just feels right to plug them into the "Mo' Money, Mo' Problems" music video, or riding around the desert in batmobile with the ceiling missing a la the "Otis" video.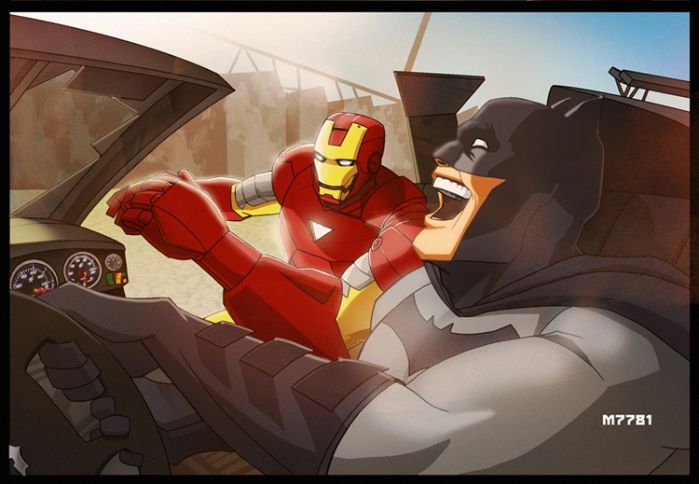 BNP: To add onto the last question, I've actually been wondering this for a while, who are your Top 5 emcees in hip-hop and how did they influence your work?
Marco: Top five emcees? Whoa this is always a difficult question and depending on the day I might give you a different answer, this is a debate my friends and I argue all the time. My top five in no particular order…
Nas
Q-tip
Biggie
Mos Def
Kanye
I realize everyone has there own top five for all kinds of reasons, but I really admire the versatility, storytelling, and talent of these five.
BNP: I've noticed a lot of Deadpool art, which makes me curious as to who is your favorite character to draw currently?
Marco: I have to say without a doubt Deadpool is my favorite character to draw. He just slides into any situation perfectly, not to mention I think he looks cool as hell. Another character I like to draw is Harley Quinn pretty much for the same reasons, I love her costume design and her animated facial expressions and exaggerated body movements. Both are way over the top and just a ton of fun to draw.
BNP: You've done some work for Marvel having drawn for the Elektra series as well having some variant cover work for DC Comics coming up. Can you talk about how you found yourself doing these gigs? How does it feel to say you worked at two major comic publishers that happen to be rivals as well?
Marco: The Marvel gig is thanks to one of my best friends and Marvel artists extraordinaire Mike Del Mundo. Mike was primarily known as a award nominated cover artist, when he was asked if he could do interiors for a two issue arc on Superior Spider-Man Team-Up he brought me into the fold so we could handle all the art chores from beginning to end. The editors liked the results so much we were offered Marvel Now Elektra. Unfortunately after issue 11 Elektra will be ending, but after that there will be bigger and better things of which I'm not at liberty to say.
The DC gig came about from my personal online work and I guess word of mouth. I met a couple of DC editors at a local convention in Toronto and they said they knew about my work and loved what I was doing, shortly after that DC reached out to me.
It's awesome to say I've done work for both of the big two, definitely a dream come true; hopefully it's an ongoing thing, fingers crossed.
BNP: Marco, you stay being that dude, I thank you heavily for the interview and I want to ask what's next for you man, Do you have any projects coming up you want folks to be looking out for?
Marco: The pleasure is all mine man… Got a couple top secret Marvel projects in the works right now, as soon as I can give word I'll put it up on my website. In the next few months I'll be doing up some video game concept art, that project too is unfortunately also top secret. I guess the only thing I can say is I'll have a piece for the upcoming gallery show "Space Heroes" at iam8bit Gallery and another piece in CBS' Star Trek 50th Anniversary show. Hopefully some more DC covers are in my future as well.