ANNNDDDDD this show just got interesting! God of High School went from dope new anime killing the battle genre to a complex show about the turning your emotions into weapons to further yourself in a competition. God of High School went from a show about 3 young fighters trying to win a competition to a clash between ideologies. The action and fight scenes take a back seat in episode 6, but the writing now has the makings of a whale of a story!
"Do What You Want"
In our opening scene, Mori's grandpa, Jin Taijin, gets rolled up on by some hooded ominous dude, who we've definitely seen a glimpse of before, and his ashy ass clan of robed ninjas talkin bout "There is an appropriate way for those who have power to live." asking him to come quietly, but we already knew pop pop was about that life and basically says "Bury me a G before I go with you clowns", then this evil lookin cat is like, "Word?? It's like that OG? Iightttt welp! May be God be with you after that stubborn decision. Let's get it poppin boys!"
Back in Seoul, Mori can feel a disturbance in the force and knows his grandpa is up to something, but he's got other things to worry about, like the surprise change in rules for the next portion of the tournament. The administration hands down an atypical update that the top 3 fighters from each regional prelim will participate as a team in the finals and that has hype hype hypeeeee written all over it! What sort of fighting will go down? Smash Bros Melee style? Tag team wrestling? 1v1 elimination?

Park Mujin is particularly excited to see that more of his precious "tiger cubs" have appeared across all regions than he anticipated and feels good about finding this mysterious "key" to their devious plans. I'm particularly excited for the dark-haired kid in the hoodie (below) and the blue haired guy (Jegal Taek) that Mujin was drooling over.
Park mentions "The Six" assembling and while we don't know who they are, once a group or organization with a name like that is dropped, you know it's about to be a problem!
Sidebar: I love how Jin Mori sensed something in the old man who passed by him in the crosswalk. Turns out ol head belongs to The Six, so Mori's strength radar must've spiked for a quick second.
The Six Mean Business
You can tell an anime is getting real good when they have you in the palm of their hand with the main story then drop a juicy new layer of intrigue on you. When the older member of The Six goes to see Park Mujin and stabs him his clone in the chest then calls Mujin his pupil, my eyebrow of intrigue shot up like the hand of the teacher's pet in calculus. Their conversation puts us on to the fact that the bag of goodies that Mujin gave to Mori was called Sage Fruit and would've crippled an ordinary young man but our boy is looking fit as Sandra Oh on a bad day!

The introduction of the fellow members of The Six was so dope and dont even get me started on names! The Magician, The Hulk, The Loan Shark, The Devine Doctor, Re Birth and we find out that Mujin Park is Tiger Cub!! Explains a lot.
2 Weeks Until Finals
With a few weeks to kill train and improve, our lead trio is doing all they can to come correct against their fellow fighters in the tourney. After beating the taekwondo fighter to a pulp and taking the last spot on the Seoul team, Yoo Mira has accepted the fact that she is but a 3rd wheel to the skill and destructive power her male teammates possess. Hopefully, her run in with announcer Shim Bongsa provides her with motivation to step her game up, especially after the unfortunate outcome from that day.

Jin Mori has obviously decided to train train train (in hilarious fashion) because our simpleton just wants to get bigger and stronger and beat people's asses and honestly, who could be mad about that? Little does he know, he's about to receive a surprising new mentor!
Han Daewi decides to continue to clear the debt he's racked up and to make his dead friend proud. But his money motivation hasn't blinded him to the fact that there is shady shit going on behind the scenes, and he wants to know what that's all about. I was surprised to see Park Mujin happily give up the intel that it's all about Charyeok, but this show continues to shock me in and outside of the ring. He explains that the supernatural looking creature he saw come out of Commission Q's body is what he can begin to expect from all fighters in the finals.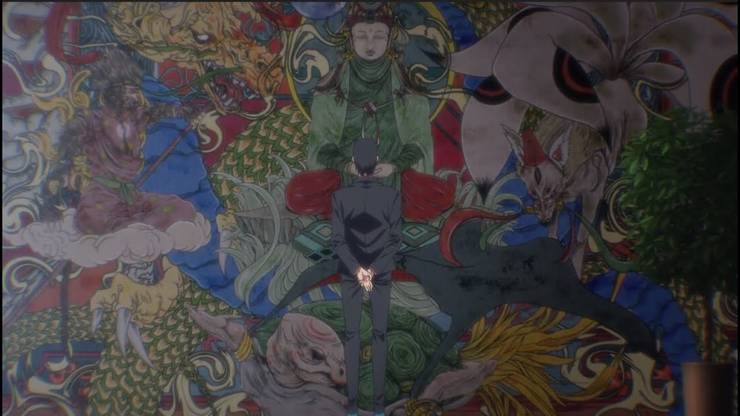 Charyeok & Nox: The Truth is Out There
"Savage gods, evil beasts, messengers from heaven, heroes who changed the world…" All of these otherworldly powers that transcend human understanding are the beings that all opponents will borrow powers from moving forward. Drawing forth the power of the gods and making them fighter's own is the true reason for the God of High School tournament. That watercolor painting was sick. All of the images, including the Monkey King (Hints of DBZ!), the turtle that Han has utilized in battle and so many others give off sick foreshadowing vibes.

So much goes down that we have no clue about this episode, but damn is it exciting! Why is Mori's grandpa so dam important to everyone? Why does the old Six member taking on Mori as a pupil expect to piss off his grandpa so much? Is grandpa Jin still even alive after his run-in with the Nox? What the hell is Vox?? Is this assassin on the Nox squad? What's with that giant sword with the inscription "I know not whose child it is; It existed before God" about?! Can't wait for the rest of this season to shake out because God of High School has moved so far from a fighting tournament and this is but the tip of the iceberg!
Watching God of High School? Check out our other reviews here!
Want to get Black Nerd Problems updates sent directly to you? Sign up here!
Follow us on Twitter, Facebook and Instagram!