Writer: Gail Simone / Artists: Aaron Lopresti, Matt Ryan / DC Comics, Dark Horse Comics
Look at the cover. Wonder Woman is going to punch some sharks in this issue. This is gonna be great! When I say "great" I mean escapist slash-and-sword fun. I mean low chit-chat, high action. I mean blood-splatter and gore. I do not, however, mean plot-free. There's a plot here: Wonder Woman has forgotten her past, the one that she and Conan shared as children. She doesn't even remember her name. This is the story of how she regains it. Apparently her memory can only be regained after a certain number of ass-kickings have been handed out. Wonder Woman don't make the rules, she just follows them.
What else is there other than action? Well, Conan continues to try to act out his chivalrous, soft-core sexism at Wonder Woman's expense — which Wonder Woman rejects at every turn.
There's also the two mysterious Crows of Destiny who have been following our not-quite-lovers. They are magnificently drawn and terrifying in a Morrigan kind of way.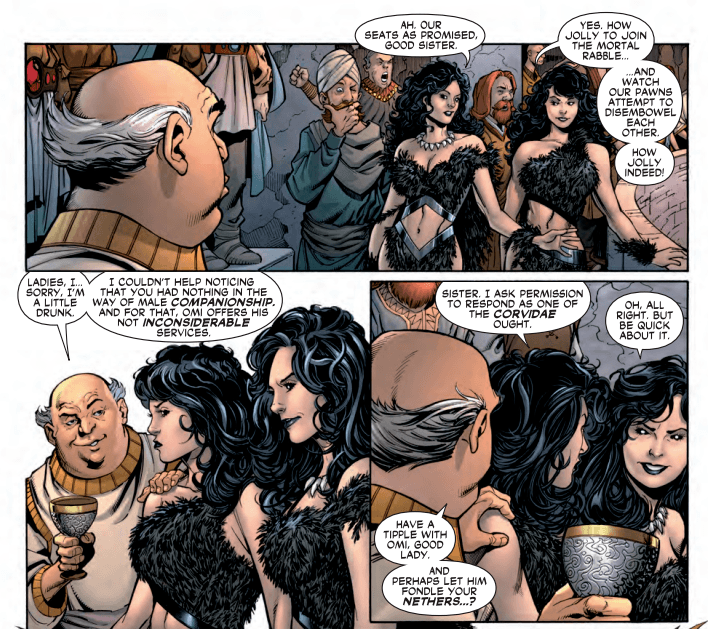 These two clearly think they are controlling the action. This reminds me of Crosswind, another of Simone's titles right now, where her protagonists are thrown together by a mysterious third party for as-of-yet-unknown reasons. We'll have to read on to see if the parallels continue.
This issue continues to look exactly like you expect it to, with great colors and detailed faces. Bad guys have face scars and everyone has abs you could bounce a quarter off of.
After a turn in the arena, our duo gets themselves exiled to a pirate ship? Fishing boat? Both? A situation from which they escape by going overboard. But does Wonder Woman fight a shark? Nope. Next issue, Wonder Woman better punch those sharks.
7.5 Beat Downs with a Lute out of 10
Are you following Black Nerd Problems on Twitter, Facebook, Tumblr or Google+?