Wreck it Ralph is at it again! It is sequel nation out here, but what else is new? To be honest, I am here for this one. Wreck-It Ralph wrecked his own game, other arcade games, fixed another one, made new friends and got a medal. Where else could he go from here? The internet, of course! Since Disney owns the universe, they got 99 Fox problems but licensing for this movie 'aint one. They are opening up this world to everything we all love.
Depending on which trailer you are watching, we open up with Ralph excited about who knows what. Also, Vanellope and Ralph live together now… in the pile of rubble…next to the mansion?? Seems a little strange that after saving the game and winning a medal as a villain, you would be in the same digs, but whatevs. This movie apparently takes place 6 years after Ralph's Turbo justice for Sugar Rush. According to IMDB's synopsis, something is wrong with the arcade and Ralph and Vanellope go into the internet to get the piece needed to fix it. The trailer does not make that so clear. Instead it looks like we are going to get the Disney Smash Brothers version of Ready Player One, with some solid internet culture folly.
We get thrust into the internet and it's an explosion of every mogul – Google, Snap Chat, Twitter birds tweeting on trees, Amazon moving packages, Facebook and IMDb.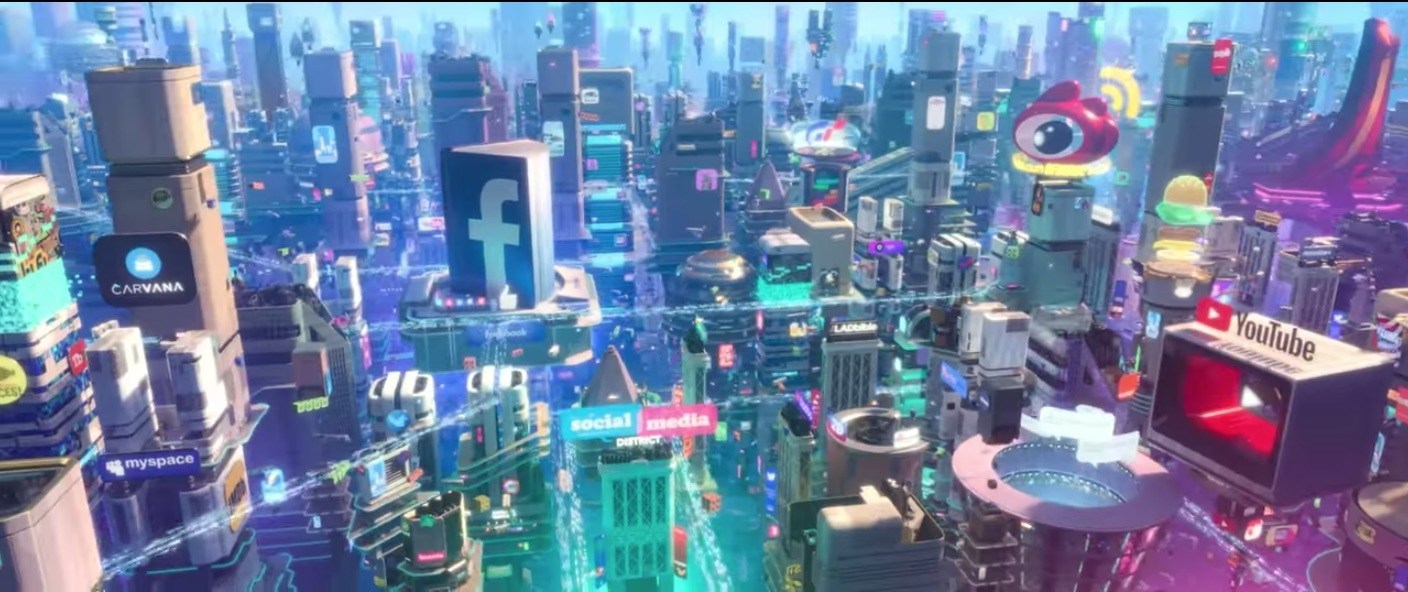 We get to the "KnowsMore" search engine where the search guy literally guesses what Ralph is going to say before he gets one word out. I felt that. Google be coming up with the weirdest searches as I'm typing. I wanna be like 'who do you think I am'? Either way, Vanellope asks for the 'craziest, most intense' site, and where else do we go but Disney? I'll be honest, Disney is not hiding their will to dominate all life (and monetary avenues). They know what makes the dollar grow and put a patent on the seeds. Sadly, it really works – they keep getting my money! When Vanellope arrives at Disney and sees all the princesses she is obviously not down with it, but in Disney fashion they know to rag on themselves and try to flip the script with comedy. We get the princesses but the future is female princesses, I guess?
The princesses are not sure Vanellope is a princess and run down all the things that make a princess: magical abilities to talk to animals, being cursed, poisoned, enslaved (I felt they went a little far with that – I was triggered). In the end Vanellope was deemed a princess because it was assumed that all her problems were fixed by a man showing up. I guess that is what happened in Wreck-It Ralph, damn. I am interested in what they do with the princesses because they are all there (yeah, Pocahontas too…I'm really hoping the writing is smart enough to point fingers at itself and racism).
The cast is of course a gaggle of uber-famous people, many reprising their roles, Auli'i Cravalho as Moana, Kristen Bell and Idina Menzel as Ana and Elsa, Mandy Moore as Rapunzel (the Tangled Rapunzel of course). We even got Alan Tudyk and Taraji P. Henson in the mix.
Although it is a Disney glitter throw-up event, I'll be in the theater shouting "Glitter bomb!" No one is a match for Disney's formula – I know the jokes will get me and the franchise juices will hit my veins, my pupils will dilate and I'll be giggling all the way home. Wreck-It Ralph 2: Ralph Breaks the Internet is set to come out November 21st of this year.
Want to get Black Nerd Problems updates sent directly to you? Sign up here!
Follow us on Twitter, Facebook,Instagram, Tumblr, YouTube and Google+.