Writer: Jonathan Hickman / Artist: Leinil Francis Yu / Marvel
Jonathan Hickman has too much power. The fact that Marvel just lets this man get away with doing whatever he wants, reshaping universes as he sees fits, is wildly irresponsible. How do you spend a whole ass mini-series bigging up the X-Men and creating this utopia for them, only to tear it down within the first few issues of the main book? On the other hand, when you're just that insanely talented at doing it, then I guess you're given whatever free reign you please.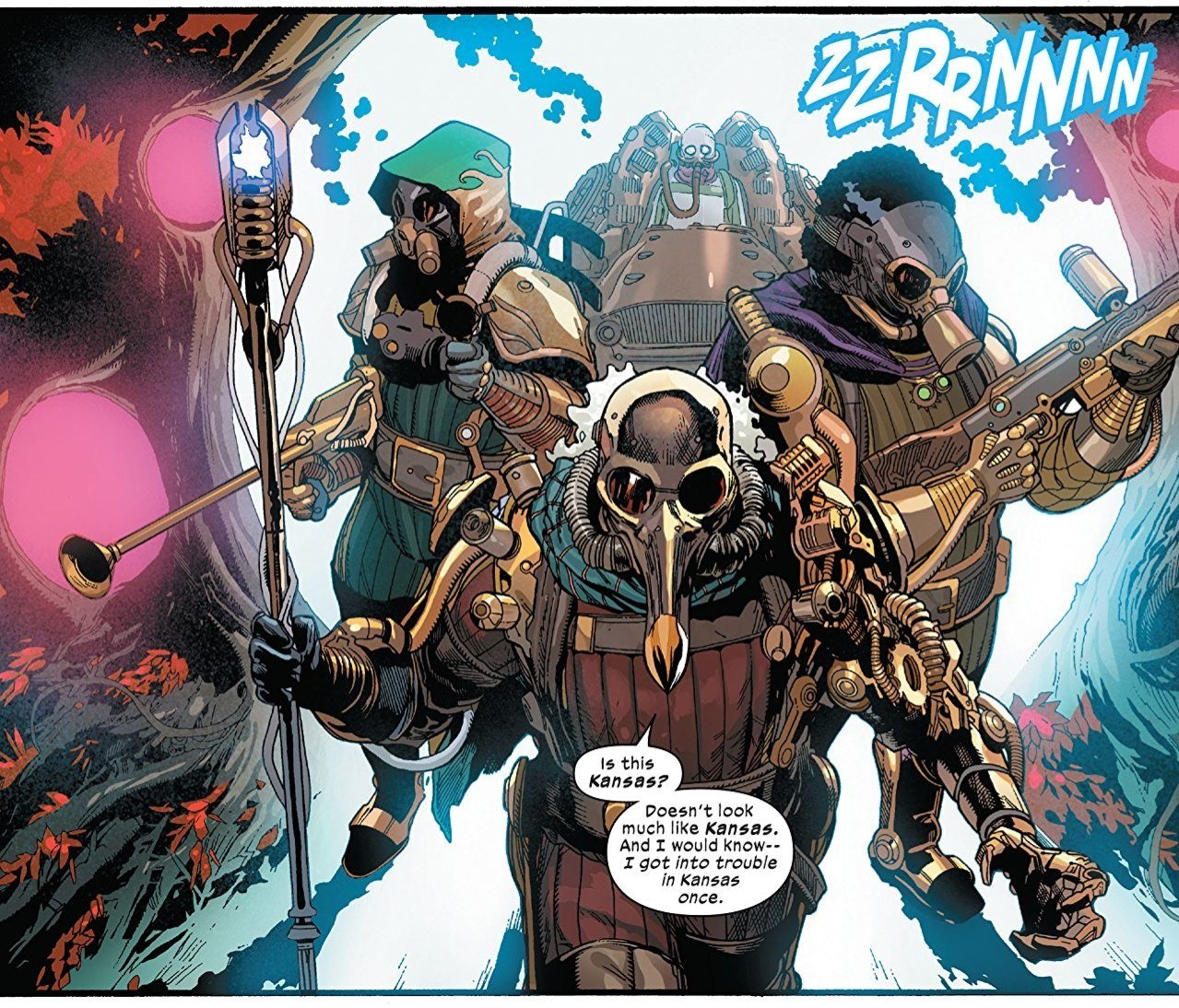 If you've been reading any of the X-books, or even just these last two issues of X-Men, you'll know that the mutants have had some complications in paradise. The Summers & Sons & Daughters Co.'s adventure with Krokoa "colliding" with another island seems like only the start of their troubles. We're only in issue #3 and the GATES HAVE ALREADY BEEN COMPROMISED. You can add that to the list of misfortunes that have occurred since Dawn of X started, including Xavier's assassination. Excuse me while I play Micheal Jackson's "You Can't Win" from The Wiz in the background.
If there is one thing that Hickman is really good at, aside from creating stories on a grand scale, it's developing original characters and antagonists. Check his run on Avengers and New Avengers and you'll see just what I'm talking about. Enter the Hordeculture, a group that has not only managed to hack a Krokaon gateway and make their way to the Savage Land but also neutralize most of the mutants there and making good with stacks of mutant flowers. You know the ones that make the mutants drugs that are now the crux of the X-Men's economy and technology.
What's even better is how well he works these characters into his story. The Hordeculture isn't just four old ladies stomping out Sebastian Stan out in the Savage Land, but a reaction to the X-Men effectively changing the world. New times breed new enemies. Enemies that are evolving themselves to fit their means and combat the X-Men's united power. The world is scrambling in response to the X-Men's big flex: some better than others.
It also seems like the X-Men are scrambling as well to fight these new threats as they come. Watching Sebastian and Cyclops get their asses handed to them by four old women past their 60's was not something I was expecting to be a highlight for this issue. At the end of Powers of X, Moira proclaimed that mutants always lose. It's becoming harder and harder to keep that fate from happening. However, that's the fun of this book. Watching the X-Men fight to protect this new era for mutants, even with fate stacked against them. Protecting paradise doesn't come easy.
9 Unfiled Divorce Papers out of 10
Reading X-Men? Find BNP's other X-Books here.
Want to get Black Nerd Problems updates sent directly to you? Sign up here!
Follow us on Twitter, Facebook and Instagram.