Writer: Kelly Thompson / Artists: B. Caldwell, I. Herring & S. Hanna / Marvel Comics
As it turns out, our sheroes didn't defeat The Countess in Issue #5. A fact that was hinted at in the end of the last issue, but which becomes crystal clear in the beginning of this one when the Force finds themselves in the county jail.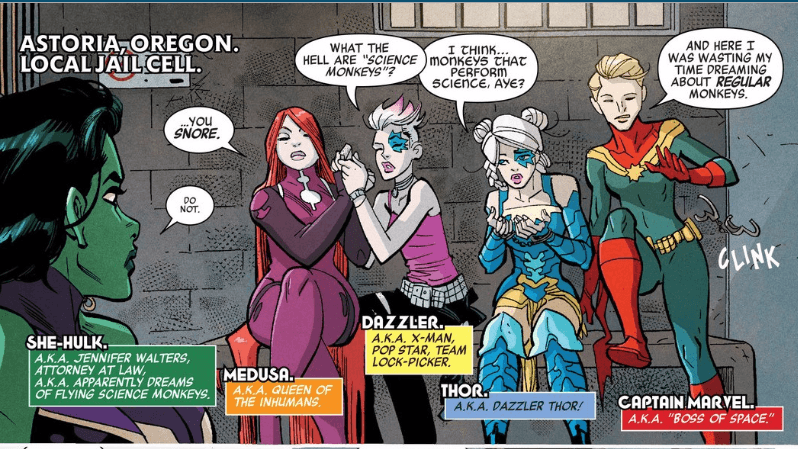 How'd they get into the jail? Well, The Countess has Nico under mind-control. With one magic word from Nico, the team has had their powers wiped away. No one is sure for how long. This leads to Jennifer and Carol showing that they're both tough and smart as they tag-team Nico into revealing the limits of The Countess' control. This would be great, except Nico still does some serious damage, stripping Dazzler Thor of her beloved hammer, Lightbringer, with the whisper of one word. You can guess what it is. But you don't have to guess how mad Dazzler Thor is about it: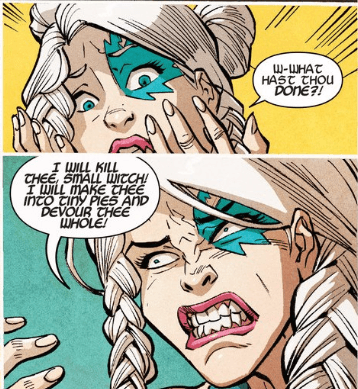 The expression on her face is so visceral. This comic continues to feature plenty of reaction close-ups that connect you to the characters through the consistency of expression and the level of detail. Carol never ceases to be in control. Medusa never ceases to sneer. And the readers care more and more with every panel.
The Countess is a classic mind-controlling villain, dripping with narcissism. She brings the over-the-top fun of BattleWorld into the setting. Even so, she isn't all powerful. She is only as good as the tools she controls, so she keeps Nico on a tight leash. Still, Nico is strong and her submission to the mind-control is weakening by the minute. Time to pull out the big weapon: The She-Hulk. But by casting the spell that brings out the Big Green, Nico accidentally brings back Singularity, which brings us this: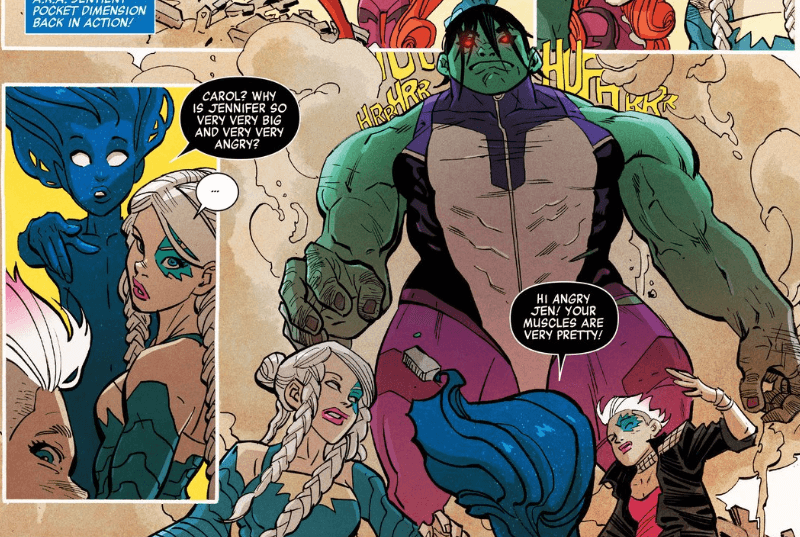 I love Singularity. Her look, her personality, she's just a pile of joy in every panel she's in. Unfortunately, her compliments don't slow down She-Hulk and the situation gets more and more out of A-Force's control and into The Countess'. The ending is a magnificent cliff-hanger that makes me want to make writer Kelly Thompson my best friend so she'll tell me what happens next.
8 Cliffhangers out of 10
What happens next? What happened before? Read all of our A-Force reviews here, so you'll always be ready for the next issue.
Are you following Black Nerd Problems on Twitter, Facebook, Tumblr or Google+?