Everybody and their moms knows that This Is Us is peak emotional television. They've rolled up on your repressed memories and tore them all to shreds like a pitbull with a tennis ball. But there's got to be more room for tear-jerker television, right? Enter ABC who shoots its heart-string tugging shot and hits a Curry half court buzzer beater. SWISH!
The Next Big Dramedy?
The big 3 (ABC, CBS, NBC) are constantly looking for the next big drama that might take over prime time television. A Million Little Things might be the clear cut winner of the new shows on the block. Two episodes in, and it's clear that this is the embodiment of dramedy in today's age of entertainment. This show is heavyyy off the rip. You find out what the big reveal is in the first episode, and it all spirals from there. The comedic aspects of the new series don't deliver as poignantly as the dramatic, but the relief is welcomed and sufficient. A group of single and married friends from Boston (including some welcomed POC) all deal with the ramifications of one friend's decision and find out why their friendship is and always has been…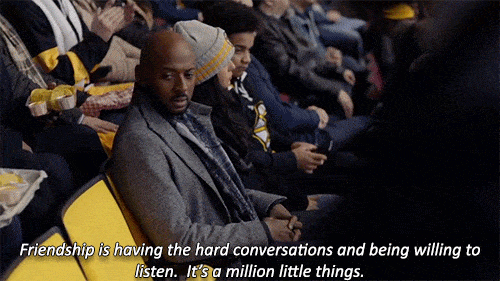 The cast speaks for itself and lends a helping hand to the writing that doesn't always wow. You'll immediately recognize Romany Malcolm (40 Year Old Virgin, Think Like A Man) and Ron Livingston (Office Space, Band of Brothers, Boardwalk Empire) from their many roles over the years. They have to deliver their best performances in years for this show to work, but I genuinely believe it's the entire cast that helps propel this show into highly recommended territory. Actor James Roday (Psych) plays Gary, the wise ass, inappropriate comment making member of the crew. He is running away with his portrayal, and I can't wait to see where his unexpected one liners go next. I was a little iffy on David Giuntoli's character, Eddie, until episode two where he showed just how good he can be.
A Balanced Cast
Hold up! Can we jump off the misogyny train and talk about the women of the show who are absolutely crushing it so far?! Our leading ladies tackle equally jarring topics and shine brighter than diamonds in the sunlight. We spent an entire episode not knowing that Maggie (Allison Miller) was a real ass therapist because her and Gary's romantic chemistry is so damn natural. We spend most of the episode not knowing that Delilah (Stéphanie Szostak) was sleeping with her husband's best friend, ya know, cuz we kinda have been lending all our focus and emotions to the sympathetic side of things. Lastly, Regina (Christina Moses) has spent the entire start of the season completely clueless that her husband was ready to swallow a mouth full of pills in the opening scene of the show, mainly because he does what most depressed men do and act like everything is gravy train.
The latter is sure to come to a head in the coming episodes, and I'm excited to see how well it's handled. The jury's still out on the last and busiest member of the mom squad, Katherine (Grace Park), but once all is revealed, she'll have no choice but to be around more, as her family is bound to wind up in shambles.
Content Note: The Serious Stuff
A Million Little Things deals with some tough themes. Male breast cancer, suicide, figuring out sexual orientation at a young age, depression, and adultery are on full display here.
Many of these topics are shied away from and have a serious lack of visibility in the media, so it's good to see the show go all in on uncomfortable subject matter. A Million Little Things is on Wednesdays at 10:00pm on ABC. I'd recommend this show to anyone who enjoys an emotional roller coaster, finds themselves struggling with depression and/or suicide, and is looking for an outlet. PLEASE remember that there are some intense scenes dealing with tons of mature content and only those who are confident in their ability to handle such topics should dive in. I hope you all enjoy and pray this show helps everyone watching know they are loved and that there is light at the end of that deep, dark tunnel.
Want to get Black Nerd Problems updates sent directly to you? Sign up here!
---
Follow us on Twitter, Facebook,Instagram, Tumblr, YouTube and Google+?