Writer: Bryan Hill / Artist: Nelson Blake II / Image Comics
With the second issue out the gate , Romulus is making quick steps to establish new characters as Bryan Hill does more world building to flesh out this series. We open up with Ashlar talking with Nicholas after just saving his ass from the assassin clad in unfuckwitable. We don't get the typical "oh my god someone is trying to kill me? Please save my ass" trope that we can usually expect from a former hostage in most storylines. Nicholas doesn't have much of a hard time believing Ashlar's story as she fills him in on the details of Romulus, the danger he's in, and how his brilliance got him marked by the organization. The dialogue between Ashlar and Nicholas is what stands out the most to me this issue. We know how doubtful Ashlhar is as she reminds us how she pales in comparison to her mother's skill set. Nicholas offers to help and he's not in the least bit doubtful about what he brings to the table as an asset to Ashlar's war.
We get introduced to a new character this issue complete with her own back story. I won't get into her role that she's stepping into but it's evident that her ties and abilities will make her a solidified platform in this series for now. What I like truly loved this issue and wanted to focus once more again is the dialogue that Ashlar and Nicholas engaged in. Hill shows us more of Ashlar's personality as she tries to keep Nicholas out of harm's way despite his vigor and wanting to help her out. Blake II gets that across as he illustrates just how much of a toll this war costs as Ashlar rips out a tooth that got knocked loose during her fight.
It may seem like a simple tactic to show how dangerous this situation is but it really gets the job done, especially with Hill having Ashlar still talking while she is doing the task and her words coming out muffled. This is a real stand out panel to me as we see Ashlar trying to dissuade Nicholas from tagging along with her without actually writing him off with a flat out no. It has an effect to some degree but we see that Nicholas is just as determined as he is confident. Blake II finesse with the grit of this scene for me displays the temperament of Romulus as a series.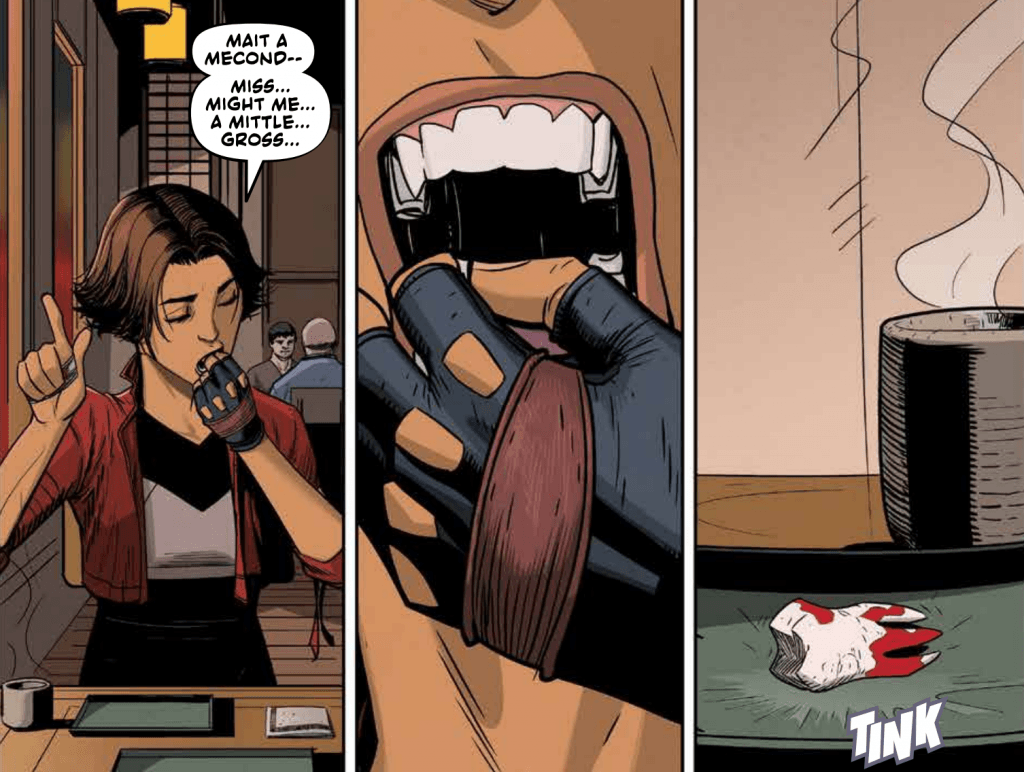 Hill and Blake II have the pace quickening right from the jump of issue two and while I'd rather have not gotten a new character with such an incredible ability so soon, Hill obviously knows what he's doing in terms of an endgame. Hill's ability to use the captions as to not only simply state Ashlar's internal dialogue, but to add an air of poetry to it as well, continues to be a staple in this book that I hope isn't being overlooked by fellow fans. Hill's detail and Blake II's visualization to bring those specifics to life are going to keep Romulus on at the top of your pull list.
8.9 Assassin's Creed references out of 10
Are you following Black Nerd Problems on Twitter, Facebook, Tumblr or Google+?