If you haven't seen Barry on HBO by now then I have no idea what is up with you. HBO outdid themselves with this series, but I already told you that. The show's first season is available for digital download and you should cop dat. Why?
Well, What makes Barry so great is how the show weaves in and out of crushing drama, humor, and quick cut-throat action. There's a charming element in the series brought on by Noho Hank played by Anthony Carrigan. Carrigan's portrayal of Noho is hilarious and we got to interview him about his warmhearted villain, so we can jump right into it.
---
Black Nerd Problems: Now before we get into Barry. I noticed you racked up a couple of DC Comics villains on your list. You played Victor Zsasz (Gotham), you were also Kyle Nimbus aka The Mist (The Flash). You went from playing a killer and an assassin to playing Noho who's personality is completely different. So what's the difference in the mindstate in bringing these villains to life like the ones you played previously?
Anthony Carrigan: Noho Hank is just so optimistic, so sweet, and looks on the bright side of everything. It puts me in a really good mood to play Noho Hank. It's certainly really fun to play Victor Zsasz as well but definitely very intense and I'm pretty exhausted by the time I'm done. Especially since in Gotham, it's a lot more demanding with those intense fight scenes but they're both really fun characters. I lucked out.
BNP: So what makes a memorable villain for you?
Carrigan: Seeing that they're human. They think that they are doing the right thing. That's what fascinating about it. Any hero is just a couple bad decision away from being a villain. That's really all it comes down to. You can kinda learn a lot from villains; they teach what to do what not to do. I also like keeping things interesting and not playing the stereotype of "oh he's evil" I like playing against that, I like playing the humor, the sweetness and just playing around.
BNP: What's so cold about Barry is seeing Bill Hader go from his comedic background to a darker action-driven character. You play his antithesis having gone from more serious roles to comedic, which is what I love in the show. We see that Barry is a nice guy that wants out of being a killer and your character plays a contrast as a pleasant and polite person that just so happens to be a bad guy. How were you able to make Noho so charming with that?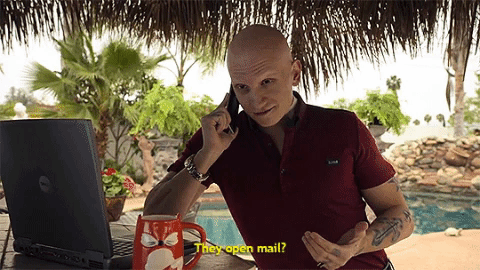 Carrigan: Well a lot of that is in the script. He was written as this very polite gangster, who really wants to make sure everyone is taken care of. Immediately there was already kinda of a blueprint to make this fun dynamic character. So you don't need to go in the direction of playing up any kind of bad guy sensibility. They're already doing bad guy stuff (torturing people, kidnapping people) you can essentially then just be a nice person… and do all those things on the side.
BNP: Okay, then how much of your personality went into making Noho stand out?
Carrigan: I mean… to be honest. Embarrassingly, quite a bit (BNP: Yeaaaah!). I'm naturally a pretty optimistic person. I do care about people being happy. I want everyone to feel comfortable. I love hosting people. That aspect of it I got to see myself a little bit. The accent on the other hand, that took some work.
BNP: Do you now have a preference between doing drama or comedy? Since playing Noho do you wanna do more comedic or lighthearted roles?
Carrigan: Well I think I'm spoiled with Barry because I feel like it's both and pulls both off so well. I love those genres where you can't quite pin it down. You're definitely spoiled when you get to do something like that. The thing that I'm more interested in as opposed to comedy or drama is compelling characters. That's what draws me to something. When I can really see something that's relatable to people and it's something fun and cool I can play around with.
BNP: What villain (famous villain) would be interested in playing? Which would you like to take on?
Carrigan: Oooo that's a good question.
BNP: I mean you been moving it up in DC. So, I feel like it's going to be a DC Movie or are you goin' turn and switch it up with Marvel? You're right up there now.
Carrigan: Yeah… I don't know. I'm trying to kinda move my trajectory towards more "nice guys". Noho Hank bridges the gap a little bit. So actually it'd be fun to play the hero. I've been thinking about it (as more of a kinda joke in my mind) I totally think — at least cosmetically– It'd be easy to step into the Silver Surfer. (BNP: YES! Norrin Radd!) Exactly! I secretly want Doug Jones to go back because Doug Jones is so phenomenal but yeah that'd be so much fun.
BNP: Alright, For the last question I remixed the game Fuck, Marry, Kill for your character Noho. So instead of Fuck, Marry, Kill it'll be Rob, Kill, Hang out with. Who would you rather rob, kill, or hang out with: Vincent D'Onofrio's Kingpin (DareDevil), Idris Elba's Stringer Bell (The Wire), or Bryan Cranston's Walter White (Breaking Bad).
Carrigan: I definitely wanna hang out with Stringer Bell. Stringer Bell is amazing. I've watched The Wire a few times just to watch Stringer Bell. Elba really killed that one. I'd probably kill the Kingpin just because what a challenge that would be and he's definitely a bad guy. I'd probably rob Walter White because it's like, "Hey, calm down. Think about what you're doing. Re-examine your life decisions."

---
Easy to see why Noho Hank is so dope, huh? Anthony also told us that everyone had a good time creating Barry on and off camera. In-between takes, everyone was playing, cracking up, and goofing around. It's a cast that's very good at what they do. If you're trying to see how good, that digital copy is available today. Lemme hit you with the fine print.
"Three-time Emmy®-nominee Bill Hader (SNL) "gives a master-class in acting" (Indiewire) in the critically acclaimed dark comedy series, Barry: Season 1, available for Digital Download as of June 18th. Hailed as "the best new comedy on television" (NPR), cast regulars also include Henry Winkler (Royal Pains), Stephen Root (True Blood), Sarah Goldberg (Hindsight), Glenn Fleshler (True Detective), and Anthony Carrigan (Gotham). Termed as a "bittersweet dramedy that's uncomfortably funny and simultaneously dark and tense," (CNN) Barry: Season 1 is co-created and executively produced by Bill Hader and Alex Berg (Silicon Valley)."
I'm only here to give you that real and I'll let ya know Barry season one is more than worth it.
Want to get Black Nerd Problems updates sent directly to you? Sign up here!
Follow us on Twitter, Facebook,Instagram, Tumblr, YouTube and Google+.