Writer: Takahiro Matsui / Artist: Ryo Konno / manga.club
Many of my experiences as a Filipino American in the Midwest have been predicated on stumbling upon information at odd times and then being prompted to do a lot of research. The most jarring of these experiences happened in 2016, after discovering Duterte and the Philippine presidential election through a clip from John Oliver's Last Week Tonight. One of the more pleasant experiences occurred just this week, when I saw that manga.club was producing a manga based on the life of Jose Rizal on his birthday, June 19th. This was significant on two fronts: 1) I didn't know my late mother shared a birthday with a Filipino national hero and 2) I had absolutely no idea who Jose Rizal was, but now I desperately needed to know everything.
When my mother passed away in 2011, I lost my direct connection to my ancestry. Thankfully, I am blessed to have extended family on the west coast and access to the internet which brings us to today's spotlight two Japanese creators telling the story of a Filipino revolutionary. This is not a story I ever learned in school, so it took a second to discover how exactly this creative team came together.
Jose Rizal was a polymath. An ophthalmologist by trade, Rizal was a prolific writer, visual artist, and a legit polygot. He was of mixed descent with Chinese, Japanese, and Tagalog blood and traveled across the world including Japan and even has a statue at Hibiya Park. He apparently quite the impression, enough for Matsui and Konno to give him his own manga.
Jose Rizal #1 starts at the end with Rizal's execution by firing squad which serves as the story's frame. As he lays dying, Rizal recounts his life story starting from childhood during the Spanish occupation of the Philippines. Matsui acknowledges that the story has its embellishments, but it feels true enough to the experience of budding revolutionary. Konno's artwork is dynamic and expressive and brings a unique life to the story. Chapter #1 felt a little short, but with the promise of a new chapter every week, I personally will be following this story relentlessly.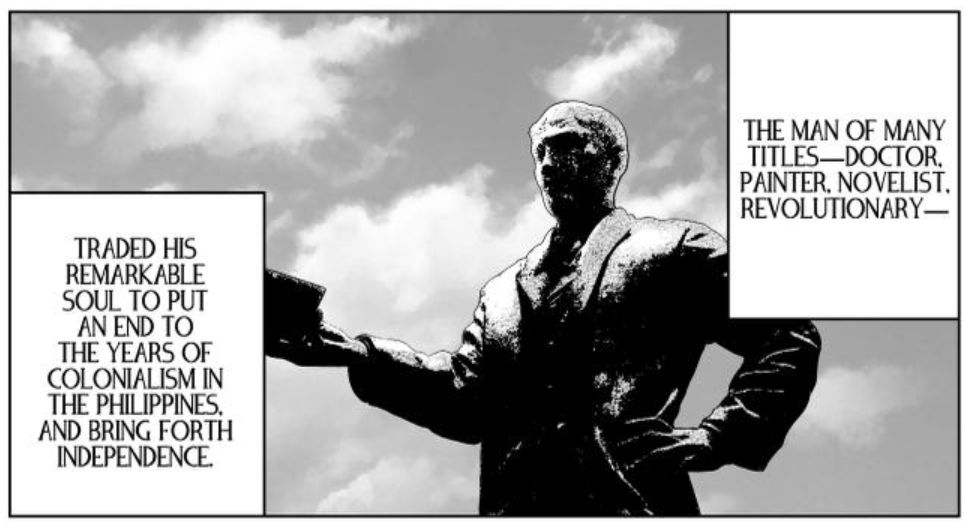 We are constantly trying to find ourselves in media. We are constantly trying to find stories where we can reflect on the world that we reside in. Sometimes, we are lucky that we stumble upon a story that is resonant to our very core. Jose Rizal is not a manga I ever expected to read, but I will take it with open arms.
Jose Rizal is exclusively available on manga.club
Want to get Black Nerd Problems updates sent directly to you? Sign up here!
Are you following Black Nerd Problems on Twitter, Facebook, Tumblr or Google+?