Aaaaaaaaand we're back with our cosplayer interviews! First up for 2022 is going to highlight Tiara Bree Cosplay. You may have seen her posts shared all around Twitter and Instagram. Her Mitsuri Kanroji cosplay from Demon Slayer: Kimetsu no Yaiba came across my feed and I lost my shit. The entire photoset was so beautiful. She did such a fantastic job modeling this character. If you want to be blown away, please make sure you take time to check out those photos. The awesome work cosplayers and photographers do when they collaborate continues to rock my world. I am so excited that I was given the opportunity to interview the artist behind it, so please enjoy!
Oona: Please tell us about yourself! What's your origin story and how has your Hero's Journey been so far?

Tiara Bree: I started cosplay randomly! A friend of mine was giving away sais, and I was like, "oooo weapons, I'll take em!" He mentioned Dragon Con, explained it, and it sounded interesting. At that point, I had to find a character that used sais, so I could go! That's when my Mileena was born. My first ever cosplay! After that, I didn't do much since I was still working and didn't know much about it. I posted those Dragon Con photos to socials and somehow got hacked in April 2020. I made a new Instagram and the rest was history. Someone commissioned me to cosplay Oola [from Star Wars], and that cosplay went viral. My following grew, and I was like, let me really give this a shot! It's been such an exciting journey, and I'm growing each day. I thank all those who've supported me this far and have been a positive light in my progress. My two-year anniversary is coming up in a couple months, and it will be epic!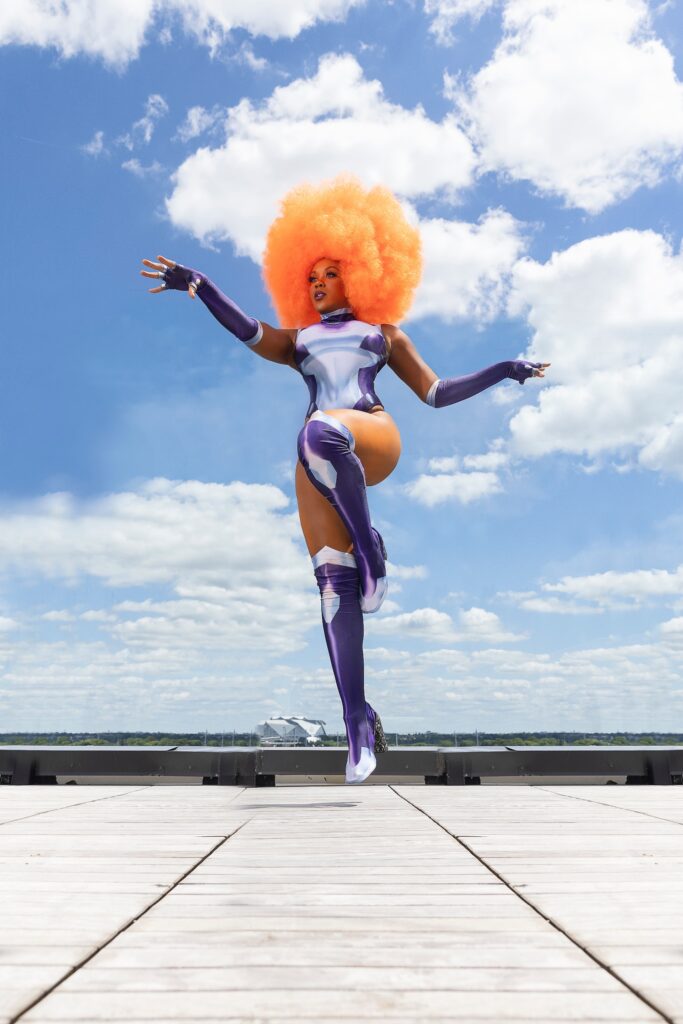 Oona: How would you describe your cosplay style? How do you create? Do you have any big projects in the works that you can dish about?

Tiara: My style of cosplay is very eclectic, just like my own style. I literally won "most eclectic" in high school senior superlatives. I've always just done what I want when I want when it comes to style and there's no consistency in it, because I dress how I like at any given moment. I've brought that over to cosplay especially, since sometimes I feel sexy, sometimes I feel powerful, sometimes I feel shy or innocent, and sometimes I feel like a potato sack. My cosplay choices reflect that. I usually get inspo [inspiration] from an anime, movie or tv show I'm watching. Sometimes scrolling through social media I'll see an art piece that sparks something in me, and I'm like "I know I can make that." I start with what I have already at the house, fabric, wigs, makeup, and then piece the rest together. If it's complex of course, I'll find all the materials then get started on the outfit first! I'm doing several new cosplays this year, like She Hulk, Sol, Joker, Mrs. Incredible and more; but I'm really excited about doing my first ever armor build! I'm making an OC [original concept] so nobody can tell me it's inaccurate lol, but it's gonna be super fun to make!
Oona: What do you love and hate about the cosplay community?

Tiara: I love that there are literally endless possibilities on who and what you can create. There's no right way to cosplay, so I love that you can just express yourself freely, creatively, and just show who you really are through the art form that is cosplay. I love the connections, new friendships I'm making, and networks I am building. It's such a fun hobby and getting to wake up and be whoever I want each and every day is such an exciting lifestyle. The only downside for me, is that it's very non-inclusive. There's so much gatekeeping, criticism, racism, and overall exclusion that it makes it hard to grow and perform as well as some of our less-melanated counterparts. It doesn't stop me from creating, but it definitely deters a lot of POC and Black cosplayers from joining in on what should be a fun, safe space!
Oona: Would you rather have Spike Spiegel or Gene Starwind by your side during an intense bounty hunt/mission?

Tiara: Well, since I'm newer to the community, I don't know Gene Starwind yet. He looks cool, but Spike Spiegel seems to get out of every situation and knows how to catch whoever he's lookin for, so Spike me please! He's also fine sooooo.

Photography Credits:
Lady Deadpool by @Seats_Photographix (Cover Image)
Starfire by @Kwud_Photo
Android 21 by @Iamgxftd

Social media links:
https://beacons.page/mycosbae
www.Instagram.com/TiaraBreeCosplay
www.Facebook.com/TiaraBreeCosplay
www.Tiktok.com/@tiarabreecosplay
Want to get Black Nerd Problems updates sent directly to you? Sign up here! Follow us on Twitter, Facebook, Youtube, and Instagram!