Writers: Chuck Brown and David F. Walker / Artist: Sanford Greene / Image Comics
Bitter Root #3 slams it's foot on the gas, and it ain't lookin' back. This issue moved faster than its two predecessors, mainly because basically all of our characters are dealing with some conflict at the moment.
Cullen, Blink, and Ma Etta are wrestling with Berg whose been infected by something even stronger than a Jinoo. None of the roots are working and they fear they're gonna lose him. Apart from the uncertainty of his future, this scene provided a lot of action for the group. Berg is a big dude, and right now he's got no conscience, so after Blink and Cullen got that ass whooped, Ma Etta had to step up like Yoda in Attack of the Clones and throw that cane to the side and replace it with a fist. She bout that life for real for real. Hints had been sprinkled about her badassery in the first two issues, but I still wasn't expecting this type of reveal. She's got all the smoke, and she's ready to hand it out if necessary.
Simultaneously in Harlem, the cops have taken to the streets to look for answers about two murdered cops from issue two. We know, along with a few cops that witnessed the murders, that they were killed by Jinoo. But Jinoo aren't common knowledge. They're not even hearsay within the neighborhood. So, telling your captain that it was monsters that killed his cops might result in you getting a billy club to the head. And because this is 1924, who do you think they're gonna blame for these deaths? You got it.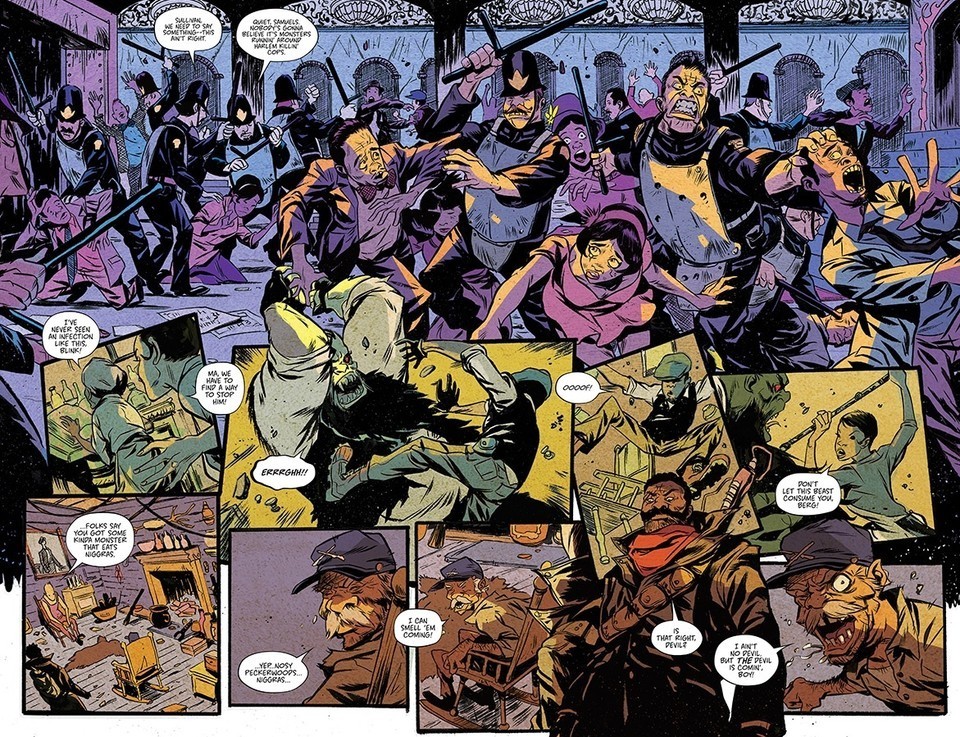 This scene was a hard one to get through, as it's got some of Greene's beautiful art juxtaposed with ugly images of cops beating up on innocent black people. Anguish, fear, and resentment are front and center, but I guess that's the point. It was also another interesting exploration of how hatred spreads in this world. I do believe these cops were initially genuinely in search for some answers about their fallen comrades, but they quickly found a scapegoat, and the hate spread so fast that the eerie transformation from cop to Jinoo was prevalent across most of the policeman. Out of all that's happened so far in this series, this was easily the most frightening few pages to read.
Amongst the handful of tense environments, there were moments with subtle hints at backstory that I hope will be paid off sooner rather than later because it promises some interesting drama. We get glimpses into why the Sangerye family is fractured, and we find out that over the past few years, there seems to be more and more Jinoo popping up without explanation.
Bitter Root doubles down on its world-building as action propels the story forward into uncharted territory. If you'd been on the fence about this series so far, this was the issue that sinks its hooks in and makes the set up worth the wait.
10 Harlem Hands of 10
Reading Bitter Root? Find BNP's other reviews here.
Want to get Black Nerd Problems updates sent directly to you? Sign up here!
---
Follow us on Twitter, Facebook,Instagram, Tumblr, YouTube and Google+?