Writer: Kwanza Osajyefo / Artist: Jennifer Johnson / Black Mask
The Black series gave us a glance into a world where only Black people have superpowers and the organizations keeping that information closed off. Black AF: America's Sweetheart is a world-building sequel where the public is now aware that Black people are capable of having special abilities. That goes as well as you might think.
Enter: Ellie Franklin. Ellie was adopted by the Franklin family, lives in Montana, and has powers similar to a certain Kryptonian. Ellie is an all-around powerhouse forced to keep her abilities a secret. This changes once she sees other Black people on TV displaying their abilities as well as the additional scrutiny they now face. Yeah, shit ain't looking good. Luckily, Ellie decides to do something about that.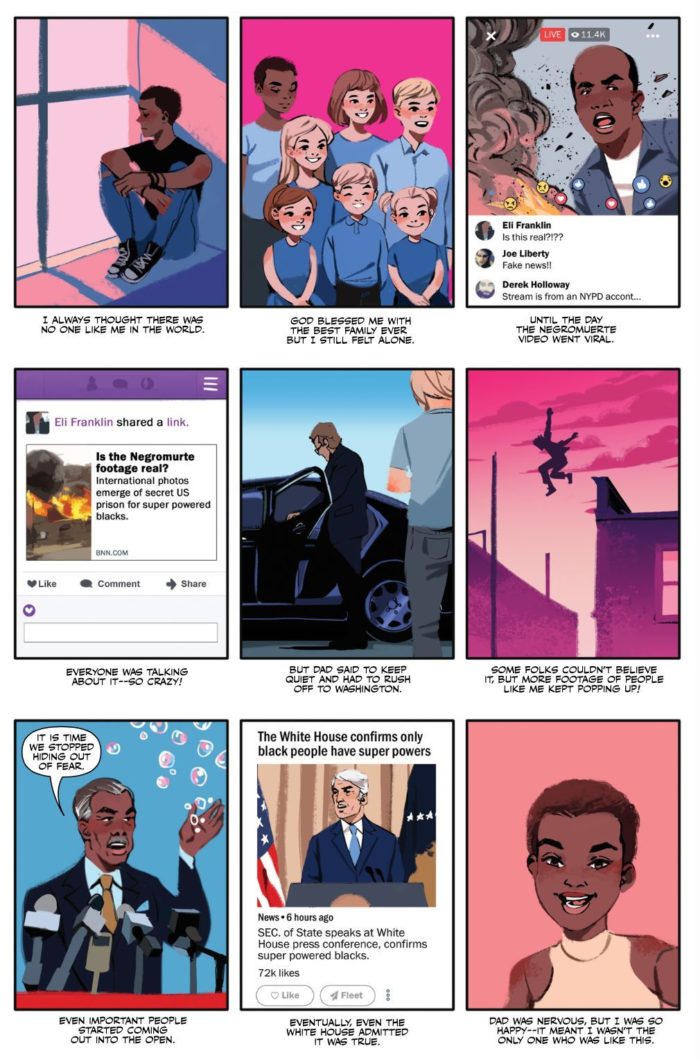 Black AF: America's Sweetheart's Ellie has a heart of gold
Ellie doesn't know much about her past or who she is. What Ellie does know is that she wants to help. Ellie wants to show that Black people can have powers and can not be considered a threat. With that, a technology-based keepsake from Ellie's past that she names B.O.B. helps her don some threads to become America's first superhero. Ellie is able to help others but quickly learns that good intentions are roads often paved with politics.
Black AF: American's Sweetheart feels like a throwback to the Silver Age of comics trying to co-exist in the modern times of today. Ellie is young, optimistic, and bright-eyed in a world that's gotten even harsher for Black people. Kwanza Osajyefo does a great job contrasting Ellie's optimism and trust against that of Kareem Jenkins from the predecessor series, Black. These two characters couldn't be more different and as Osajyefo has you rooting for Ellie's belief in doing the right thing, the adult in you knows her hope and optimism may be her downfall to a rude awakening.
The American motherfuckin' Dream
When we look off the strength, I'm fucking with Tim Smith III's costume designs. The Red, White, and Blue work for Ellie and the hat, to me, is the perfect touch. It pays homage to the blueprint of a traditional superhero outfit while the hat and domino mask combination gives it some additional flare. Jennifer Johnson on that art tho? It ain't even a question. Johnson's work is what truly makes this feel like a Silver Age comic throwback co-existing in the Bronze/Modern age of comics.
While Ellie's use of powers and fighting comes off as traditional, her expressions and body language are way more modern. Johnson is giving us the best of both worlds here. Pair this up with Osajyefo's social commentary and plot twists, and you've got yourself a book you'll want to take your time reading. I strongly suggest reading Black before Black AF: America's Sweetheart in order to see the scope of the entire world being built across the long game. There's also some appearances you'll wanna keep your eyes open for, easter eggs that show that these two series are so closely intertwined.
9.3 Codenames Getting Roasted out of 10
Are you following Black Nerd Problems on Twitter, Facebook,Instagram, Tumblr, YouTube and Google+?