Writer: Kelly Thompson / Artist: Elena Casagrande / Marvel Comics
While I've been thoroughly enjoying this blissfully unaware version of Black Widow, it was about time we got some real answers and Kelly Thompson gave us just enough. The Red Guardian hasn't been the only one pulling the strings and Black Widow #3 reveals why.
2020 Starsky and Hutch
Bucky and Clint's conversation discussion debate bickering over whether to pull Nat out of this Pleasantville trap was so well written and believable. They want her to be happy but know this cant end well.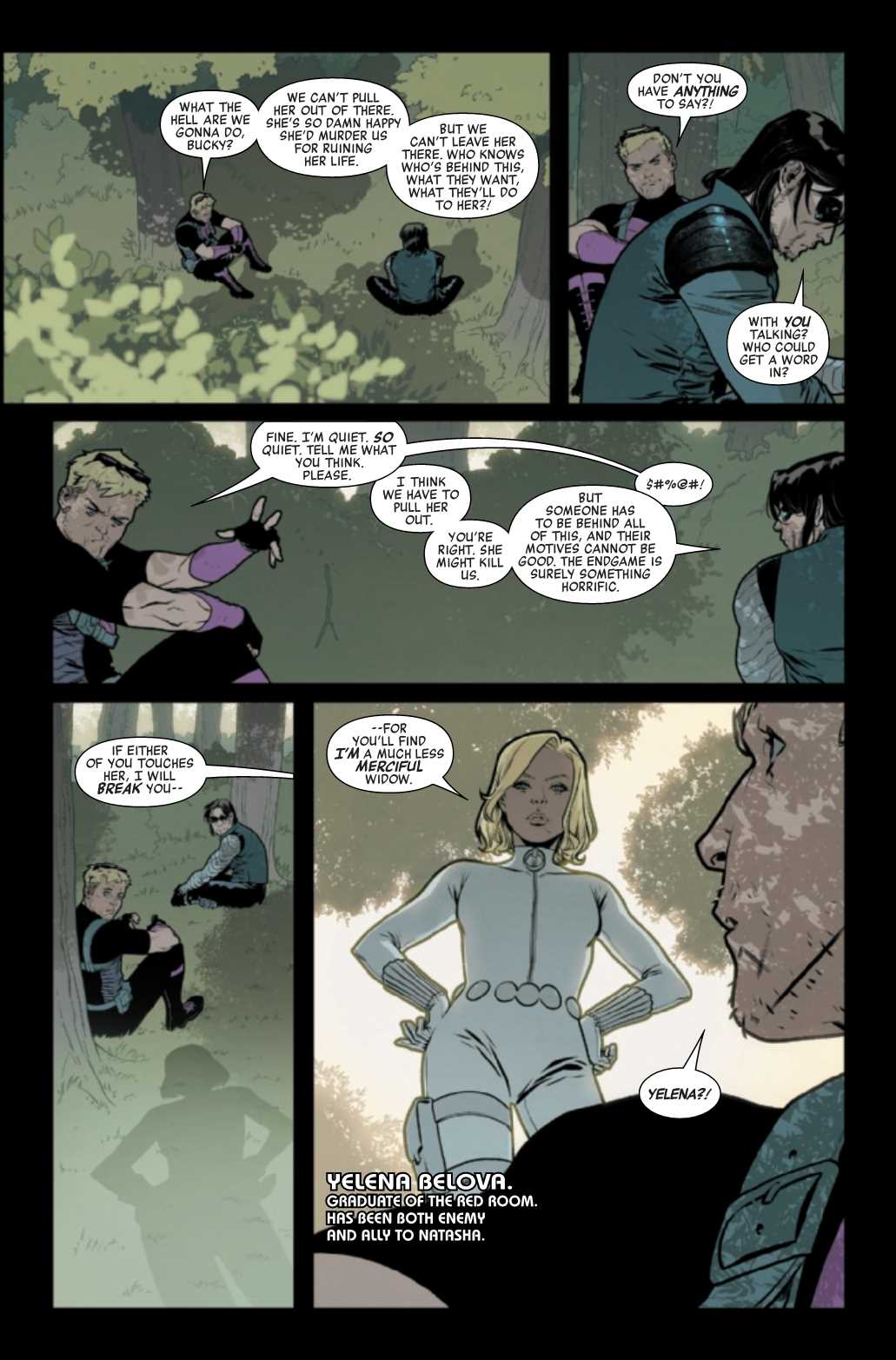 The turmoil you go through letting a friend live a beautiful lie is conveyed through these two well, until our dynamic stalker duo receive a surprise visit from someone already on the inside and agree to continue observing from afar.
Losing Control in the Control Room
It's in this villainous lair that we discover it isn't just a spurned ex that's plotting on our Soviet spy turned hero. While, the big bad reveal of Viper, Arcade and company was enjoyable, the verbal sparring match to decide what happens next is even better!
Natalie spends the majority of this issue flirting with the discovery of oneself. One minute she's startled to find herself making a bomb in her garage and the next she comes to terms with the necessary destruction she must cause with it. Elena Casagrande needs to get into the habit of drawing more of these incredible character-in-motion pages because each one in this Black Widow series has been stunning. With bombs being dropped, wedding dresses copped and movement on the plot, Kelly Thompson and Black Widow #3 delivers the goods.
8.5 Bloody Ballets 10
Want to get Black Nerd Problems updates sent directly to you? Sign up here!
Follow us on Twitter, Facebook and Instagram!