Here's what we reviewed in comics this week that you might want to check out:
Batman #102
Ghost-Maker is brand new, at least for us. We don't know everything about the mysterious tech-based vigilante yet, but we do know that he and Bruce have an intertwined past dating back to when Bruce was traveling the world to learn the things that would eventually culminate in him becoming Batman.
Black Widow #3
It's in this villainous lair that we discover it isn't just a spurned ex that's plotting on our Soviet spy turned hero. While, the big bad reveal of Viper, Arcade and company was enjoyable, the verbal sparring match to decide what happens next is even better!
Captain Marvel #23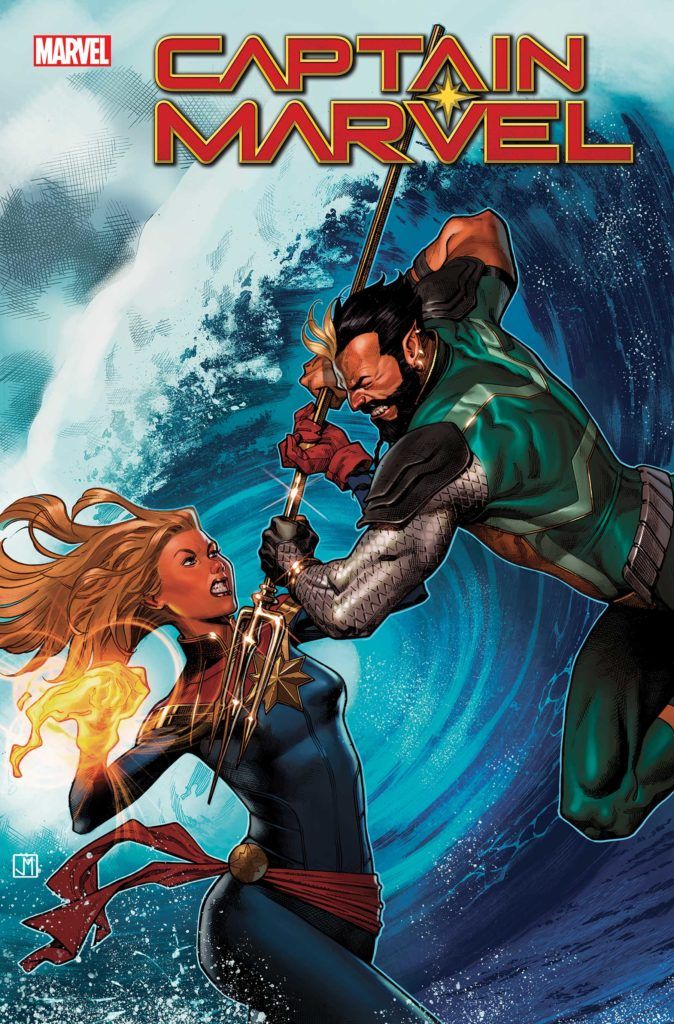 There's a theory that the person behind the Evo persona could be Magik, of the New Mutants, which is beyond troublesome. While she might not be classified as an Omega mutant, she has unparalleled teleportation abilities, God Tier fighting strength and control over Limbo…all that could be at unmatched levels with all the time that has passed.
Crossover #1
Crossover, true to its name, starts its inaugural issue by taking a sample from Wertham's Seduction of the Innocent and an oddball quote from Image president Todd McFarlane, before immediately jumping into the proverbial meat and potatoes where the titular "Crossover" happens and comic book realities suddenly shift into the "real world" and society has to reckon with a new status quo.
Inkblot #3
The cat's design is oddly iconic, with its big pulsing eyes, and malleable outline. And given that Inkblot #3 is solely focused on giving the cat ample screen time on the high seas, I love how the book looks and feels. The panels are expertly constructed, the colors make it very easy to distinguish the different actions going on on each page, and the set pieces are absolutely breath taking. Visually, lots of great things going for it.
Jusitce League: Death Metal #56
And her relationship with Martian Manhunter is a great ongoing storyline that feeds back into her wants and needs. It's really been the most consistent emotional core of this entire story, dating back to Scott Snyder's Justice League #1 and jumping in and around all of the tie-ins. It reinforces why she's going as hard as she is in every battle. She's letting that N'th metal fly, and I'm cheering with every connected hit.
Marauders #14
Gerry Duggan and Benjamin Percy have written a really fun book to break the ongoing tension in this Swords of X series. With this being more of a cerebral issue, Stefano Caselli does some good work with the facial expressions necessary to convey the thoughts and emotions of the champions set to partake in this battle.
Origins #1
Like I said, very much Horizon Zero Dawn adjacent. Although, here one of the principle characters is an android which is a crucial distinguishing factor, given that the frame is that of the android Chloe recounting her adventures with her young charge David, who has to come to terms with his past/future actions, a sentiment which makes drastically more sense when reading the comic properly.
Tales From The Multiverse: Batman Hush #1
Tales From the Dark Multiverse felt like DC's version of What If? It's bookended by an omnipotent celestial being named Tempus Fuginaut who narrates the story for us. It's told in a pretty straightforward manner with some twists, turns and Easter eggs pointing to the original Hush storyline and some of Gotham's favorite characters. In general, they were all really fun to see.
What comics did you check out this week that we didn't cover? Hit us in the comments or on our social media!
Want to see what else we've reviewed? Check out our previous Pulls.
Want to get Black Nerd Problems updates sent directly to you? Sign up here!
Follow us on Twitter, Facebook and Instagram!