Writer: Ryan North / Artist: Erica Henderson / Marvel
I've heard lots of amazing things about Squirrel Girl, most surrounding the fact that she beat Thanos. But that's not why I'm here. I'm here to discuss this really great comic series, The Unbeatable Squirrel Girl, that highlights all of the reasons this character, who possesses the proportional abilities of a squirrel scaled up to human size, has exploded in popularity since becoming Luke Cage and Jessica Jones' nanny. Squirrel Girl is down to earth, unassuming and chill as can be. But she's also wicked funny, whip-smart, and wildly entertaining. This combination of her being inconspicuous yet aware and laid back but electric, makes her the perfect hero to bring older and younger readers together to enjoy a comic that genuinely transcends demographics.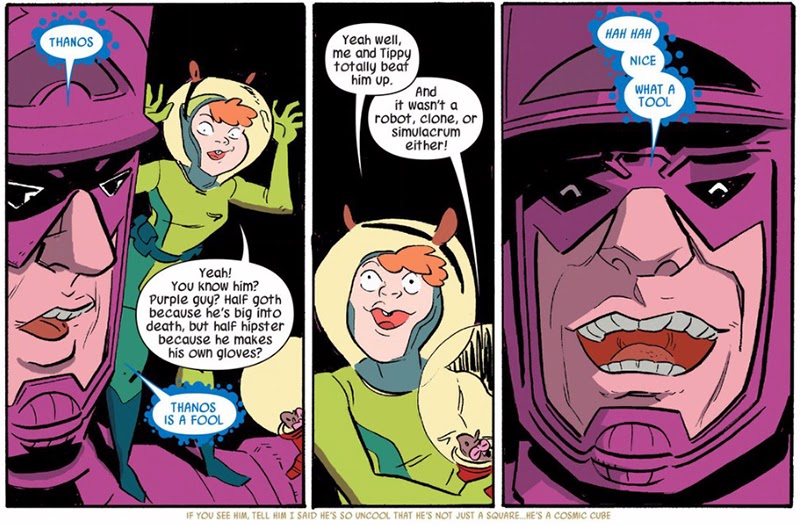 The Unbeatable Squirrel Girl
The Unbeatable Squirrel Girl does a great job of showcasing the lighthearted side of the Marvel universe, which is no small task. The fact that she continuously relies on "Deadpool's Guide to Supervillains" trading cards is just one example of the sheer hilarity that goes down between these covers.
Squirrel Girl's alter ego, Doreen Green, is a wholesome and righteous college student, with a smart roommate who just happens to be a woman of color. NBD. Some might put Doreen in that Peter Parker and Kamala Khan category of young heroes doin the damn thing. She breaks out in song at a moment's notice and piles on the puns like that lame college professor, but it's all so genuine and adorable that you cant help but love her. She's as woke as a comic book character can be, and does an impeccable job thinking her way out of situations instead of always punching her way out. Honestly, more writers need to find better ways to do that with their heroes.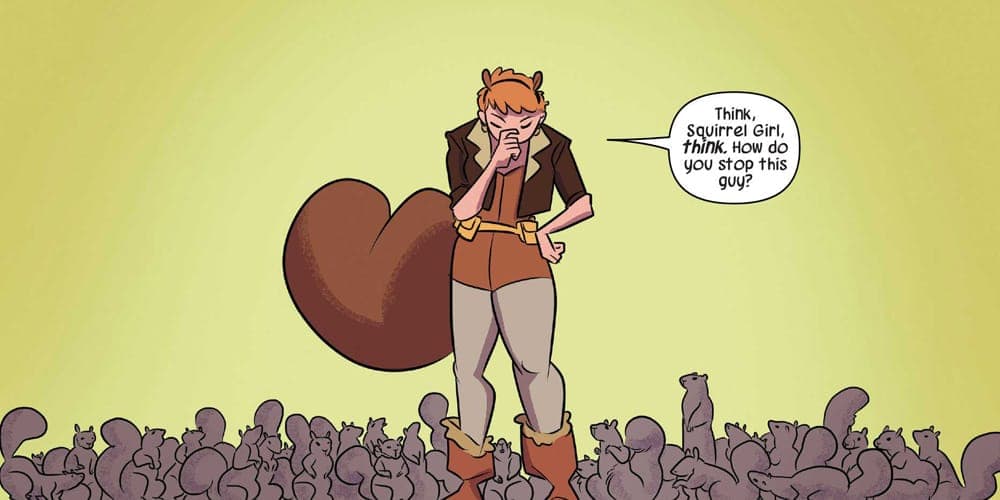 The guest features are top notch and so well integrated that I wonder how it took me this long to pick up my first Squirrel Girl story. Every time Tony Stark refuses to help her, a wacky villain pops up on her, or an incredibly powerful devourer of worlds blocks her path, you can't help but for root for her to eat nuts and kick butts every step of the way.
True All Ages Fun
The Unbeatable Squirrel Girl is one of those comics for everyone. A 6-year-old boy could pick it up and become Squirrel Girl's #1 fan, a 74-year-old feminist could thumb through it and enjoy herself thoroughly. It has firepower to go along with it's sharp, comedic writing and that's a feat to hang your hat on.
I often find myself loving the narration of each page, which gives each story an interesting sense of depth and humorous insight. Squirrel Girl is a character that young readers should check out on their road to true comics appreciation. Enough well known heroes pop up to keep casual fans interested, and the hardcore nuts will appreciate her impressive ability to subdue evil with her wits instead of her brawn, though she's got plenty of that!
If you haven't ran up this oak tree just yet, it's about time you start with The Unbeatable Squirrel Girl and find out who this mighty hero is that has last left such an indelible mark on the Marvel Universe.
Want to check out our other At Home Recommendations? They can be found here.
Want to get Black Nerd Problems updates sent directly to you? Sign up here! Follow us on Twitter, Facebook and Instagram!