Bohemian Rhapsody is a classic biopic, with a fast ride to fame. This was the film that Hollywood wanted but may not have been the one the fans were waiting their lives for.
The film begins with Freddie Mercury played by Rami Malek (Mr. Robot) getting ready for a live performance, warming up, walking through the backstage area – and you definitely get the feels. This type of classic beginning to a musician biopic is nothing new.
Director Bryan Singer did not take any risks with this film. He definitely took licenses in order to tell the story he wanted to, which has created the largest backlash amongst audiences. I wanted to be able to see Queen, I wanted to get the story of the band, the story of Freddie and the music that raised me, which is exactly what I got. I am not clear if I was bamboozled into a story based on true events, or an actual true story, but the formula catches you if you don't pay close attention.
OOOOooooOOOO!
Why do we watch biopics? The whole idea of it is spoilers, we know their life mostly and we know their art – it's the performances that we want to see. Can these actors embody our legends, our geniuses? Yes, Rami Malek brings all his Queen to this role, every jump, leg thrust and operatic oh. I will say, knowing it was slated to be Sacha Baron Cohen did make me think of how perfect he could have been as Freddie Mercury.
Not saying better or worse, who really knows, but the difference is Sacha would have BEEN him. Sacha's ability to become a character would have made us forget he was Sacha Baron Cohen. While watching this film, I always knew it was Rami Malek playing Freddie Mercury, but what a good fit! Rami Malek's general mysterious nature blended with his expert talent brought me a view of Freddie I could not have imagined.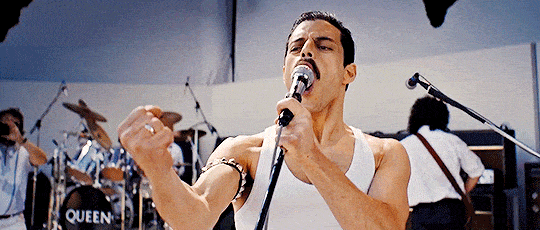 The casting was phenomenal. Bassist John Deacon played by Joe Mazzello was my favorite. His faces and effects were spot on. Joe Mazzello who – sidebar is TIM FROM JURASSIC PARK!! Yes, I went to his IMDb page (my favorite site ever) to learn about all the actors and their past roles, read trivia and what not. What is the first film that comes up under his name, Jurassic Park as Tim, my childhood squealed at even a higher pitch. Queen and Jurassic Park! It's like someone went deep in the crates of my mind to make this film… I digress.
Malek gets introduced to a band called Smile in the film with guitarist Brian May played by Gwilym Lee (The Tourist) and drummer Roger Taylor played by Ben Hardy (Angel, X-Men: Apocalypse). Both actors gave great performances and looked just like the band! The cinematic nature of the group writing songs, recording the "Bohemian Rhapsody" guitar solo, or "Galileo!" provide a cookie cutter nostalgic feel.
Oh, the music! It was all about the music, the band's boldness that generated masterpieces, and the group effort of it all. Yes, Freddie was the main character in this film, but they did a wonderful job of showing us they are nothing without each other and that collaboration is what made the actual genius thrive. The music you love of Queen shines, and you can't help but sing along. When you hear those tones, when the two stomp and clap happens, or when you hear the thousands of fans singing in the crowd, you understand Freddie, and the fire that burns for that feeling. Literally, days after seeing the film, I didn't have just one popular Queen song stuck in my head, but all of them! Even the ones not in the movie, I was at work humming "Bicycle, Bicycle!" *Spoiler: That song is not in the movie.*
The whole film is leading up the iconic Queen Live Aid performance at Wembley Stadium, London in 1985. I won't spoil it, but I started having Selena feels – you know when she rides out in the chariot, and you could just feel the hum in the stadium, "Como La Flor!" I watched that rendition of the Live Aid concert in aw – goosebumps and electric excitement. I was amazed at their accuracy, and the work put in to reenact these performances. It was a reminder of just how great Queen is to watch. This is the biopic formula that is guaranteed to win over audiences with nostalgia and wonder.
Is This the Real Life?
After a few days sitting with the movie and reading other reviews, the licenses taken may have told the most palatable story for audiences but not given the best, nor accurate depiction of Queen, Freddie, and the actions he took in his life.
For true-true Freddie Mercury fans, you may have known this, but it was news to me that Freddie's real name is Farrokh Bulsara, and he is of Parsi descent and born on the Tanzanian island of Zanzibar. The film depicted Mercury as being discriminated against and even having slurs thrown his way. He's depicted as feeling out of sorts, feeling outside of everything: himself, his friends, his family. This theme of belonging stayed strong throughout the piece leading to Freddie's unique choices and being the risk taker he needed to be.
The film stayed true to the biography format with the classic shots of humble beginnings to shows of "unexpected" talent, even down to the foggy fisheye lens when Freddie was high and annoyed. It showed great focus on fashion and time period. I would have cursed its name if it didn't focus on Freddie's fashion. What the film did do that caught me off guard was the pacing. All biopics move fast that is for sure, usually to show the turmoil of fame and focus on the artist's flaws and misgivings that made them a tortured soul. The first chapter of Queen's rise went so fast I almost asked the projectionist to rewind, because I think I missed something. What time was it? How many years had it been? Oh, they are signed and selling out tours in the U.S. but getting terrible reviews for "Bohemian Rhapsody" in the U.K. Wait, we already recorded, released, and are performing "Bohemian Rhapsody"?!!
We saw Freddie's absolute love of music and influence of opera and living in between genre and on the fringe. Freddie's genius and unapologetic way of being himself were splashed across the screen and riddled with shame and loneliness at the same time. Rami was able to bring this duality of confidence and insecurity that tugged on my heartstrings the whole film. The problem was I could not tell what was true and what was elaborated for the Hollywood treatment.
The film began to show Freddie as egotistical and almost a problem child of the group. I am sure this was done to accentuate his talent and genius. Throughout the movie, Freddie's inner loneliness took over and he began turning on his group due to the influence of Band Manager's assistant, Paul Prenter played by Allen Leech (Downton Abbey). This depiction of Freddie slowly bothered me, always seeing him as the bad guy vs. the exuberant personality I had been shown as a kid, and I realized that was me getting caught by the formula once again. I had forgotten that this may be another license taken and thought, 'well, everyone is not perfect.' After looking deeper, it seemed that Freddie was more of a diva and well… rightfully so with his talent and boisterous stage presence – but a jerk, problem child, and selfish behavior gave us a character who would create riffs in the group and a dramatic narrative to cling onto rather than a true telling.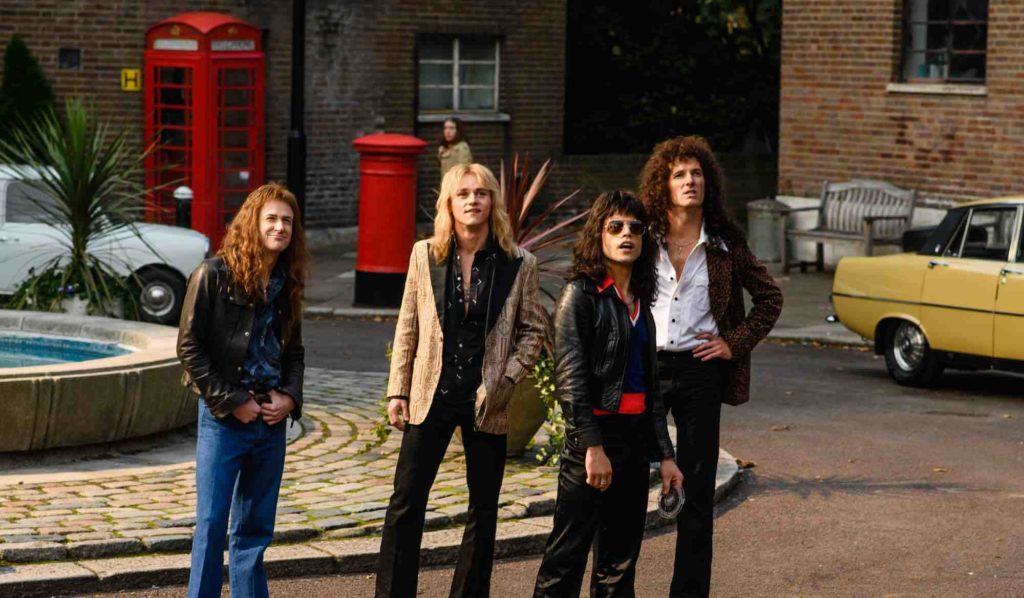 At first, I felt the inaccuracies were taken in a way that allowed for a more cinematic experience, like when a book is adapted for a movie. But this is a real life, real experiences, and there shouldn't be an opportunity to say the life was better than the movie…that shouldn't be a thing. The licenses taken muddled the timeline of Queen's history, held Freddie as responsible for many of the band's flaws, and made Freddie's sexuality topical along with him having HIV/AIDS.
Mama, Just Killed a Man
I was glad to see Freddie's sexuality portrayed in the film. I felt they really wanted to show the actual fluidity of it, but they also wanted to be true to the time period and Freddie's real-life private nature. It was "mysterious," but everyone knew. It wasn't a time for public pronouncements nor would that have been Freddie's thing. The music and performances speak for him. You know who he is more intimately on stage in front of millions than in his life at home.
The reality TV drama of it got me once again. I had stars in my eyes being pulled into the life of someone I admired, the beautiful, the nitty gritty, the pitfalls 'n all – I glazed over the problematic moments. This was most likely intentional by Singer, making the film that, on the surface, could be understood for the time but not paying close attention to the details and optics of it all. Every queer person was seen as a villain except for Jim Hutton played by Aaron McCusker (Shameless) who was an afterthought. (Jim Hutton being introduced as a waiter at one of Freddie's wild parties and then much later having a dramatic romantic moment showing up at Hutton's house to bring him to Live Aid.) When you find out that in real life they met as any couple would at a bar and had a 7-year long relationship through Freddie's last days, you kind of feel cheated having not been able to see that positive relationship pan out. This is especially so with every other relationship being toxic, uncomfortable, or strained.
For the true Queen and Freddie Mercury fans, you may have known about Freddie's relationship to Mary Austin, a clerk at a clothing store whom he met. Mary is played by actress Lucy Boynton (Murder on the Orient Express) and is the conscience of Freddie Mercury. Their relationship showed even more intimately the insecurities that Freddie dealt with, and the vices and crutches he used to mend them. This may be true, but it made a strange dichotomy between Freddie's true feeling about his sexuality. The film held relationships with his bandmates and Mary as the healthy portions of his life. Giving clear focus on the other bandmates getting married and having kids, or an intense scene with Mary revealing she is pregnant. While on the other side, his relationships with men and queerness are seen as a toxic and unhealthy lifestyle.
Paul Prenter is known to have been a bad influence on Freddie, but he became the sinister manipulator in the film. There has to be a Yoko Ono of every band, and they made that Paul. Having scenes in leather, lace, and what looked like an S&M queer bar to "We Will Rock You" then immediately after showing Freddie's ill health progressing…NOT the best look.
They also portrayed Freddie as breaking up Queen, wanting to go solo and continue without the band. This is also that classic moment in band biopics. There is always the lead singer who gets offered the better gig, takes it, and leaves the band in the wind. I should have known this was little off, because even though I may not be an expert, I didn't seem right in the actual discography of the band members. In reality, the band agreed together to take a break and all did some solo works, but I guess the writers felt how could audience get invested in a regular "life happens" narrative with a rock band biopic?
The timing being exaggerated did not affect me as much as others. Freddie is depicted as having been diagnosed with HIV/AIDS before performing at Live Aid when in reality he was not diagnosed until well after. This allows for a heartfelt moment between the bandmates as Freddie tells them the news and gives the audience that moment to be inspired by the performance and well up with tears knowing how it will end. Because the biopic structure was to the letter, the diagnosis scene was cliché: the reflection in Freddie's glasses of the doctor then the reflection in the glasses focusing on his hand in his lap. When he leaves the doctor's office, it's clear someone realizes who he is and gives and "aaaeeeeyooo," and Freddie responds in suit. First, wildly cheesy, but on top of that why does the kid sitting there look like he has leprosy??
I understand the film really did gloss over many things in Freddie's life and maybe this was to give us time to focus on what performing and music really meant to Freddie and the bandmily (band+family.) I am conflicted about how they portrayed Freddie's HIV/AIDS. It was clear in Freddie's life, and in the film, the last thing he ever wanted was fans to remember him for his terminal illness. He didn't want people to buy Queen albums on sympathy, nor did he want his life to be about him having AIDS. In this regard, I don't know how I'd feel if the film had then focused on this to remember him by. BUT I don't think they did it justice at all. It had a very campy view of a very serious part of his life and superficially elicited an emotional reaction.
Any Way the Wind Blows
In the end, it is not a bad movie at all. You enjoy the music and play along with the progression and band dynamic. It is a joy to watch Rami Malek play, and the nostalgia of Queen is the glue that holds this film. Its misgivings are at the fault of a Hollywood screenplay treatment and safe directing that allowed the editing of a legend's life and a band's legacy to something overly glossy. Basically, they chose "I Love My Car" as the single release, instead of taking the risk and releasing "Bohemian Rhapsody" as the album single to blow people's minds.
I say see it in honor of the performances of Freddie and Queen, but read up about the true life and legacy before heading to the theater so you can fill in the blanks and know the true events it is based on.
Want to get Black Nerd Problems updates sent directly to you? Sign up here!
---
Follow us on Twitter, Facebook,Instagram, Tumblr, YouTube and Google+?