Last weekend I finally ninja ran my nerdy ass to the movie theater to watch Boruto: Naruto the Movie. Admittedly I didn't really enjoy the mini Boruto manga that much, for the reason it just didn't click with me, but I went into this movie with an open mind. An open heart. A new ninja way in terms of how I felt about Boruto in general. So I asked for a ticket for the movie and the dude that ripped the ticket hyped me up and I was on my way. Oh, and by the way, there was a girl with Hinata's jacket in the theater so shout out to her keep reppin' the village.
This review will have no main plot spoilers but there will be some minor ones, so if you don't want to be spoiled at all then just know that I thought the movie was the epitome of the Springtime of Youth. It was beautiful, great, a perfect Ten-Ten. Now if you don't mind extremely minor spoilers then take those weights off and join me as I review the latest Naruto movie.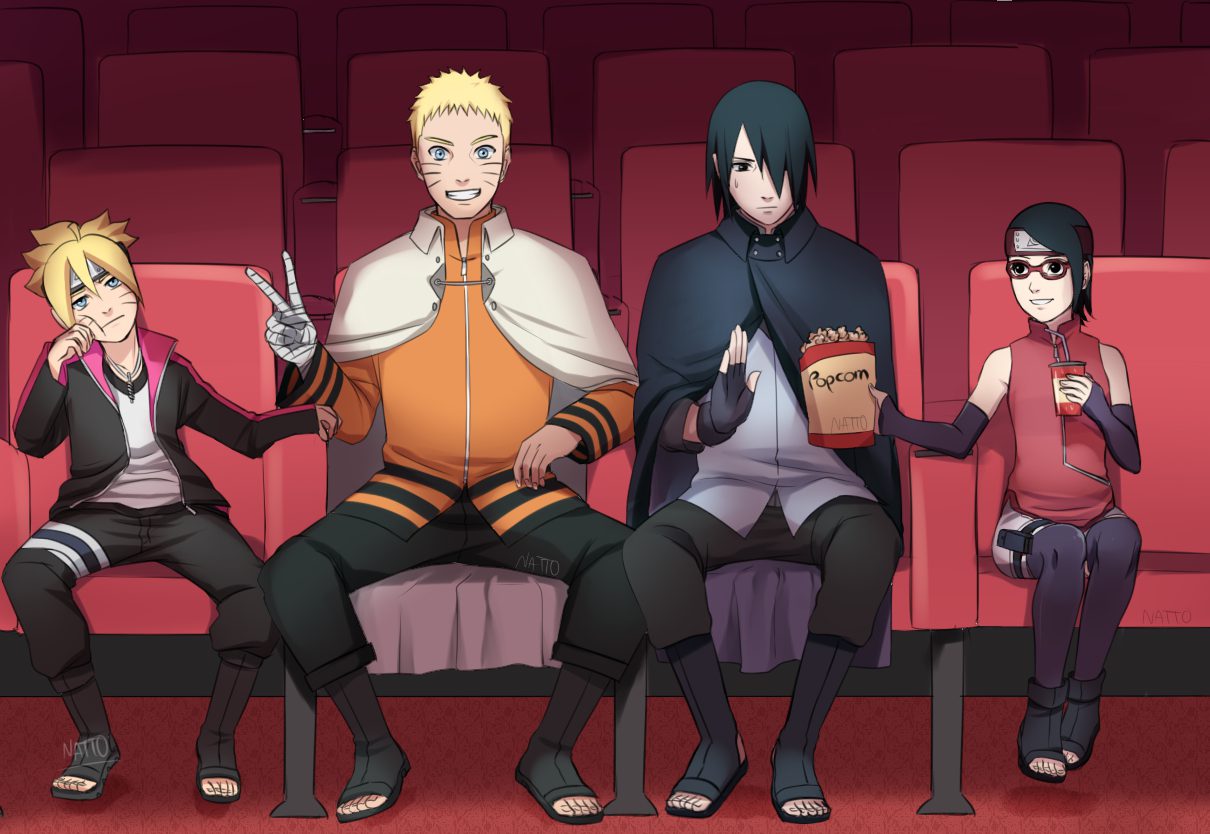 So the story of the movie is set several years after Naruto Shippuden ended and has a little bit of the manga plot in it. The storyline of Naruto being too busy for his son Boruto is the main plot for about the first half of the movie.
With his father being so busy, Boruto has grown up to be quite an audacious child who only relies on himself. He even learns the shadow clone jutsu just so that he doesn't have to count on his teammates for everything. Speaking of his teammates, Mitsuki, who is the other teammate that's not Sasuke's daughter Sarada, was entertaining as hell.
Boruto ends up disliking his father and even wishes that he didn't have one, and does everything to try to surpass his dad in every way, creating a great father and son story arc. Throw in a chunin exam with cameos from the children of our old favorites and this whole first half of the movie feels like a throwback and shows that Kishimoto's still got it.
While the first half of the movie felt like the original Naruto series, the second half of the movie felt more like the Shippuden series with more emphasis on big flashy fights than individual fights showing off the character's personalities — which isn't a bad thing in this movie because the fights are animated so well and flow nicely.
This movie showcases characters we used to know and love while introducing more characters (usually the children of the old ones) to grow to love as well. Choji's daughter is always eating chips in this movie and Shikamaru's kid is just like him and is just as beast as him when he actually feels like doing something.
This movie lets us see Naruto, Sasuke, and all the other characters from Boruto's perspective. We get to be a witness to the characters unlike when the show followed Naruto and we were a part of it ourselves. Naruto just can't handle being a father and being the most busy Hokage ever and Boruto just sees his dad as a busy guy who doesn't care about his children. Oh, and Himawari (Naruto and Hinata's daughter) is cute as shit.
Sasuke and Naruto's relationship is something I appreciated as well because they're as close as they ever were. In this movie Sasuke's character is written and handled better than he ever has been in my opinion. Also, Sasuke only has one arm and he fucks shit up like he wasn't missing a god damn limb, like SON.
One last thing that really symbolizes this movie for me is a quote by Sasuke that is said to Boruto. He says something along the lines of "You don't need to know the Naruto now, but the Naruto he used to be and how he got here." That's definitely not the exact quote but the main gist is there.
This movie felt like a homecoming and a great final hurrah for the characters. Kishimoto told the story he wanted to tell, and it shows. Now whether or not it actually stays as the final hurrah is yet to be seen, but if this movie is truly the end, it was a great send off.
Boruto: Naruto the Movie gets 9.9999999999 Chakra Gates out of 10
PS. Thanks to all the Tumblr users who made those amazing gifs
Are you following Black Nerd Problems on Twitter, Facebook, Tumblr or Google+?