They did that shit. The video for Bruno Mars' Finesse remix is magical. Of course, it ain't a banger if it ain't got 'the hero we deserve' Cardi B aka on it! Also, how you drop a Summer banger during a blizzard? Flames people, like Godzilla with a two-story megaphone flames. The whole joint is a vibe wrapped in a vibe with a side of vibes. Full blown 90s aesthetic paying beautiful homage to the groundbreaking sketch comedy masterpiece In Living Color. Somewhere in America, Keenan Ivory Wayans is walking around Like T'Challa in Wakanda getting allllll the props he so rightly deserves.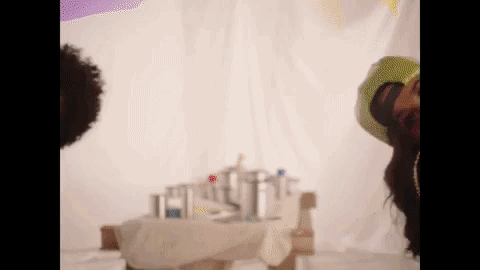 It was so official, Bruno and Cardi revisited some key moments from In Living Color's visual palette. The cool ass intro with the paint rollers on the glass panel was everything! Then they kick it to the performance set, do you remember the spot? It had that hood ass rooftop door that led nowhere with the (somehow adjacent) first floor DJ booth/fire escape that was like a Wayans Brothers rite of passage. The freaking construction scaffolding in the back looking like an unused set piece from Chicago? It was all there!
I'm here for 90's throwback Bruno and Cardi B

Bruno was doing the damn thing in full Karl Kani regalia, with the "live performance"  camera texture from the show! I was half expecting JLo and Rosie Perez to show up and battle it out for Puerto Rican dance supremacy!
On everything, it looked like Cardi and Bruno genuinely captured the fun and creativity of In Living Color's entire run in this one video. On the deepest level possible, this is a celebration of Black and Brown ingenuity. Bruno is serving up all the counterculture swag that made Hip-hop such an undeniable force. Amidst thought pieces aimed at boiling Bruno down to a Timberlake-type appropriator and Cardi as a dummy from The Bronx; watching them laugh and smile the whole video, finessing that je ne sais quoi we love so much felt good. Like smack 45th in the face good.
Knowing they both came up from impoverished backgrounds and made the most out of what they had. Maaan, it don't even make sense how fly they are right now! That's why I give the Bruno Mars 'Finesse Remix' ft. Cardi B: two snaps in a circle! Peep the video below, and talk your talk in the comments!
Are you following Black Nerd Problems on Twitter, Facebook,Instagram, Tumblr, YouTube or Google+?