Writer:Al Ewing / Artist:Luke Ross / Marvel
I am honestly so glad Ewing put Spider-Man (peter Parker) in this roster. Peter is so fucking funny when you got a writer that's good with multiple personalities in a team book. Ewing did a brilliant job of opening up the book with Blue Marvel (Adam Brashear) exploring the Neutral Zone his eldest son Kevin is lost then getting back to his lab to take over measuring Monica Rambeau's abilities. It was good to see Brashear acknowledge how brilliant Parker is behind all his banter and wit. Parker's surprise to that goes to show that although he is basically a fucking legend in the hero community (arguably you could say at this point in the timeline) but for the most part he is for the most part not always taken too seriously. It was warming to see his brilliance acknowledged for a change which meant a lot to him. We gotta mention Monica doing a light form hologram of Brashear as well. It went from awkward to "alright this is still very awkward" so quick. Before we get the full scope of whats going on with Monica and how she may be something more than human, we got Spider-Man tangling with Brashear's youngest son Max (whose technically a not really a villain, was just working for them to find a way to rescue his brother). It was hilarious to see Adam and Monica have to be the adults in the room to literally get everyone to sit down and talk instead of resorting to violence.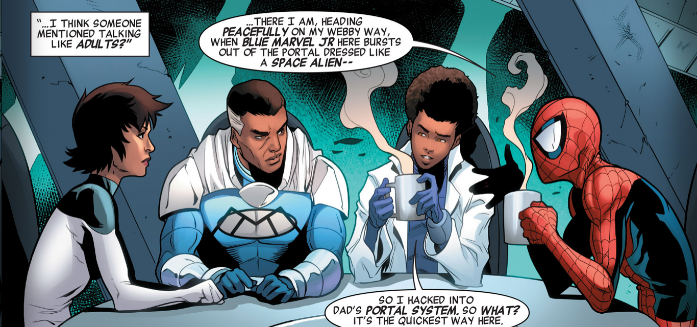 Max has found Kevin again as well as his warning of a new danger approaching. We then got White tiger and Power Man following up n the thing that killed Gideon Mace. Power Man is acquiring more and more knowledge of his surroundings for his chi which he needed cause the monster they were facing was no freaking joke. We see white Tiger get turned into a monster as well after having been stabbed. Vic calls in the entire Mighty Avengers cavalry because shit has gotten way out of hand. Ewing is pouring the pressure onto the team from two fronts this issue. We can't help but believe Kevin's warning from the Neutral zone will have something to do with the secret wars (I'm sure there's also a connection in the surprise reveal of this issue a well).
Luke Ross offers outstanding visuals for this issue. The work is bright and for the most part cheery. He really gives the Mighty Avengers their own feel upon page. The heroes look like heroes in HD TV just detailed and spectacular to look at while the villains seem to be the only ones with the aura of menacing clouding over them. This is very subtle in approach which I dig entirely. I'm interested to see where this goes with Secret Wars coming up but i have to be honest, we just got down with the whole Axis event and I really want the team dealing with their own shit. Whatever the case is about to be, I'm here for Ewing's work.