Listen, I saw the trailer for Cars 3 and I was already hyped. Lightning McQueen back in his element, back on the race track doing what he does, then we see McQueen taking a supersized "L" (in the words of Eminem) worse than a convertible, flippin' vertical, nose-first with the top off landing upside down. I was hooked from there; I needed to see this movie. Especially when the Johnny Cash "Hurt" cover was put over this trailer. If you haven't seen the Hurt trailer for Cars 3, look at that shit first, right here then read the rest of this review. Do it. Doooooooo it.
Did you do it? Cool. Cars 3 put us back on the racetrack with Lightning McQueen (Owen Wilson) and his team, racing as business per usual. This time around Lightning is a part of a trifecta of racers his age continuously exchanging wins between each other. It isn't until upstart Jackson Storm (Armie Hammer) takes McQueen by surprise that the narrative of the story changes. McQueen and his compatriots' age get put at the forefront of the story. Storm is the All-Star of a generation of racers that are younger, stronger, and faster by using stats and data analysis to improve their overall performance as explained to us by racing analyst Natalie Certain (Kerry Washington).
This is an entire role reversal from the first Cars movie where McQueen was an arrogant rookie that learned to respect the game (racing) and those that came before him from his mentor Doc Hudson (Paul Newman). McQueen pushes himself past his limit and suffers a horrendous injury, which puts him in the exact position Doc Hudson faced when he had his injury then tried to come back. McQueen doesn't want to be forced out from racing like Doc was and is proving to himself and proving for Doc that he may be older but he ain't done yet.
This sets us on McQueen's comeback trail and meeting with a new sponsor Sterling (Nathan Fillion) who sets him up with his cutting edge trainer Cruz Ramirez (Cristela Alonzo). McQueen finds himself as a true underdog being counted out by everyone except those closest to him. There's a great line in the trailer said by a character that I'm not going to reveal for sake of spoilers, that bangs so hard and rings so true. "You'll never be the racer you once were. You can't turn back the clock, kid… but you can wind it up again."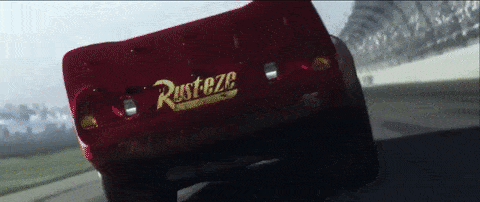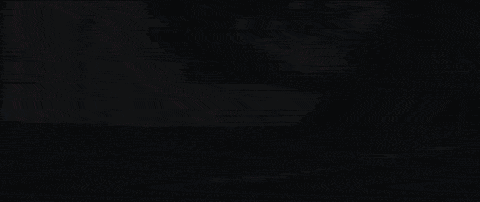 Cars 3 does an incredible job of showing the new generation of cars in comparison to the older racing models. You really hurt for McQueen as you see how technology and evolution are gunning for him and his career throughout the film. Stack all that on top of displaying the hands and the gritty way of racing that McQueen represents in stark contrast to simulations, stretching techniques, motivation, and mental conditioning that Cruz is an ambassador of. Cruz isn't a slouch either and its great to see the dynamic of a woman (of color) being the one training Lightning this time around with these new eccentric techniques as well as annoying him with the constant reminder of how old he is now.
Their journey together uncovers more about both of these characters individually. McQueen's fight against a forced retirement in the face of a game being changed juxtaposed with Cruz' ambitions prior to becoming a trainer and learning from McQueen's hands-on approach to training. Also, can we just give a shout out to a woman of color being part of the lead this time around as well as being the voice actor? Y'all don't even know man, you goin' love Cruz.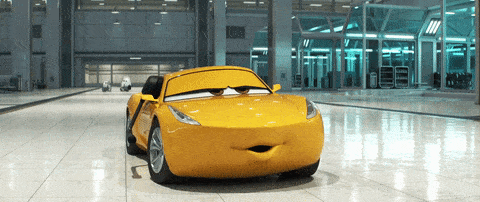 Now when we look at Jackson Storm's character, you would think he's supposed to be how Lightning McQueen used to be, simply selfish due to being a hotshot rookie. That isn't the case. Where McQueen was confident to the point of arrogance, he still respected his opponents. McQueen never went out of his way to be a dick, Jackson Storm does. Storm is a throwback to the 80's type of cocky bullies and represents an apex athlete superiority mentality. We needed that this time around, it's perfectly fine that Jackson doesn't have redeeming qualities; sometimes people are just straight assholes. With his sleek look, incredible speed, and ability, Storm is a villain you'll find it hard to hate even as his cocky and irredeemable traits become blatant.
The animation of cars is truly amazing this time around. The scenery is gorgeous from track to track then focusing on different environments from racing that get our leads dirty and muddied up. The angles shot from the cars' point of view are straight thrilling. You feel like you're playing a video game and the choice of using courses outside of just a racetrack for training is a welcomed addition to this series.
The heart of the matter in regards to Cars is how it services its fans. I honestly don't count Cars 2 as the sequel. That was a fun adventure for kids, Cars 3 is the real shit. Cars 3 is the fucking sequel Cars deserved. I say it serviced the fans due to the homage that is paid throughout the movie to Doc Hudson. The heart of this movie is embroidered with McQueen's respect, admiration, and love of Doc Hudson. Hudson is a strong father figure and mentor to McQueen. McQueen constantly alludes to him in the movie and in a way is fighting for Doc's legacy right alongside his own career at the same time.
The frustration of McQueen fending off the ill-fated situation Doc had is a great motivational pull for McQueen and for us fans it's good to see just how highly regarded Doc Hudson still is for McQueen and the sport of racing in general. Doc's influence and past continues to ring out as we get a closer look at Hudson's career that will have you screaming "That's what the fuck I am talking about" at this G-rated movie in a theater full of children.
I can't recommend this movie hard enough to you personally as a reader. If you haven't seen the first movie, then go watch that immediately before seeing Cars 3. We see incredible growth from Lightning McQueen as well as multiple layers of transformations. This isn't just lightning's movie either; this movie is as much about Crews and Doc Hudson as well. The Cars series (excluding the 2nd movie) is the animated version of the Rocky series. This shit is Rocky and Creed on wheels. I'm not hearing otherwise. Cars 3 is The Fast and furious back when it was strictly about being fast and furious, please believe me.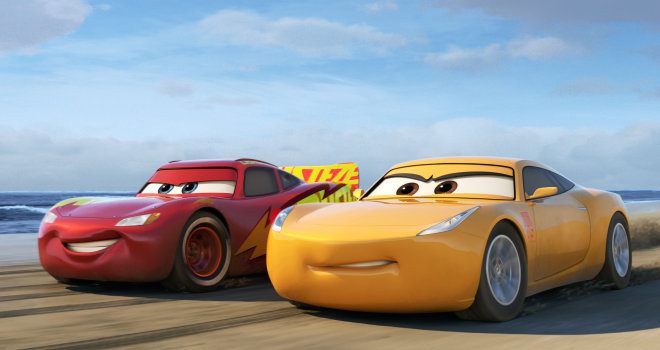 I'm talking about pathos. I'm talking about paying homage. I'm talking about mother fucking legacy and the second coming of the god Doc Hudson. Cars 3 is the full damn package, I don't wanna hear shit about dope movies in 2017 unless Cars 3 is at the forefront. You ain't think an animated movie could convey an emotional tone using talking cars and racing? You thought wrong kid, dead wrong.
Are you following Black Nerd Problems on Twitter, Facebook, Tumblr or Google+?