If you can believe it, it's been 20 years since Spike Spiegel and the rest of his space cowboys first came alive in anime form. In celebration of the iconic series, on Thursday, Oct. 4, 2018, at New York Comic Con, some of the show's creators and members of the English voice cast shared their thoughts on a panel about one of the all-time best anime shows ever created and its lasting appeal.
On recognizing the uniqueness of Bebop in the early years…
"We had no idea what we were even doing, much less if anybody would see it. All we wanted to do was try to honor what we were given, and it was such a beautiful piece of work that we didn't want to screw it up. We wanted to make it something that we would want to watch. So we would have no idea that it would blow up and that it would last all these years too."
—Steve Blum, English voice of Spike
"I knew when Spike walked into the church and 'Rain' started playing that this was something unbelievably special. This was something I had never seen before. And at that moment I was so honored to be working on something so beautiful with such complex, nuanced storytelling that not only was told through the words but also through the images and also through the music. And all I could think of was — because at the time, there really wasn't a place where anime was shown, especially dubbed anime, on television — and all I could think to myself was, this may be the greatest show I ever work on and I don't know if anyone is ever going to see it."
—Mary Elizabeth McGlynn, English voice of Julia
"At the time that we were pitching this project to our sponsors, they were very confused because we said, 'Well there are no giant robots; there are no epic space battles.' So they're like, 'Well how are we supposed to sell it?' and in fact we were worried that they were actually going to put it on the shelf and let it collect dust. To be honest, when I was still working on the animation and kind of editing it through…I still was like, 'I don't know, I hope this works,' but then I finally got some of the audio track, especially the music by Yoko Kanno, and it's when I finally got that audio data that I was like, 'Oh my god, maybe we'll have something that might leave a little dent in the history of anime.'"*
—Toshihiro Kawamoto, character designer and animation director of Cowboy Bebop, co-founder of Studio Bones
On the American influence …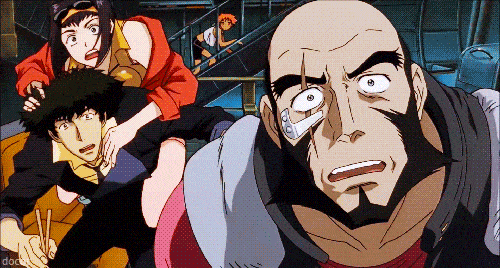 "I grew up watching some of the American sitcoms like Bewitched, as well as like Sesame Street, and I actually gained inspirations and a lot of influences from those shows and incorporated some of the elements into my writing, and the fact that you guys watched Bebop and liked it with those elements in it was — in a good way — a kind of a strange loop closing, coming back, so I think it's very amazing."*
—Keiko Nobumoto, script writer for Cowboy Bebop and creator of Wolf's Rain
On surprising fans …
"I'm always surprised when I'm working on other projects, that sometimes the producers will wait until the very end of the series, the last episode of the series — this happened on The Legend of Korra — the very end of the series, the show creators came up to me and said, 'By the way we're big Bebop fans. And then Logic, the hip hop artist, approached me because Bebop was one of the shows that got him through the roughest times of his life."
—Steve Blum, English voice of Spike
"I worked on episode 23, and [Kenji Kamiyama], who created Ghost in the Shell: Stand Alone Complex, he watched that episode, and he gave me a call because of that episode that I wrote."*
—Dai Sato, script writer on Cowboy Bebop
On the show's legacy …
"In the United States, there was really nothing like Cowboy Bebop at the time. Several of us had worked in the industry for a while, but we were a little bit hesitant to go to conventions. I remember going to conventions early on before Bebop was released. It was the subbers versus dubbers for a while…a lot of the convention goers would say we were ruining the art form of anime, and Bebop was one of those shows where we were given the freedom to do our own interpretation of it, and it seemed to be a great crossover show because it had so many elements from all over the world that people could connect to."
—Steve Blum, English voice of Spike
"I discuss this a lot with [Cowboy Bebop Director Shinichiro] Watanabe — how come it's so popular still? And we concluded that it's because we express characters in their lives without saying too much. The Japanese voice actor of Spike did mention, 'Hey, how come I don't have many lines?' So we made a conscious effort to create very expressive characters without saying too much, and for the fans who watched it, they have their own interpretations, and after you watch the whole episode, that makes you want to revisit and get something else out of it."*
—Keiko Nobumoto, script writer for Cowboy Bebop and creator of Wolf's Rain
*Transcribed from the English translations provided at the panel.
See all our New York Comic Con coverage here.
Want to get Black Nerd Problems updates sent directly to you? Sign up here!
---
Follow us on Twitter, Facebook,Instagram, Tumblr, YouTube and Google+?