New York Comic Con is filled with wondrous little pieces of nerdy info. There are times where you need to read between the lines or infer based on clues given by actors, writers and creators. There are also times when you don't need to do a damn thing besides sit back and enjoy the updates and announcements as they wash over you like a 60-ft tsunami whipped up by Storm. That was the case when Jason Aaron (Avengers, Conan the Barbarian), Donny Cates (Guardians of the Galaxy), Gerry Duggan (Infinity Wars), Dan Slott (Fantastic Four, Tony Stark: Iron Man), and Jim Zub (Champions) took the stage to announce and tease the next big comics coming out toward the tail end of 2018, as well as some 2019 titles that are sure to spark some buzz.
Avengers
We start with Earth's Mightiest heroes where Jason Aaron got many fans hype off the details of Avengers #700 because, "You've got Namor, you've got a talking bear, and the debut of our next new Avenger."
Thor, Iron Man & The Fantastic 4
Thor's upcoming issue #7 will take a look at Young Thor whereas #8 will dive into Thor's sister, Angela. For everyone's favorite playboy, philanthropist, billionaire, issues #6 & 7 will feature Arno Stark and lead up to the next big Iron Man event that comic book retailers were advised to stock up on. Should be an exciting run. Last but not least, Fantastic Four will feature a triple-sized issue for the wedding of Ben Grimm and Alicia. And DC readers can rest assured that this wedding is actually going down like they say it is. "We're doing the real wedding," says Dan Slott, "it will happen. We're doing the dang thing." Fans of that hardcore action need not worry, as the team will quickly switch gears and be heading to Latveria shortly after.
Conan the Barbarian
Everyone's favorite Sumerian is finally returning to Marvel! Jason Aaron's been wanting to get his hands on a Conan book since he was 12 and promises something different from what's been done before. Conan The Barbarian will be a 12-issue story of Conan's life from birth to death.
In The Savage Sword of Conan, he's on the hunt for some treasure and will encounter your usual Conan baddies. But wait there's more! At the back of each issue will be short stories for your reading pleasure. Extra content! Free stuff for real deal fans to celebrate his return to Marvel.
Avengers Infinity Wars & More
Gerry Duggan hopped on the mic to dive into the craziness that Gamora has unleashed. He explained that, "Guardians was act one, Countdown was act two, Infinity Wars was act three. Things are coming to a head, the Marvel Universe is at stake." The sequel to Avengers: No Surrender will be Avengers: No Road Home, a weekly arc. Like Hulk returning to No Surrender, there is another massive bomb in the middle of this, or as Cebulski put it, they're going to tell the "biggest, craziest Avengers story."
Captain Marvel
After continuing the hype by asking if everyone has see the Captain Marvel trailer, Cebulski announced she's being relaunched and brought out Carmen Carnero (flown in straight from Spain) to break down what this work means to her. "It's a dream come true." She's incredibly excited and hopes everyone is as excited about the book as she is. Kelly Thompson has plans to explore her path to learning that her power comes from within, not from anyone/thing else.
Spiderwoman is here (pictured above), and that's just the tip of the iceberg. "We're gonna be showing Carol back with some of her strong friends and reestablishing those relationships," says Brunstad.
Champions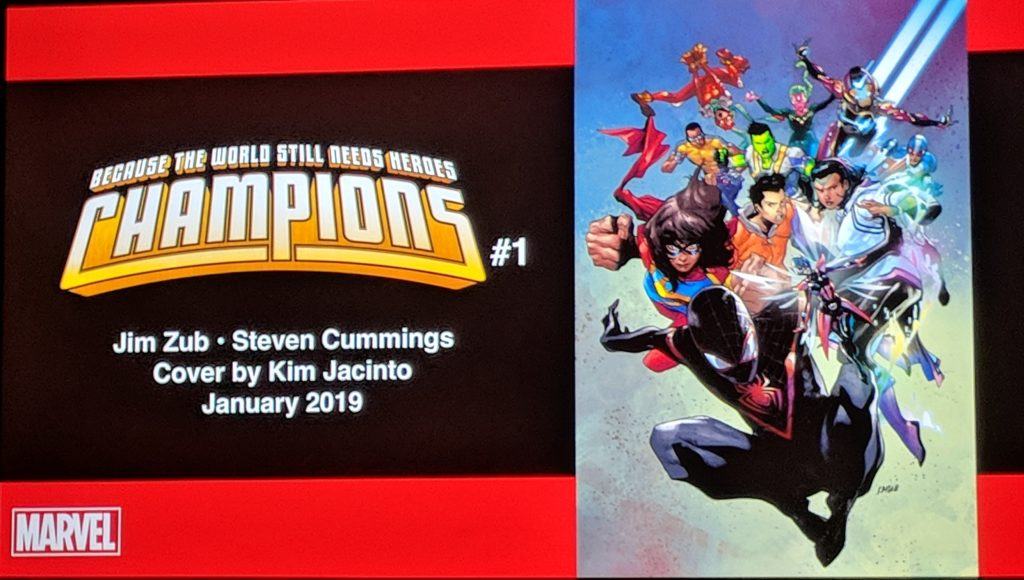 Where's Iron Heart? What's up with Miles Morales? Who is this new character named Snowguard? All these and many more questions will be answered when Champions drops in January. Jim Zub couldn't contain his excitement when describing the book. "How bout we get all of the teen hero's possible in one book." He even joked that he'll make a legion of teen superheroes in the Marvel universe. I see you Zub.
Guardians Of The Galaxy
New Guardians of the Galaxy are coming, but who will the new members be? Cosmic Ghost Rider is the one that's been revealed so far. Stay tuned for more info on the team members that will be featured, all of whom were inspired by cosmic toys from the creator's past.
Last but not least
Al Ewing and Joe Bennett are doing The Best Defense of The Defenders5 issue one-shot. It will feature the OG Defenders (Hulk, Silver Surfer, Namor the Sub-Mariner, and Doctor Strange) with the five books being described as "interconnected specials that tell a unique and captivating story for each original Defender."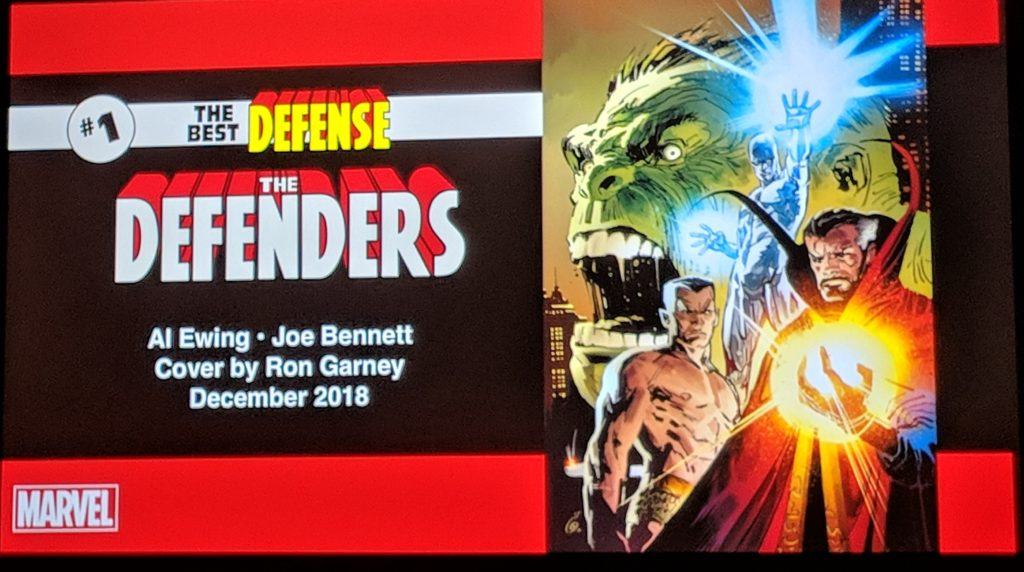 Before wrapping up, Aaron dangled the War of the Realms carrot in front of fans, which will be helmed by himself, Russell Dauterman, and Matthew Wilson. "It will be the sword and sorcery Marvel story of your dreams."


80 Years of Marvel

For a while, Marvel Comics was known for many different genres before publishing Cap and the rest of everyone's fav superheroes. They plan to revisit many of those titles and genres with the 80th anniversary looming. Some revived books will be Crypt of Shadows, Journey Into Unknown Worlds, War is Hell, Gunhawks and more. Oh, and toy fans can breath easy, as plenty of new Marvel toys will be hitting the streets soon to celebrate next year's 80th year anniversary.
What new titles are you most excited about? Hit us on Twitter with all the thoughts and comments!
See all our New York Comic Con coverage here.
Want to get Black Nerd Problems updates sent directly to you? Sign up here!
---
Follow us on Twitter, Facebook,Instagram, Tumblr, YouTube and Google+?