We're living in a world where incredible adult shows disguised as kids shows are ending at every turn. In Adventure Time, there's a Great Gum War going on that no citizen of Ooo is safe from. Steven Universe is finally battling with the diamonds, so who knows how that's going to end. It's real on Cartoon Network right now. However, with great shows existing there must come a great void to fill. We Bare Bears is doing the damn thing but they're going to need help. Enter: Craig of the Creek.
I was introduced to this show by a friend (shout out to Christmas Dae). When I saw a Black kid was the leader of the crew, it got put on my "I'm watching this right now" list. I ran through mad episodes and can honestly say, this may be the cutest shit I've seen in a long time. I'd describe it as Kids Next Door meets Hey Arnold with a hint Abed, Annie, and Troy from Community. Hence why I'm watching the hell out of it.
The show is created by Matt Burnett and Ben Levin, both of whom worked on Steven Universe, (no wonder this show slaps. Gem Gang!). Craig of the Creek centers around Craig Williams (Phillip Solomon) and his friends Kelsey Bern (Georgie Kidder, Noël Wells onward) and J.P. (H. Michael Croner).
"We ride together, we die together. Bad boys for life"

Lemme break down the squad for you: Craig is a young adventurous and imaginative Black boy out here in suburban America. He's the leader. My girl Kelsey Bern is the muscle of the crew. The cape and PVC sword stay on her. Every day is live action role play with Kelsey. Understand that off her narration's strength. J.P. is the lovable, comedic (and at times oblivious), gentle giant. He's literally down for whatever.
What is really engaging about the show is how relatable the town of Herkelston is. Instead of miles, "backyards" is the term used to describe the distance between locations in The Creek (genius). We encounter groups of kids of different ages in each episode.
There's one spot where all the kids intersect — The Trading Tree — run by a young entrepreneur named Kit (Dana Davis). All the kids in hang out at The Creek, which stretches dumb big. It is divided into territories where different groups hang out. Seriously, can we just appreciate how The Creek is broken up like Westeros on Game of Thrones?
The best shows have a bunch of different groups you can identify with. Much like the Rookie 9 of Naruto, you'll run into a character or group, that'll be your fave and you'll wanna see more of them. Some groups and kids are the 10 Speeds (kids on bikes), the Sewer kids (no explanation needed), Stacks, wildass Wildernessa, and many more.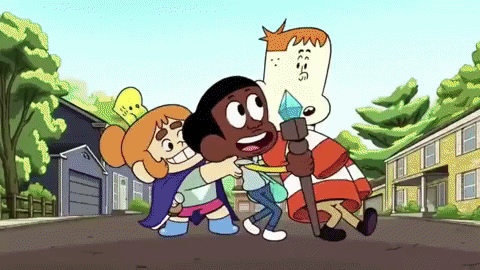 Adventures that would make Finn and Jake Proud

The show revolves around adventures that aren't as dire as The Crystal Gems beef with the diamonds or Finn and his squad against The Lich. The dope thing is, they don't have to be. Craig of the Creek's charm is in making situations that kids find themselves into the big adventure.
Each episode feels like Mission Impossible for kids. Which is how it should feel because as a kid when you get into stuff you shouldn't, the unexpected happens. In one episode, the squad ventures into poison ivy to map the uncharted territory of The Creek. It sounds simple until you see the ordeal it turns into. Craig of the Creek is all about these unexpected adventures.
That Black family and diversity on Cartoon Network giving me life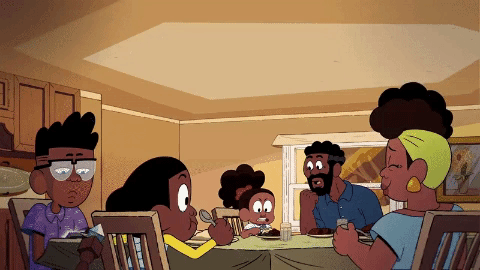 Listen, I can't wait till we get more of Craig's family. I immediately recognized his father, Duane, voiced by Terry Crews. There's an episode of Craig hoarding mad junk (that he finds uses for like McGuyver). His mother, Nicole (Kimberly Hebert Gregory), has the "Do I need it or do I want it" talk with him on getting rid of the junk. Y'all ain't have to hit me that close to my heart now, man. I know that talk yo. I got flashbacks to me telling my mom, "yes, I need that old Iceman action figure I froze in shampoo to see what would happen and I don't regret a thing". Kimberly Herbert Gregory kills that episode. That's that MVP mom voice of reason that you don't wanna admit is right and makes hella sense.
The voice acting GOAT Phil Lamar voices Craig's older brother, Bernard. Craig's younger sister Jessica (Lucia Cunningham), tho? OoooOooh, my god. Too cute. Too freaking cute. She isn't the typical younger sister. This girl is literally about her business. She's into stocks, bonds, and balancing this portfolio. There's an episode where Craig has to take care of her since they are locked out, so he takes her to The Creek. Jessica Williams will be in one of your faves for this series when you hear her "I'ma good girl!" speech. My favorite moment is when Jessica goes to The Trading Tree and meets Kit. Jessica is so impressed by the business model!
A lil' Black girl that loves business seeing an older Black girl running a business. You feel that? You feel what they did right there? I'm here for it. Similar to We Bare Bears, where the background humans are racially and ethnically diverse, the kids in the background shots in Craig of the Creek are diverse as well. It's a trend I love seeing.
Get on Craig of the Creek ASAP-tually

I ain't even going to tell you anything else man. They had an episode breaking down the game of tag and how it feels to be it. You don't hear me. The kids' point of view is illustrated mad trippy, as if they were Korra cut off from the spirit world back in Avatar: The Legend of Korra. Each episode takes kid experiences and things we grew up with and puts it under a lens, exploring the humor and lessons within.
I'm with it man. I'm rolling with this show. Craig of the Creek is a show that re-examines what it's like for kids using their imaginations. Who knew you could still use one of those without an internet connection? I'm putting my faith in Craig of The Creek in these trying times.
Are you following Black Nerd Problems on Twitter, Facebook,Instagram, Tumblr, YouTube or Google+?