Christmas presents are usually hit or miss. Unless you've known someone forever or have a spiritual connection with him or her, there's no way to buy the perfect present or the 'PP'. The PP isn't as unobtainable as we once thought. This year brought us the perfect Christmas present for nerds and non-nerds alike. We're talking about one of the most anticipated games that lives up to the hype and soars right above the astronomical expectations. We're talking about Cuphead and his old pal Mugman.
Cuphead is a game developed and published by Studio MDHR which I like to dub 'Studio Murder' to symbolize how many times I've died while playing Cuphead. Released on September 29th 2017, the game has a perfect 10/10 review on Steam. Considering that anyone can post a review on Steam, that's an incredible feat. Cuphead is one of the greatest things to ever be made. It's right up there with Pooh's Grand Adventure for me in terms of 'things I can't live without'. So why is Cuphead the PP? Let's find out.
Story

The story of Cuphead is pretty simple and straightforward. The setting is Inkwell Isle. Brothers, Cuphead and Mugman, take a trip to the casino against their Elder Kettle's wishes and start gambling. As with gambling in real life, they win, and the stakes are raised. The Devil tells them if they can win again they can have the whole casino, but if they lose, their souls belong to him. They lose, and The Devil makes a bargain with them. If they can gather the soul contracts of other residents who gambled just a little too much and bring them back to The Devil, then they're free to go. A lovely story that gives us a reason to play and makes all the levels and bosses make sense, seamlessly meshing the gameplay with the story.
Gameplay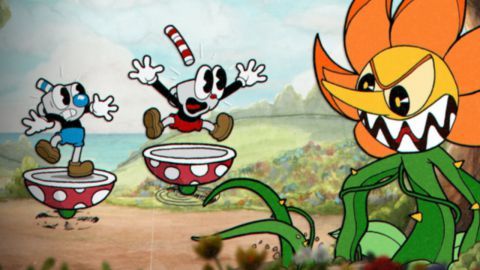 This is one of the areas where Cuphead shines. With pinpoint controls, fantastic feedback from bullets and super attacks, and a parry system that lets you test yourself in new ways, Cuphead's gameplay is essentially perfection. From the moment the tutorial loads up and you realize you have a smooth and crisp air dash, the game never lets up and builds on the fundamentals you learn. While tossing you at vegetables, birds, and even toads in the first area, the game fairly shows you that bosses have a pattern to follow and if you can learn the pattern, you'll be just fine… maybe.
Whether it's a run and gun level or a straight up boss, the game shows you how close you were to beating the level after you die, taunting you while using a quote from the boss that just killed you. This just makes you want to play more and you jump right back in. Indeed a love-hate relationship.
Music

To go along with the old school art style, the music of Cuphead features a mixture of ragtime, big band, and jazz music. The soundtrack is one of the best video game soundtracks in recent memory, and it keeps you jumping and jiving while dipping and dying. The music along with the animation and film grain provides a fantastic package worthy of all of its praise. The music pumps you up for each boss battle while continuing to portray an old-school vibe. From melancholy melodies to cacophonous crescendos the music never gets old. Each boss and each area has its own theme further emphasizing the amount of work that Studio MDHR put into it.
All in all, Cuphead is a PP. The perfect gift for anyone with a computer or an Xbox One. No longer do you have to wonder what the ideal present would be because you've found it right here in a little indie game that shows just how far you can go with enough passion and dedication—Cuphead.
Are you following Black Nerd Problems on Twitter, Facebook,Instagram, Tumblr, YouTube or Google+?