Writer: Mark Waid / Artist: Chris Samnee / Marvel Comics
When we last left Daredevil we saw the Shroud coming in for the ill-timed save with him horror-movie stabbing Ikari then chucking him off the building. Of course Shroud didn't know that Daredevil's lives actually depended on Ikari being alive and Daredevil was buying time for options. Well, we done ran out of options now… except for one desperate move.
Thats right, Matt does the old switcheroo (I am disappointed in myself for using that word) on Fisk. Matt is presenting the best case scenario for Fisk while at the same time risking everything if he blows his cover. This issue wasn't as action packed as the last one, but the fighting that does take place is portrayed perfectly. Chis Samnee never disappoints on the visuals when it comes to Daredevil. There is an interesting choice in the coloring when the action takes place as well. We also see how just how specific the emotion is on Jubilation, Karen, and Foggy's faces as Matt's plan pans out.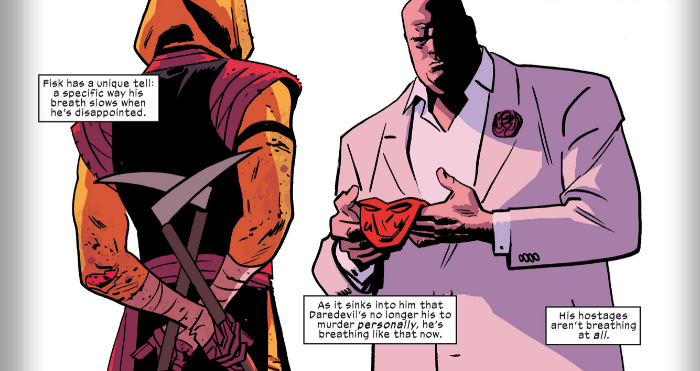 This marks the closing of the Waid & Samnee run. The ending is a full circle on what it means for Matt's identity to be public for himself and those around him. Waid and Samnee truly made Daredevil work in a new setting, with different villains as well as with familiar ones. This issue was a good close to this volume and for once leaves Matt in a good place. Although revenge is certainly going to be coming for him from a multitude of people.
8.9 out of 10 "Objection your honor!"
Are you following Black Nerd Problems on Twitter, Facebook, Tumblr or Google+?