You already see what the title of this is. You already know Daredevil Season 3 dropped. I'm not here to talk about plot and compelling story lines. I'm here to talk about Matt "Murda" Murdock beating the fico score out of folks all season long. You're not going to convince me that Daredevil doesn't have the title for best hand to hand combat in the Marvel Universe. Who does more butterfly kicks then Matt Murdock? Who brought the Old Boy hallway scenes back for your ass on time? Daredevil did.
This season the Matt Murdock identity took a back seat while Daredevil took it back to the gutta. This ain't shiny armored up suit Daredevil. Nah, this durag covering the face, $6.99 long sleeve from Target Daredevil. He took it all the way back to the vigilante struggle bars basics. No hero going as hard as Hell's Kitchen's favorite chef. Daredevil specializes in tenderizing the beef. Your fave can't get it like this. Homie jumped through a windshield just to catch a fade. I need to go through the fight night highlights so I can prove to y'all why ain't nobody's hand to hand game fucking with Matt Murdock. Nobody's seeing Daredevil when it comes to putting down that pain.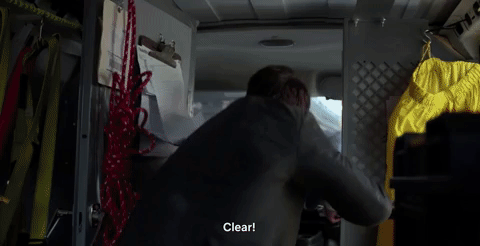 ---
Who this rocking the jersey I retired?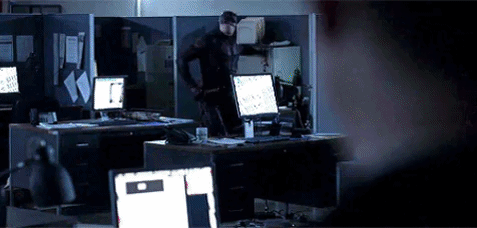 Daredevil so nice at fuckin' people up that Wilson Fisk had to outsource that work. He had to get a ringer. Fisk corrupted FBI agent Benjamin "Dex" Poindexter to become his personal hitman. Dex showed up to the party to eat all the chips, double dip in all the dip and show his ass. Your man Dex not only disrespecting the Daredevil suit by rocking it against Matt, He sullying the name of Daredevil? Matt looking at dude like, "Who the fuck is thissssss?". Looking at Dex like he just selected the same fighter in Tekken. There's rules to this hero and villain shit man. you can't do that. You even took my Baton? I ain't have a building fall on top of me for this shit! Square all the way the fuck up!
Where them hands tho? Where them hands at?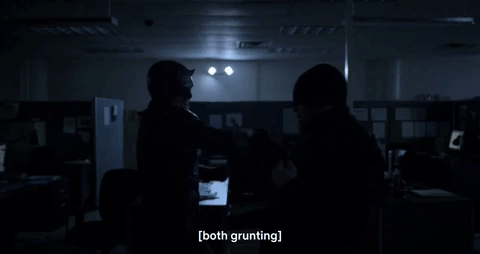 Naaaaaaah, fam. You don't come in here claiming you Daredevil with weak ass hands homie. Where your hand to hand at? What your phalanges do? Not a god damn thing. Matt gettin' all up in dude's dental work. My man got hands in dude's face filling in cavities. Look at all them combos Matt servin' to homie's mouth, Wendy's 4 for 4, Subway 5 dollar foot longs, whatever special KFC has going on right now. Don't you put them Red and Black colors on unless you ready for that fucking pain. Dex stumbled back hoping the bell was goin save his ass. NOPE! Matt ain't hear no bell!
Super Smash Bros: Office Depot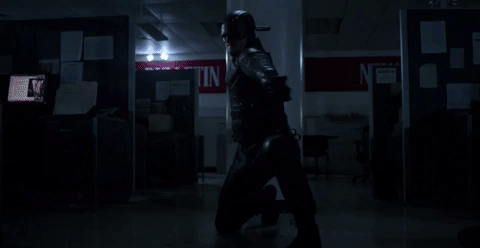 Okay, this guy out here using geometry and office supplies to fight? What the fuck is this? How you trigonometry the baton off the ground to my hero's face? Matt didn't sign up for this shit. What did he throw at him next, a tape dispenser? Then Matt took a fuckin' fire extinguisher to the gut mid-hop? Thaaaaat's embarrassing. Glad no one else was around to see that. Shit, I'm glad Matt technically couldn't see that either. Also, who the fuck uses a tape dispenser in a fight? I'm not off that.
Is dude really using office supplies to merk me?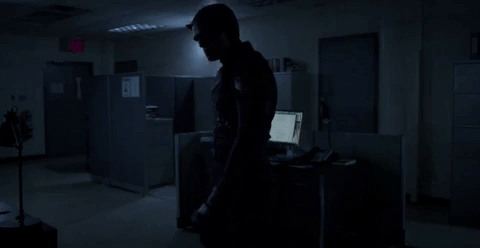 No. Just no. I'm calling it quits right here. Dude is strong enough to send pens and pencils through a desk? I need a time out. Dex the kind of Smash Bros Fighter that doesn't turn off item drops. He needs them shits to be frequent as fuck. Are these Pilot Gel Pens? Bic pens ain't strong enough to be going through a desk like this. I can't have my favorite hero getting taken out by a #2 pencil. Dex really out here trying to Scantron folks from behind the 3-point line. Throwing scissors too? Rude.
Dude, you're getting a monitor to the gut
This asshole really threw Debra's computer monitor at a vigilante? Who fucking does that? Let alone has that much accuracy chucking a fucking monitor like it's ultimate Frisbee. No. Matt gotta kill this man. He threw a whole ass Dell monitor at you like this is a Vonage commercial.
The Office Space is not a safe space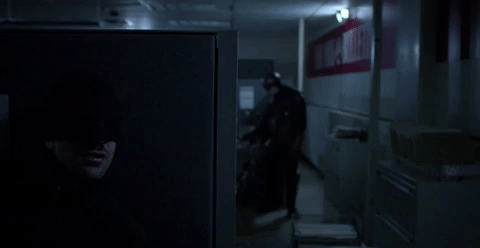 This is why we don't keep baseballs in the fucking office Derek! Matt took a fucking baseball to the god damn dome off a ricochet. That's embarrassing as fuck. Especially when he stumbled back from the hit like he just ejaculated unexpectedly. I'm not even sure if that was a baseball or those rubber balls made out of rubber bands. I know for sure it wasn't a stress ball. You'd think that was the most disrespectful thing thrown after the full-sized monitor, then you see Milton's red Swingline stapler flying at Matt's face. Where the fuck is HR at?!
The physics don't even make sense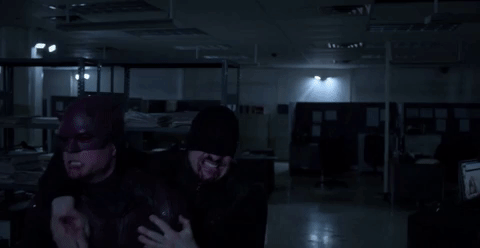 I can't get over this. Dex grabbed the scissors and was close enough to stab Daredevil but said, "Nah, I'ma just chuck it instead." The fucking disrespect. How you stab me with scissors by throwing'em at me? Especially with only like an inch of space? Matt literally got impaled with everything in your co-worker's desk plus the fucking monitor.
---
"I had someone tell me I fell off, ooh, I needed that"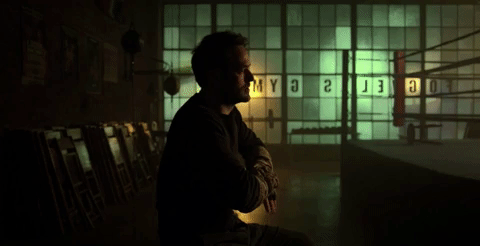 No excuses, no apologies. Matt got worked the fuck over. He got hit up with every item sold in Staples by a dude in his own suit, just as skilled as him, better at a distance than him, that's hired to kill him. So what Matt do? Your vigilante ain't got a super soldier serum to rely on. No Iron fist. No Iron man suit. No unbreakable skin, spider-powers, vibranium, claws, bows, arrows, healing factor, Pym particles, cosmic powers, Nothing. All Matty got is ten digits to dial in that pain in with. Them. God. Damn. Hands. This is why I fuck with Matt Murdock. This is why I ride so hard for Daredevil (Even after y'all quit him after the 2003 movie, which was an okay movie at me). This real ass hero said, "Bet." went to the gym, got some jump ropes, and took it back to 2003 Tony Jaa
Ong Bak
wraps. We got Muy Thai (Muay Boran if you nasty) ropes now? Name another hero as dedicated to fucking cats up as Daredevil! Name another hero that innovates for the ass whooping like this.
Legend. Mutha fucking legend. Matt Murdock is only ever about that gutta shit. Name another hero that said, "Fuck my suit. All need I need is this all black everything under armor (I got on sale at Marshalls), a durag over my face, and these Muy Thai wraps round my fists. I'm good. Damn near splendid, even." Ain't another hero putting in street work like this. Ain't another hero this hood my guy. Homie said, fuck that, we taking it back to Daredevil season one! Back to fucking basics. Back to running up and punching muh fuckas in the mouth. Wooooooo, Matt Murdock bout to switch the style up on'em. He brought the wraps back and going to the art of 8 limbs fighting style on some Flip Mode squad shit. Matt Murdock thinks he Sagat right now. Everybody bout to get the Tiiiiiiger Uppercut now. This is Daredevil season one grit!
"You gon' hype me up and make me catch a body like that"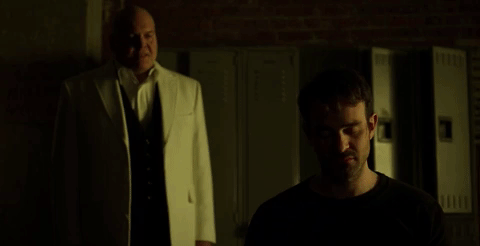 Whenever the hero starts imagining the villain talking shit to them. It's over. Ain't nothing else to say. Matt went to the Shell Station and put 40 on Super cause he gassed up for the fade now. Hands. Hands. Hands. Hands. Hands. Woooooooooo, the psychological breakdown mitt work never looked better!
EXPOSE HIM! EXPOSE HIIIIIIIM!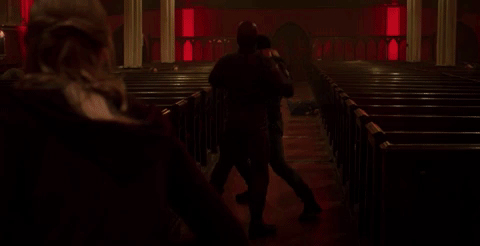 MURDA MURDOCK BACK! Matt beatin' this imposters ass in the house of the lord and I fucking live! He hit that man in the head with the
Marvel vs Capcom
combo then bounced his head off a church pew! You don't hear me. Matt bounced fam's dome off a god damn church pew. Matty ain't come here to play with you. If that wasn't enough did you see that fucking kick?!
I would've stopped the entire fight after that disgusting kick Matt delivered. Matt won. Off the strength of that kick alone, he won. This may be the illest cross over in fictional fight history. Dude dodged the initial axe kick then got caught with the other foot. Matt made that man look fucking dumb. Hot Sauce And1 ball up the shirt (Harlem shake to get it) out, dumb. Vince Carter's dunk of death on Frederick Weis at the 2000 Olympic games, dumb. Wesley Johnson getting his ankles broke while James Harden looks at'em in disgust before hitting a three, dumb. Dex should packed his shit up and left with what little pride he had left right then and there.
Don't you run from this ass-whoopin'!
Spear'd that man so hard Goldberg said, "Dayum!"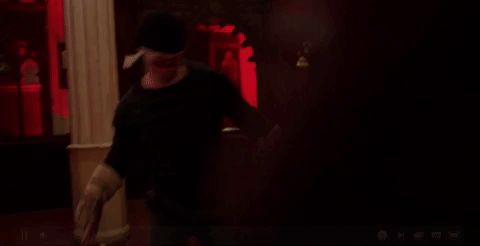 Now you made'em maaaaaaaad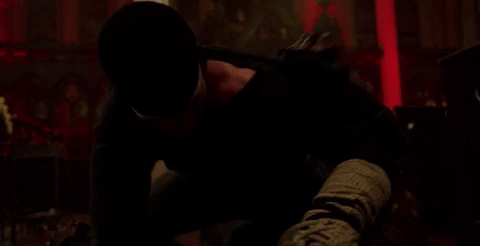 Dex killed the preacher when as he was trying to kill Karen and now he gotta hold all these hands. Matt Murdock went Matt Hughes and is raining down nothing but piledrivers to dude's dome right now. This shit went from WWF with the spear to UFC. I could almost hear Joe Rogan shouting for the stoppage.
Hope you got healthcare for this ass whooping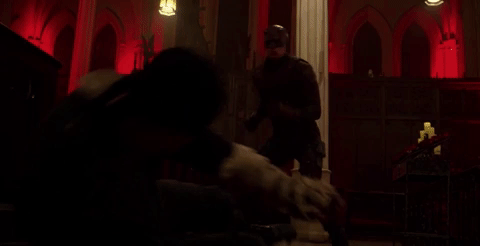 Matt Murdock is legit trying to give this impostor a concussion and I'm here for it. My man done slammed dude's head into a pillar then proceed to follow up with nothing but straight rights to the dome. This is blunt force fucking trauma 101. Hands. Hands. Hands. And more fucking hands. You catch CTE fucking with Daredevil. Hope Fisk got someone to drive you home cause you can still get a ticket for driving punch drunk.
Matt Murdock: Shot Blocker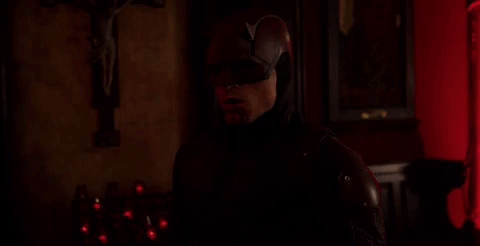 These are my confessions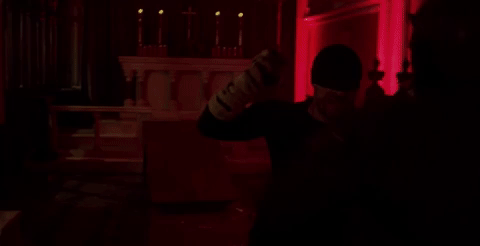 MATT MURDOCK DOES NOT GIVE ANY SENSE OF A FUCK. Woooooooo! You send a man through the confession booth during mass with a spin kick? Eternal damnation be damned? Greatest hero of all time. I ain't ever seen someone catch the embarrassment this bad after already getting embarrassed. Daredevil hit duke with the Usher's
Confessions part I and II
. Hit that man with the fucking Rob Van Dam's Van Daminator. The Jean Claude Van Dame
Blood Sport
kick through the confessional! I caaaaaaaaan't! Ain't even let that man catch a breath before punching his head through the other end of the booth.
The good book'll teach you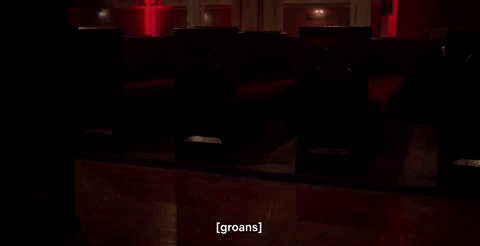 Psalms… I'm sorry, Palms 147:3 says, "the Lord knows I keep that thang on me." Let it be known, you can get your ass beat here in the house of the lord with the word of the lord. Matt picked up the word just to hit Dex with it. How you pick up the good book just to punch it into a man's throat?! Let the lord use you Matt! Let'em use youuuu!
Shot Block #3!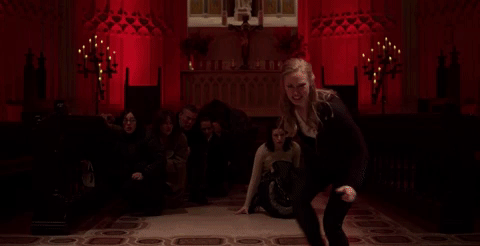 Dick move Dex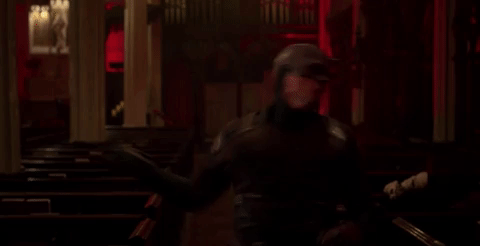 Dex got so mad he had to whiz a fucking collection plate at Matt! I mean that gives you some points but he still put your ass on the Summer Jam Screen in High definition.
Shot block #4
Shot Block #5, 6, 7, 8, and 9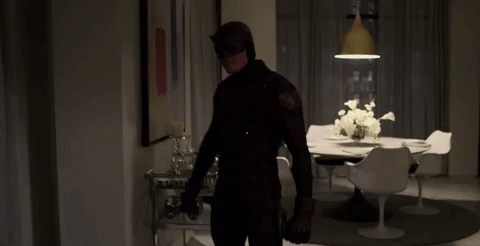 Nothing is getting by Daredevil my guy. Dex ain't the only one that can use the environment around to his advantage. Homie picks up pieces of the chandelier to get his goalie on. Homie busting out the diamond chandelier pieces to use as escrima sticks. Fuck your house and your couch Fisk! Matty blocked all Dex's shots then ran up in his mouth one mo fucking 'gain! Fuck all these household trinkets you throwing! You getting these god damn hands again!
Oh, you mad cause I'm styling on you?
Woooooo, you got hit'em with the Eddy Gordo Capoeira legwork. Dex head bounced of yet another hard surface. Then he caught the
Mike Tyson Super Punch Out
combo. Your mans done. Put a fork in the dude. Put Dex in tupper ware. He's leftovers at this point.
Shot block at the buzzer!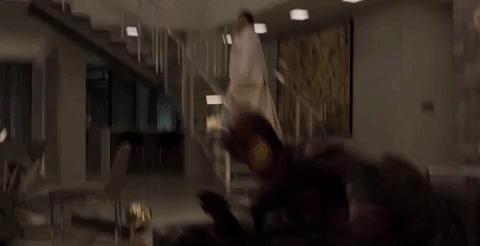 Matt Murdock may be the best goalie in history at this point. Put that man on the Olympic soccer team. Look at that fucking save! Wooooo, if Matt didn't go blind the homie woulda had a football scholarship as a wide receiver status. Look at that interception! Get that shit outta here! Not on Matt's watch!
Your neck, your back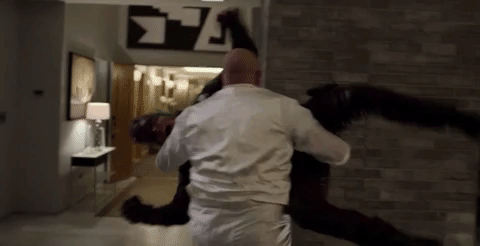 A running power slam into the spine of a brick wall took out Dex, the imposter Daredevil. You're officially out the game now my dude. Thanks for playing but you will not be pressing continue anytime soon.
Beef on fucking sight szn
We ain't even gotta say nothing. We already know what the fuck it is. This could be the produce aisle in ShopRite, the electronics section of Nobody Beats The Wiz or the kitchen section of Macy's, when we see each other, it's fucking going down.
The Final Boss battle
Come fucking get some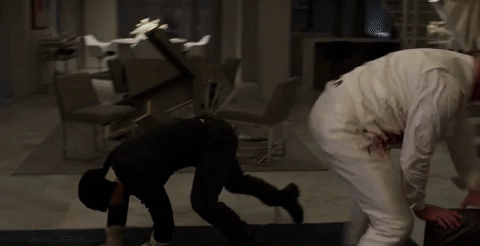 Fisk was talkin' all that shit. Talkin all that grease on Daredevil's name. Now it's time to put the dukes up. You get my Dad murked? You come after my people? You sully my good name by having someone dress in my suit? Nah. We beefing. We duking this out duke. Blow for fucking blow.
Put'em in a body baaaaaag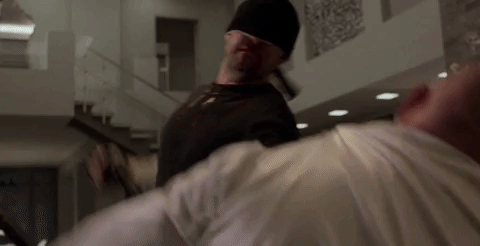 Game over! Game fucking over! Muy Thai ropes putting everybody away! Fists of Fury! Fists of Rage! What's the number on that combo counter at right now?! Matt Murdock racking up points for the high score! Fisk getting punch drunk off the strength. Fisk seeing double, triple, quadruple. Wooooo, CTE is just running rampant this season. Matt Murdock turned into Matt Pinfield cause I feel like I'm watching
Headbanger's Ball
the way Fisk's head bobbin'. The most disrespectful part is Matt remixing that artwork with Fisk's blood too. Woooooo, you can't blot that shit out with club soda. Finish'em Matty!
I ain't a killa but you pushed me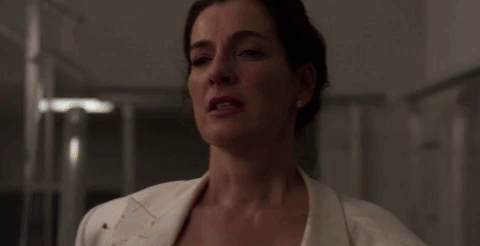 I did this to you!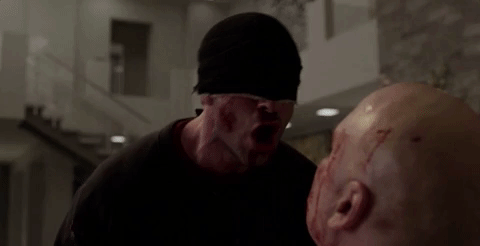 *screams into the void*
NO OTHER HERO DOES IT BETTER THAN YOUR BOI! You not fucking with Matt Murdock! Durag over the fucking face while in Fisk's face talkin' all that grease. Took the durag off the face so you know shit is real. Look me in the fuckin eyes while I say this shit so you know it's trill. I beat that ass. I fucked you all the way up.
*Funk Flex voice*
saw you in the tunnel and we was gonna work you!
No one else putting the hands-on villains like Daredevil. I don't give a fuck who your favorite hero is. They ain't getting it like this. They ain't taking it back to the streets. They ain't keeping it all hand to hand no performance enhancers like Matt fucking Murdock. There's only one hero you can trust to keep it hand to hand. That you can trust to keep it Tekken, Street Fighter, Mortal Kombat, and on occasion Soul Calibur. Yall'll muh fuckas don't want any problems with Matt Murda. Matt will back body drop you onto a Prius and keep it moving like he ain't see or do a god damn thing!
Muh fucking legend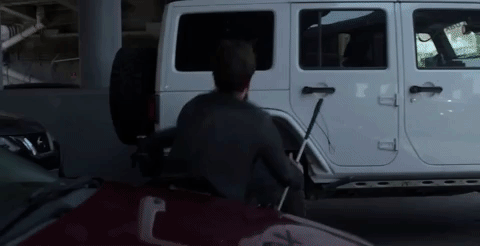 Want to get Black Nerd Problems updates sent directly to you?
Sign up
here!
Follow us on Twitter, Facebook,Instagram, Tumblr, YouTube and Google+.