They thought the bridge was over when reindeer games played Daredevil back in 2003. They said "The Man Without Fear" would never parkour in this town again; that Hell's Kitchen was too hot for Matt Murdock. Then Netflix dropped the Daredevil series in 2015 AND ALL NON-BELIEVERS SHUT UP. All those years of friends making fun of Daredevil being in my Top 5 paid off because I never lost faith, and now look at ya mans Matt Murdock out here EATIN'!
Marvel and Netflix conspired to shut all network superhero shows down and we loved it, but we were also left wondering — what's next for season 2 of Daredevil? What could possibly be done to elevate the comicbook-to-TV adaption game to even higher heights? How do you begin to raise the stakes? Y'all want the stakes raised? Y'ALL WANT THAT REAL?! Y'ALL WANT THAT GRITTY SHIT BACK?!
Frank Skull Gang Castle is in the god damn building.
ARGHGGHHHHH! TALK TO'EM, FRANK! TELL'EM WHY YOU MAD, FRANK! We knew The Punisher was coming to Hell's Kitchen but we had no idea the scope at which he'd be waging war. If you don't know who The Punisher is then lemme learn you real fast: Frank Castle was a war veteran who took his family for a picnic in a park and they were gunned down in a crossfire between two rival gangs. Frank Castle got fed up and became Batman with guns. That's all you need to know.
Word is bond they killed that man's family yo, so now every gangster, rapist, and murderer gets a fuckin' bullet courtesy of Frank Castle. No judge, no jury, all executioner. This is such a genius move by Netflix because Daredevil and The Punisher have been going at each other in Marvel for years.
These are two men at the opposite ends of extremes. Sure, Matt will break some bones (in comics he doesn't really; in the show he breaks all the bones) to get results but he won't take a life. Daredevil will not kill on any circumstance (jury's still out on crippling). The Punisher is the type of man that'll shoot you dead point blank if you a criminal. That's it. There have been multiple times when Daredevil has taken The Punisher down (jail or even enlisting the aid of other heroes to do so with him; Wolverine and Spider-man, for example) or tried to take him down but failed horrendously. No one knows Frank Castle like Matt Murdock and very few know Matt Murdock like Frank Castle as well.
The beautiful thing about this is that there's no gray area here either. You're either pro-law or pro-taking the law into your own hands. It's an argument as old as time. The Punisher isn't a crime boss, he's not making money off this. In his eyes, and people in the public as well, he is doing what is necessary to stop the problem (now if it's a brother doing this? That's a think piece the ether will take care of). This also speaks volumes on soldiers coming back home from war and rejoining society as civilians, but y'all don't hear me though. All I'm saying is with the amount of history between these two, the only thing we'll know for sure is…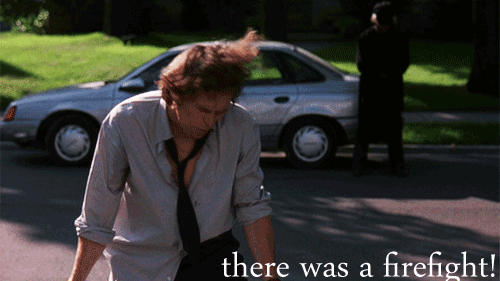 With talks of The Punisher getting his own Netflix series still in the air, we know that Marvel's universe keeps expanding. Plus, Daredevil had a bad movie with Ben Affleck (who is now Batman), right? Now he's got his own show. The Punisher has gone through 3 movies with only one you could say was aight (arguably), and it seems his redemption won't be too far behind either if he gets this Netflix deal. We're going to see the true Frank Castle we've been reading about for years finally represented correctly via Jon Bernthal.
I'll see y'all back here on February 25th when Daredevil drops Part II of the trailers featuring one of the most dangers killers in the Marvel universe… Elektra. Listen, the game is straight lit right now people. ARE YOU NOT ENTERTAINED? IS THIS NOW WHAT YOU STREAMED FOR?!
Are you following Black Nerd Problems on Twitter, Facebook, Tumblr or Google+?