Writer: Ryan North / Artist: Zé Carlos / Bungie
Maaaaaan, listen. We back up in these Vanguard streets and things are as bad as they've ever been. Picking up on the conflict from the previous issue, we get more of the same cuz when Osiris and the Speaker see each other, it's Beef. On. Site.
The first half of the issue works well, still narrated by Ikora as she tells the story of how she was drawn between her mentor and the City. Specifically between the City as represented by The Speaker. I definitely mess with the Caesar / Pompey corollary. We see the Speaker as the self-proclaimed omnipotent voice of the Traveler, easily threatened by anyone with an alternative opinion. And then there's Osiris, arrogant and dismissive. But also brilliant and not wrong. The legends of both men serve as the central conflict in addition to their unwillingness to give any ground.
Damn Osiris, We Could've Had It All
But unfortunately it doesn't go very far from there. Not only do we already knows what happens next with Osiris' exile from the City, there are opportunities to give some surprising insight into other characters that never get explored. We watch unnamed guardians and followers argue over the two titans, but it would've been nice to see some of our familiar characters pick sides in the conflict. Speaking of which, seeing our favorites either show up or be mentioned in the first comic was part of its charm. In this second issue, we get a sampling of Lord Shaxx (with two horns on his helmet no less, would love to see how he lost it), but he too is a neutral figure.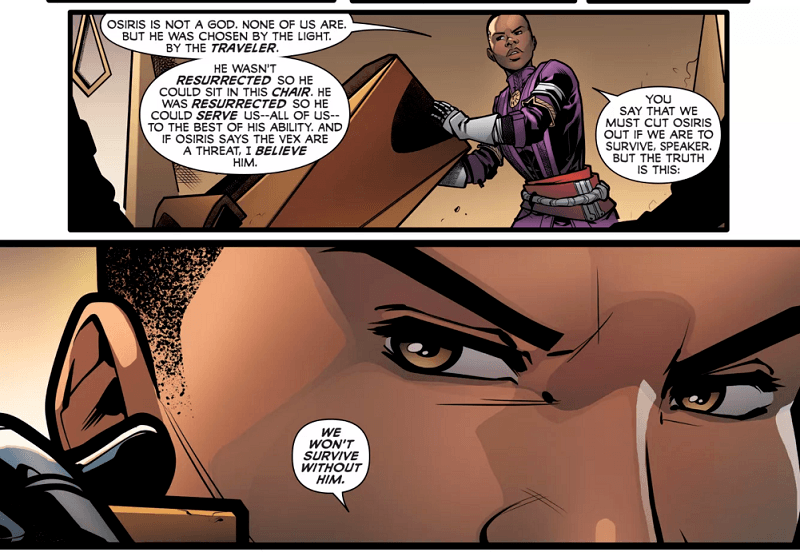 Ultimately this comic isn't a must for comics fans. But it is entertaining to Destiny fans nonetheless. There are some opportunities missed for sure. Without knowing how many issues we're getting, one can't say if it's a slow burn or just slow. There seems to be more to come and here's hoping it expands the world a bit. The last page suggests insight into familiar events yet to come. We'll see if that proves inspiring or retells what we already know.
7.3 Politics As Usual out of 10
Are you following Black Nerd Problems on Twitter, Facebook,Instagram, Tumblr, YouTube and Google+?