The 70th Emmy Awards reminded me of SNL this year, some skits made you chuckle others were like…I don't get it and what's supposed to be funny? This is no fault of the hosts; they were hilarious and right on time. It was like Monday Night Update – Award Show Edition. Colin Jost and Michael Che were and are a great duo. They did tasteful jokes including "Handmaid's Tale is Roots for white women," and it was a solidly hosted night. The entire program was like flipping channels when you're at a friend's house who still has cable. You're like what is that? And, oh I never got to watch that, and then you come across new episodes of something you never get to stream and get real excited, but change during the commercials. Here are those exciting moments that you then changed channels for during the commercials.
5. RuPaul Michelle Yeoh she Betta Do!
RuPaul's Drag Race, one of my favorite television programs, won for outstanding reality/competition series. If you do not watch this program – oh no you betta do! RuPaul's Drag Race is one of the most honest and thought provoking reality television shows on the air. The challenges are reality TV gimmick realness, and the competition fierce. The drama is real, and I am not just using popular TV catchphrases, I am serious. These contestants are true artists who have all overcome their own and societal adversities, and you see it all played out in this beautiful show. Check it out on VH1 definitely binge worthy. Congrats, Ru!!
4. Oh, I Guess I Better Watch This?
The Marvelous Mrs. Maisel, Godless, and The Assassination of Gianni Versace: American Crime Story, just came up out the water like…I woke up like this. Basically nominated in every category they could be, and taking home like two at a time!
I love Merritt Wever who won for her role as Mary Agnes in Godless for outstanding supporting actress in a limited series or movie. Her work on The Walking Dead was the best! And who knew that Ricky Martin, Penelope Cruz, and Common were in The Assassination of Gianni Versace!?? Ricky Martin is an Emmy nominated Actor now…wow. I'm not saying these amazing performers do not deserve this career milestone achievement, I hope myself to get on that stage one day. I'm just saying, who has watched these shows? No tea, no shade. I guess I just don't hang out with the crowds that are up to speed on these programs. Congrats to the winners for sure, and I gotta catch up on these shows.
3. Reparation Emmy's
So, I'm gonna say what we all, and James Corden, said, #emmyssowhite, of course he was honoring Betty White 😉 But truth, white ladies did well this Emmy's. Michael Che found a way to make it all make sense. Yes, he included a segment in which he went around to all the iconic black actors from our younger years and handed out reparation Emmy's, I died. Let's just say he "repurposed" some Emmy's to make this happen, (look up the skit for more on that.)
Che gave Emmy's to actors like Marla Gibbs, known for Florence on The Jeffersons who was nominated several times but never won. He proceeded to give Emmy's to, Jimmie Walker known for playing J.J. from Good Times, Jaleel White known forever for his role as Steve Urkel on Family Matters, calling him the OG Black Nerd (shout out to us!) Michael Che even told Jaleel he basically made Obama what he is! Of course, Tichina Arnold – Pam from Martin got one, John Witherspoon from every black show and movie, I love him. He also gave one to Kadeem Hardison, who played Dwayne Wayne on A Different World while wearing the iconic lenses no less.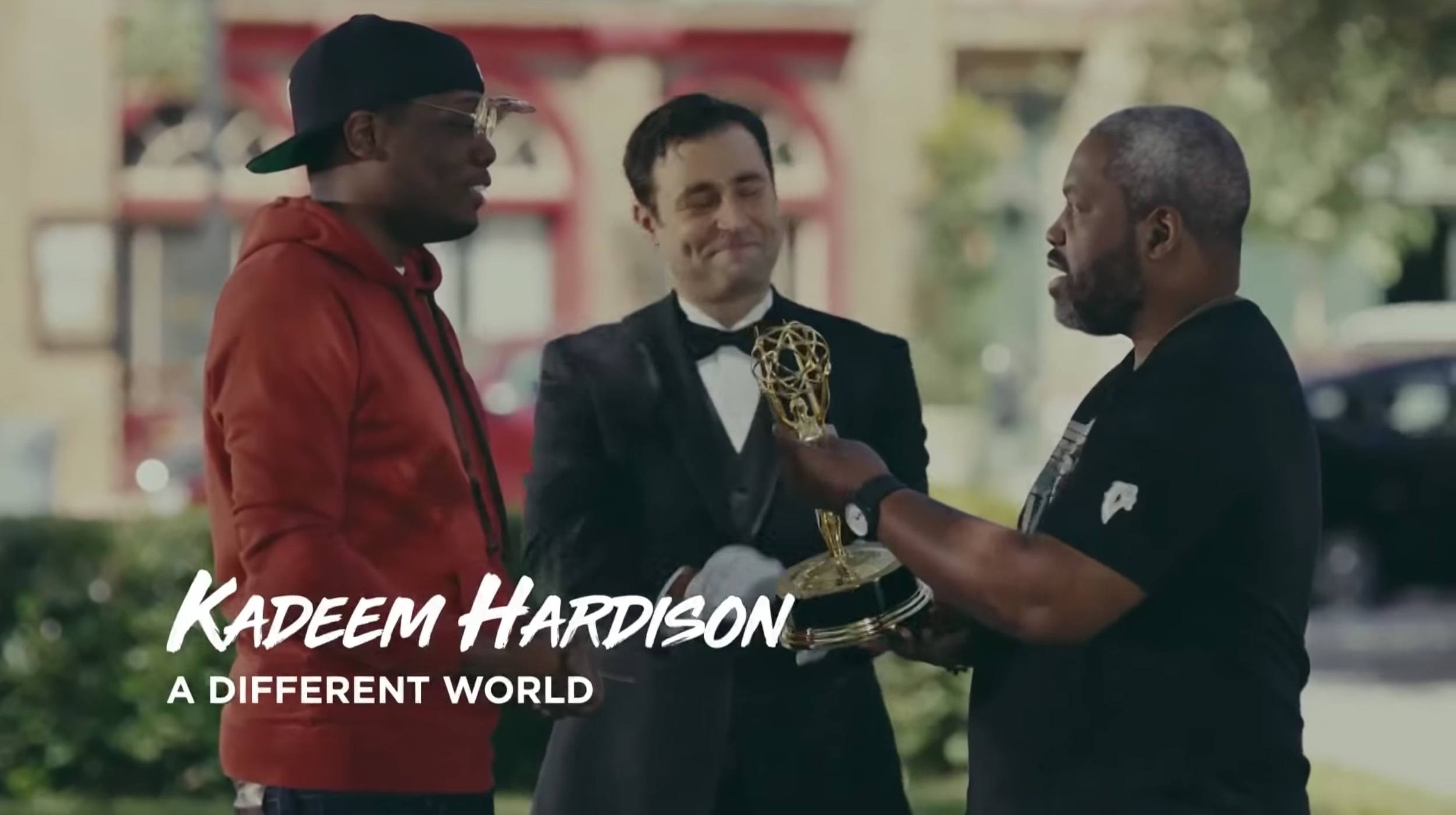 I hope this becomes a real thing. I'll put together a black delegate, a board of officials, and start giving away other peoples' Emmy's every year! Thank you, Michael Che.
2. This Guy Just Made Every Emmy After Party his Engagement Party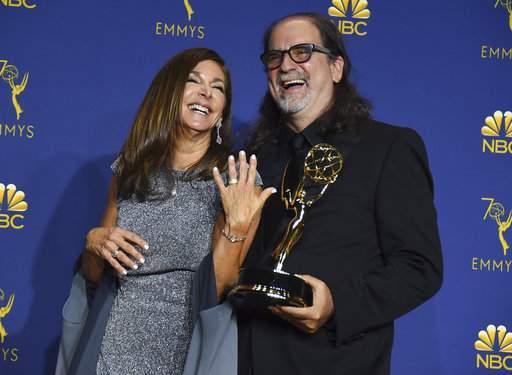 Glenn Weiss, the Director of the Oscar's television special, won the award for best director of a variety special. Yea, you read correct, the Director of the OSCARS got an Emmy. The META is out of control, who gets the Emmy for the Emmy's? That is not nearly as awe inspiring as what he used his acceptance speech to do. He used that time to propose to his girlfriend. I have so many alternate earths where this went terribly wrong. If she said no, or she couldn't take the pressure and ran away! Or like…on earth 2, he didn't win, so he awkwardly proposed in the car on the way home. Good news is she said yes, or so we saw on TV…I really hope they didn't get home and she was like, well I had to say yes on live TV but no…ok, I'll stop – for real that was amazing. Good luck to the person who tries to top that, and congratulations to the happy couple.
1.This Means Everything to Me
Yea, you see the pun I made in that title – because Thandie Newton took home the gold this year!! So well deserved. Her role as Maeve Millay in WestWorld has been heaven to watch. Heaven in the form of a manufactured hell for robots. She has always been a phenomenal actor. I remember watching her in Beloved and getting chills. If she can win awards as many times as Meryl has, I'll feel like reparations have been served.
That said, this is a double winning moment here at number one, because my girl Regina King also won for her role as Latrice Butler in Seven Seconds! I have watched this outstanding woman be the best friend, partner, sidekick for so many years growing up and all I wanted to do is see her lead. In truth, she was always leading even when co- was in front of her title. She's been on top for a while now, and the Emmy's are just catching up to her.
Congrats to these talented black women!
Honorable Mentions!
Some honorable mentions are John Oliver and Last Week Tonight with John Oliver taking it home for Outstanding Variety Talk series. Bill Hader for his portrayal of Barry on HBO. And apparently, Game of Thrones won for some reason and so did Saturday Night Live – ummm…ok. Also Teddy Perkins made an appearance during the evening…creepy AF
Shout out to the Emmy winners who took home their statues on nights that were not properly publicized…cuz I missed it. Congrats to Samira Wiley, for Guest Actress in a Drama for her role in The Handmaid's Tale, Kenan Thompson for SNL, and we all know John Legend for becoming an actual legend and EGOTing. For those who don't know, John Legend won an Emmy last week for his portrayal of Jesus no less in the live TV production of the musical Jesus Christ Superstar. Apparently, it was phenomenal. I really should watch it. This was the final award needed for John to have an Emmy, Grammy, Oscar, and a Tony…hence EGOT. Congrats John, I hope to be there one day with you and Whoopi!
That is it for this award wrap up, check out the 70th Annual Emmy Awards on…ummmm, I don't know how since most people don't use cable, but it aired on NBC.
Want to get Black Nerd Problems updates sent directly to you? Sign up here!
---
Follow us on Twitter, Facebook,Instagram, Tumblr, YouTube and Google+?