Writer: Kieron Gillen / Artist: Esad Ribic / Marvel
As a relatively new comic book reader, Eternals #1 felt like a dope attempt to introduce this section of the Marvel universe to people like myself, while respecting the Jack Kirby, Neil Gaimen, and Jon Romita Jr. legacy that has been built. I was wild impressed with the ambitious groundwork that Gillen has laid for the future of this book. I'm sitting here motivated to learn names, internalize history, keep up with the well-paced story, and enjoy every page of this beautifully illustrated #1!
Eternals: They Have Always BEEN
We open up to Ikiris being reborn, like he has an infinite number of times before that. We are introduced to "The Machine" through its narration and learn that it is one of the 3 principles of all Eternals.
Protect Celestials. Protect The Machine. Correct Excess Deviation.
The way that Gillen allows us to piece together who the Eternals are and what characteristics they possess make you proud to be a comic book reader. He doesn't hit you with a dictionary.com explanation, he describes Ikaris by saying, "He flies at the future without fear or regret. He has always been a living arrow," which allows you to showcase your appreciation for Gillen's attention to detail when he drops, "Arrows are nothing if not direct," after Ikaris asks "Who else is alive?".
This theme of rebirth permeates all throughout this issue, but the actions that were taken before these Eternals' demise, and the consequences that are handed down as a result, are what keep you invested.
The Way of the Eternals
Veteran Eternals fans will tell you that their most powerful capability is to combine forces, somewhat akin to the Power Rangers' Zords becoming the Megazord or the paladin's lions becoming Voltron. While Gillen doesn't touch on the Uni-Mind, he does unveil the law, if you will, of the Eternals. "We are of one mind" is all it takes for an eternal decision to be declared as final, and the first final decision is to free Sprite, the most troublesome Eternal.
Zuras is Eternal Prime, the leader of all Eternals and the one who receives the blame if something goes awry. If something goes horribly wrong, the decision may be made to exclude the eternal who caused it, such as siring a creature who killed half the galaxy with the snap of a finger.
It's an Eternal World & We're Just Living In It
By the end of this issue, there were some key takeaways that I'm excited to see play out in the coming issues. The first was Gillen's restrained, yet impeccable use of humor. Choosing the right moments to up the comedy, while rising to the challenge of progressing the plot from rebirth to life to death. His comparison of Deviants to Gremlins was a delight and aptly done.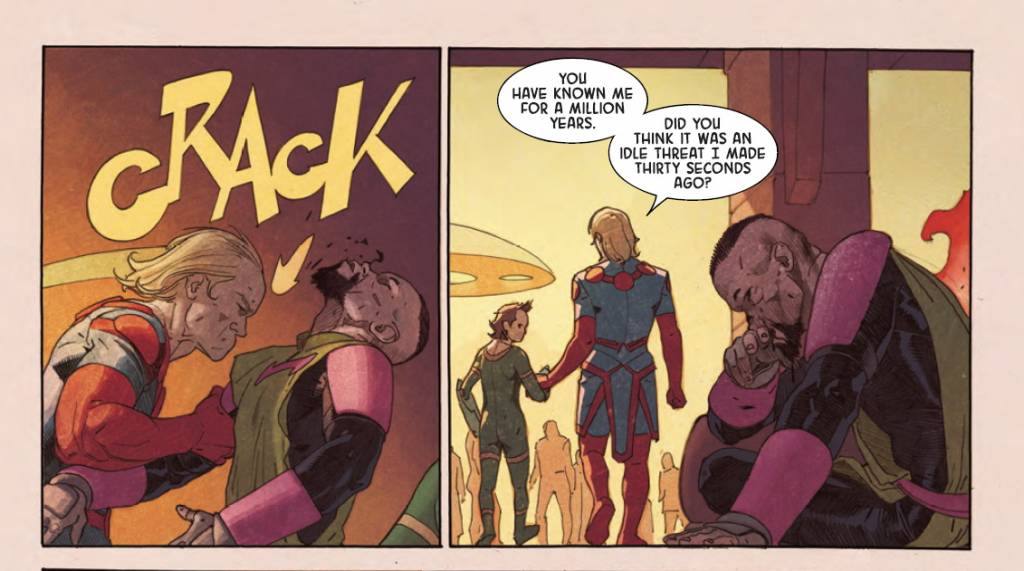 Next is the highly impressive artwork. The world Esad Ribic created for these Eternals to live in is bonkers. Matt Wilson is the modern-day comic book Picasso with the colors, so you know that was going to be tight but Ribic goes hard with his vision. The scale, the scope, the grandiosity! Places sealed between molecules and cities located within echo dimensions? Nuts. Can't wait to get more of that. The mid issue cameo was typical, yet enjoyable. I imagine we'll be seeing some key members of the MCU as this story unfolds since it is introducing so many readers to this relaunched group of pseudo gods about to make their movie debut soon.
Lastly, purpose. Now that the Eternals have no clear cut celestial purpose, where do they go from here? In the 'Never Die, Never Win' edition of this book, Gillen says he wants to honor the past while pushing the Eternals into the 21st century. Safe to say he's off to one hell of a start with Eternals #1.
9 Excess Deviations Corrected out of 10
Want to get Black Nerd Problems updates sent directly to you? Sign up here!
Follow us on Twitter, Facebook and Instagram!