Writer: Brandon Thomas / Artists: Khary Randolph, Emilio Lopez, and Deron Bennett / Image Comics/Skybound
We're at that point in the Excellence story where I have more questions than answers. Issue #3 was big on action, but the causes of things continued to escape me. Those reasons don't become clear in #4. What does become clear is the momentous nature of those questions, and of the metaphor that the team is building. By the end, the hint of a resolution hangs over the comic. Which just makes me want to read issue #5 right.now.
Four: Soul Burn Slow
We return to our now fated twosome, Spencer and Aaron, as they lie in their hospital beds. These two brothers beat the brakes off each other, using every bit of magic in their arsenals. Through the fighting, which is relived here in two-tone flashback, the raw edges of their collective anger becomes clear.
Spencer hates his father — you knew that — and hates Aaron for always being on his father's side. Aaron hates the system he's found himself in, one he's sacrificed for and that now is requiring of him the biggest sacrifice — the woman he loves. To drive this point, Father Dales doesn't visit Spencer in his hospital room, he visits Aaron. And feeds Aaron the usual load of "it just be's that way sometime" excuses before carting him off to jail. Who visits Spencer?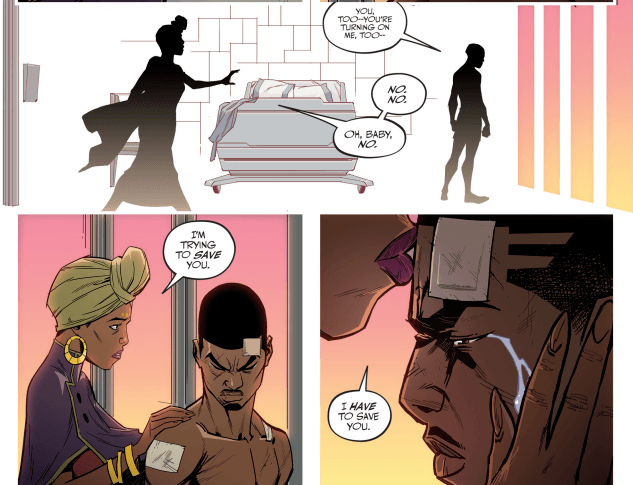 His mom.
Mother Dales' appearance here is our second hint to what's *really* going on in the Aegis system. The first was the network of stolen magical wands. Now here, she signifies a whole lot. Thematically, perhaps most importantly, she speaks to the ways that Black women and mothers try to temper the darker impulses of our sons and brothers while also managing our own. She's heavy with a contained energy in her panels. This won't be the last we see of her, or hopefully of other women in the narrative.
I noted that the flashbacks are "two-tone," and you probably thought I meant black and white. That's because you read boring comic books. These flashbacks are two-tone, blue and livid green, or red and purple. Randolph, Lopez, and Bennett are not here with that basic output. They combine sparkling magical combat with a fist to face street fight in a way you won't see anywhere else. And they can still end here, nailing it with a single side-by-side where the faces say everything.

Another strong issue from a team that's going all out, Excellence #4 keeps it moving. I'm hopeful we'll get more than 6 issues in this arc. This are just too many questions to wrap up so soon!
8 quickies out of 10
Reading Excellence? Check out BNP's other reviews here.
Want to get Black Nerd Problems updates sent directly to you? Sign up here!
Follow us on Twitter, Facebook and Instagram!