Cover image by Autumn Sacura
Freeform, the channel formerly known as ABC Family, has just announced that it is planning to bring a Cloak and Dagger television series to the small screen. The reaction from fans of Tyrone and Tandy was what you would expect – initial elation soon followed by multiple questions of concern and hesitation. The story of Cloak and Dagger lends itself to be the perfect teen drama, which was once ABC Family's specialty. Hell, in one incarnation of the two, they were high school sweethearts that got into an accident on the way to prom. If that doesn't sound like a teen drama trope you haven't watched enough TV.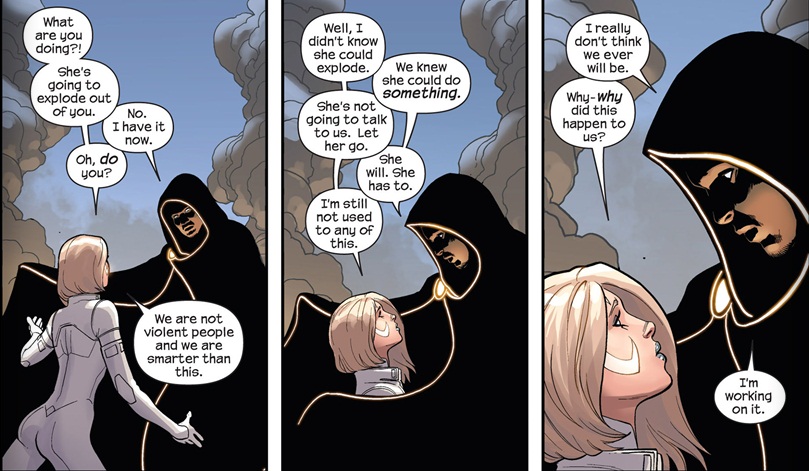 [divider type="space_thin"]
For the unfamiliar, Cloak (Tyrone Johnson) and Dagger (Tandy Bowen) are a super-powered duo that have been around in comics for a few decades now. They were actually birthed to support the big "Say 'No' to Drugs" campaign in the 80s — they were forced to take drugs that activated their powers to manipulate darkness and light. As you'd expect, they spent a lot of their time from then on busting up drug operations in suspiciously busy piers and breaking into drug kingpin penthouses.
If there were ever a Marvel title that would fit in a dramatic high school setting, it'd probably be Cloak and Dagger. You know, besides the X-Men or Spider-Man (been there, done that). Freeform creating a show that follows the lives of a teenaged interracial couple actually makes a whole lot of sense. But that's only part of the story.
Sure, Cloak and Dagger's story has all the elements you need for a Degrassi High with capes and spandex. But there are very understandable concerns that while it should knock the drama out of the park, the action and darker tones that come with the series will be compromised.
The more I think about it, the stronger my memories of Big Wolf on Campus become. *shivers* It was like MTV's Teen Wolf for toddlers. This could happen here:
Some are wishing Netflix could've made the series. But, in all honesty, this may be better for the Marvel Cinematic Universe overall. So far, outside of its movies, Marvel's managed to make products for all age groups, except for the often forgotten tweenagers. Kids have Marvel cartoons for days. We adults have the entire Defenders run on Netflix. Sure, we often all enjoy a little bit of everything from time to time, but we can also take security in knowing that there's something made specifically for us that we can turn to. Cloak and Dagger could be that for 11-18 year olds that will grow into adult comic book fans.
I'm just hoping that the show avoids the all-too-clichéd tropes of other teen dramas – underaged drinking, problematic prom dates, and treating a dime bag of herb like the devil. Those will likely make the rest of us still in shock that we're seeing portals of darkness and knives of light on television once a week want to gag.
Are you following Black Nerd Problems on Twitter, Facebook, Tumblr or Google+?