It's the 2nd day of the tournament and the static is on Thor levels. Which God of High School participant will go on to represent Seoul? I'm not even gonna talk about the creepy religious crew looking for the "key" to their mission because all we get is foreshadowing and hooded cult vibes. Also, there are plenty of fists, kicks, and incredible fight scenes we need to dive into, so let's get to it.
From a Wolf to a Sheep
The Kang Manseok (aka Slippers Jerk) vs Jin Mori battle ramifications come in and this is not how I expected things to turn out! While Mori is on his 2nd set of 1000 handstand push-ups, Kang can be found cowering in the fetal position talking about "Mon….ster" all supremely shooketh.
We don't know if he's referring to Mori or not, but the fact of the matter is that the Madera of High School just got turned into Screech after a haunted house.

My man 50 grand Go Gamdo is out of commission. Bodied. Those one-handed Agent Smith punches to the face and disrespectful style Taekwondo knocked the honorable one out of the competition.
A Body of Stone vs Blades of a Body
The next battle pops off, and it's our girl Yoo Mira going up against the wrestling phenom Mah Miseon! It's looking like Miseon bout to wash Mira because homegirl out here with the Emma Frost diamond body. Mira tried to get a good wooden sword swing on her, but she got the agility of Squirrel Girl to match the body of The Thing! The next series of moves had me wildn out on the coach. A big swing and miss from Mira and Miseon counters with a mufuckin ROCK BOTTOM!! Then she had the audacity to backflip away, climb the top rope then come through with a 10 ton Eddie Guerrero frog splash!
The onslaught of vicious attacks had the whole crowd lit. It was looking like Mira was bout to be taken out, but our girl got heart! Miseon whips out her finishing move; this spinning piledriver of pain that leaves Mira without her sword, but she got that Leroy glow and will not be defeated! Without a arm I spit! Without a sword she fight! Without a sword she fight!

Mah Miseon reaches into the wrestling move hall of fame for one more attack and pulls off a hurricanrana with ease. Mira dodges the next 2 and responds with a behind the back and over the head straight kick to the face before turning her body into a human blade and slicing and dicing Mah Miseon up like The Butcher of Blaviken. A quick Moon Sword style #5 and it's curtains for Mah Miseon!!! The announcer couldn't believe it! Jin Mori can't believe! Jin Mori wants to fight her, of course.
Sidebar: I love the full embrace God of High School gives to main character backstory. Not only do we understand an accept that Daewi is in this tournament for the money, but now we can root for his capitalistic way because he's doing everything he can to support his friend who is stricken with some illness. It was alluded to last episode when he was marveling at the nano-tech wristband that could fix any fighters injuries but seeing him visit the homie in the hospital sealed the deal! I could go in about the battle that Han Daewi has with Baek Seungcheol that bookworm legend, but I'll let everyone soak up the amazing fight without any spoilers as we begin to put all due respect on Daewi's name!
Disqualification Determination
The test commissioners decide to punish Mori by forcing him to fight the boss's homie with the green hair, despite that fact that he should've been disqualified. More on that later. The biggest takeaway from this scene is that Deku's long lost uncle is Mori's new opponent but our boy only has hands for the blonde commish. After coming to terms with his fate, Mori throws a shot at four eyes and tells him to lose the specs or he might put his eye out in the fight. Personally, I find the four eyes line in anime pretty lame, but I wasn't ready for the way that one-liner would come full circle!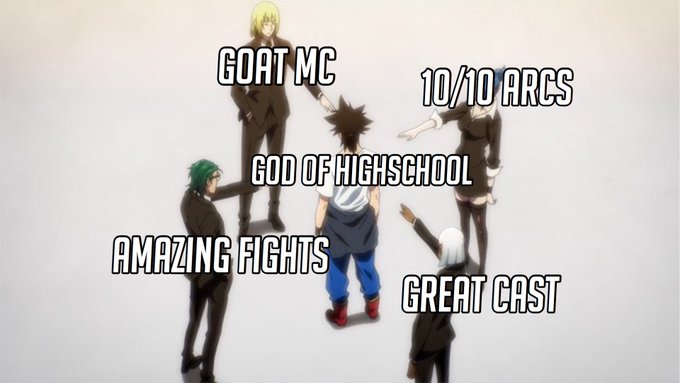 Before leaving the principal's office, Mujin Park gives Mori a little gift to help him restore his energy and get his strength back up for the fight tomorrow. In that bag of fuel were some special bananas that Manga fans probably went wild for! Anime only fans will soon find out whats really good but for now, he links up with Mira and Daewi talking wild smack about how he's gonna beat Commissioner Q. Mira properly chastizes him for his brash actions and overconfidence, but we aint here for all that!
True Potential and True Power Revelations
Soooo we finally get to see our boy Jin Mori get to flex his full range of abilities! Letting that boy fight someone with the allegedly high strength of a commissioner to see how good he really is had me so hype! Simple rules. Young boy has the seemingly Herculean task of simply knocking dude down. The match star….WHAT?!?!? DO THINE EYES DECEIVE ME?? Mori lightly knocks the administrator down without hurting a hair on his body after cordially removing Commissioner Q's glasses!
Remember when I mentioned that Mori should've been disqualified? Yeah Mujin Park, who has been getting tidbits of screen time in the first 2 episodes noticed that Jin Taejin is Mori's grandfather and decided to test our main character out with some treats the "elder" advised against. We don't get to see why he gives the fruit to Mori yet, but I think we can all make a pretty good guess that it has something to do with what we saw from the commissioner's overreaction to getting roundhouse kicked by Jin Mori. Can't wait to see what else this "Tiger cub" can do on the next episode of God of High School!!
Watching God of High School? Check out our other reviews here!
Want to get Black Nerd Problems updates sent directly to you? Sign up here!
Follow us on Twitter, Facebook and Instagram!