There're a few things in life you can depend on. Luckily, Fatimah Asghar writing and directing a banger project is one of them. You may remember her 2017 series Brown Girls hitting the world wide web. Fatimah returns this time with the short film Got Game. If you haven't seen Got Game yet, you can check it out below then get back to this review. I ain't trying to spoil any of this beauty for folks.
GOT GAME? (Short Film)
from
HDDN POOL
on
Vimeo
.
Ready Player Flirter One?
Got Game follows Khudejha Omar's (Kausar Mohammed) journey in a queer sex party. What makes this short film slap different is as soon as Khudejha appears, the audience gets a video game stat reading of the levels of Khudejha's feelings broken down into power, defense, and thirst. I already knew there would be a video game element to this project via promos so seeing the character introduced this way had me from jump. You're immediately given a sense of what's to come with these video game visual effects (shout out to Asheten Winger). The effects not only provide comedic relief but provide a subtle visual mental health check-in for our lead protagonist.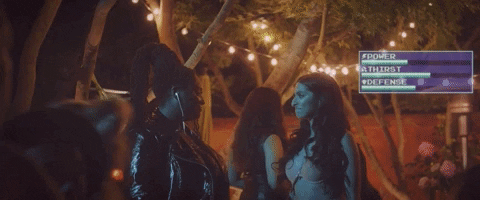 We notice Khudejha's levels rise and fall to different effects. It's noticeable when Khudejha's name is butchered leading into the conversation around her Pakistani background with the Justin Shanks (Aaron Burleson), and her friend Natasha's (Aasia Lashay Bullock) wardrobe adjustment to Khudejha's power shirt outfit and re-telling of her business during her arrival at the queer sex party. Khudejha's power lowers in each of these occasions. There are times when her power is lowered and we see her defense raised, or when there's a rush of confidence her power increases which may lower her defense and raise her thirst depending on the situation. It's such a sly way to portray the character's feel not only through physical body language but these little pop-culture video game item details too. It's like a modern Scott Pilgrim vs The Universe but with a retro twist upon the graphics… and the brown folks that were in the original script.
Power-up Writing
Soon as Khudejha closed the door to the uber and the music kicked in the vibe was set. It's such a short transition, but it completely sets you into the mood for the party Khudejha is headed to. The ability to have an audience legit vibe from fucking jump before is a skill. Also, I love characters that have believable dialogue. Overhearing Natasha's "You know I'm bout to go out and have a good time and you wanna call and start a fight about me not eating pussy. Your pussy is always eaten!" phone conversation with one of her partners (one of them) as Khudejha's walks up was not only hilarious but a genius interpretation of art imitating life. Upon hearing that, I knew this was going to be an authentic feel. When Fatimah does a project, the dialogue and writing is the thing I always look forward to the most. That authenticity between characters or characters navigating through their environment.
Khudejha's interactions with Natasha give off the realistic portrayal of a genuine friendship. Juxtapose that with Khudejha's talking to possible thirst/love/crush/ interests showing her awkwardness, slight confusion, and unsureness of navigation at this queer party. It's these elements that make a character relatable or someone to be invested in.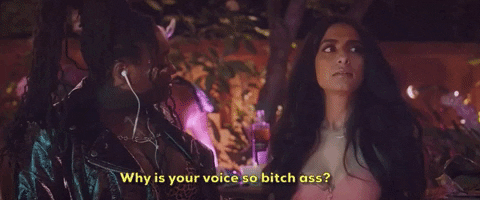 Even the characters we see for a moment trying to talk to Khudejha have these one-liners that tell us all we need to know about them. One woman asking if Khudejha's a Scorpio then stating how she refuses to date a Scorpio before she can even answer is a subtle nod to folks into astrological charts/signs. The humor of that moment is being able to recognize that character in someone you may know or have met. They're a nod to a personality type and aren't made to be a caricature or the butt of the joke by having them linger for too long. *Slaps table* That's how you fucking comedy. That's how you have art imitate life authentically. From Natasha's ghosting SFX disappearances to banana peels and shells over people's heads representing them as obstacles, Got Game tight walks that fine line between fantasy and reality. As realistic as this is, there are so many elements that could present a strong case to make you think you might legit be watching characters that are avatars in a video game.
Giving Me (Extra) Life
All the big/little moments of dialogue and character interactions really lay the groundwork for Got Game to feel and be so genuine. Khudejha's journey navigating through this sex party space being displayed as a subtle video game adventure is brilliant and serves as a queer story with universal elements. I'm watching this as a cisgender hetero male, right? Obviously, I don't know the struggles and day to day dealings of queerness as an identity. I couldn't possibly understand that. However, what I can relate to is locking eyes with someone that gets your heart racing and then trying to gather the power to say something. That is a universal language that isn't bound by sexual orientation.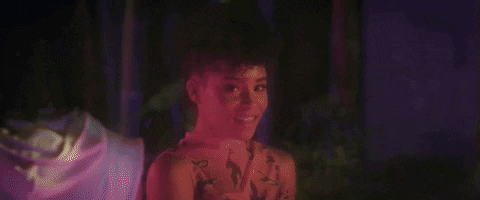 Got Game works well at showcasing a queer story with these universal languages. It ain't watered down or catered for folks. If you can relate cool, if not you probably suck or are boring as fuck still cool. The heart of the story, that is real rap artistry to me is how we follow Khudejha's journey thinking sex was the goal but see how legit vibing with someone, and that person being comfortable enough to hold hands together can be enough. Also, notice how the point of view flips from Khudejha trying to being the initiator, to her being the approachee, and how she then becomes the one out here upping the state of the crush rate. Peep how they flipped that shit?! That's the cutest real rap life content I'm trying to consume in these cyber streets!
Got Game further proves how good Fatimah Asghar is at capturing these snapshots of life. By the end of this fourteen-minute short film, I'm like, so when's the series coming out? What's the sequel. It ain't hard to see why either. This is the type of content we be talking about seeing and wanting to see in media. So when it gets done, and done fucking correctly on the writing, setting, casting, and vibe? Sheeeeeit, there ain't no choice but to stan.
Want to get Black Nerd Problems updates sent directly to you? Sign up here!
Follow us on Twitter, Facebook and Instagram