Writer: Tom King / Artist: Clay Mann and Lee Weeks / DC Comics
Heroes in Crisis appeals to very particular parts of my narrative sensibilities. It is an extended character study of a character under high levels of duress attempting to cope. It is an exploration of mental health as it pertains to the larger than life. It explores different dimensions of the mask motif that is sometimes forgotten when dealing with superheroes. It is a story of vignettes that largely exist independent of each other outside of the shared ecosystem. All of this to say: as much emotional distress as I am accumulating by reading King's latest miniseries, I am also enjoying it immensely because it speaks to everything I have ever loved about superheroes stories and some stuff I didn't know I needed.
The open page features Mann's incredible 9-panel arrangement, featuring Lagoon Boy, The Flash (Wally West), and Booster Gold. The trio introduce themselves, quip their catchphrase, and recall how long they have been at Sanctuary.
What follows is a closer look of each of the three characters as they go through "therapy," although therapy is not quite the exact word. Weeks takes over art duty for the majority of the issue as each character begins to explore their own self-designed crucible while Sanctuary queries them on their motivations.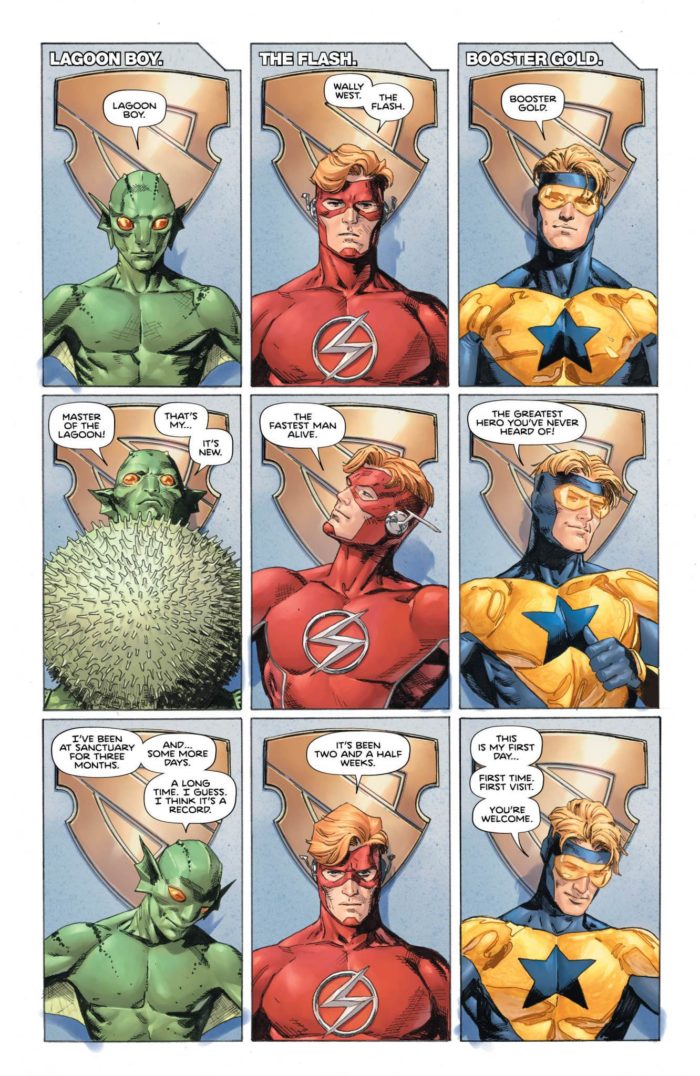 King carefully cycles through the trio, and this parallel pacing of the stories purposefully throws you off balance. Each character is at a drastically different stage of progression, facing drastically different demons, but when the stories inevitably collapse, the constantly shuffling culminates in yet another sucker punch. Hell, Heroes in Crisis may just in fact be a series of sucker punches right now. King's body count seems to increment higher and higher every issue and it's exhausting. But at the same time, this exhaustion is fascinating.
Heroes in Crisis #3 takes us a few hours before the start of the series proper and fleshes out this secretive bit of the world. It's an interesting element of DC mythos that I am captivated by and while I understand the misgivings some will have about the sheer bleakness of the series. There is something appealing about the humanity King is trying to uncover, and I remain here for it.
9.1 "Again!" out of 10
Reading Heroes in Crisis? Check out BNP's other reviews here.
Want to get Black Nerd Problems updates sent directly to you? Sign up here!
Are you following Black Nerd Problems on Twitter, Facebook, Tumblr or Google+?