Writer: Mark Millar / Artist: Ricardo Lopez Ortiz / Image Comic
Issue #4 of Hit-Girl found a way to tie together every thread that Millar and Lopez Ortiz have been weaving. Colombia is in shambles fam. 'Happy to Murk a Mufucka' Hit-Girl and 'Murder On Sight' Mano have eliminated every enemy Padre had static with. Now they've set their sights on all of Mano and Padre's homies and the game done changed. Where Mano 'The One Man Massacre' once relished in the opportunity to pop the top off random goons, he now knows he's been played and is a puppet for a psychotic blonde tween on a quest for vengeance.
In reality, Camila is the only one out to even any scores. We finally get that certified heartbreaking backstory from abuelita with the good burner. She's had Mano in her crosshairs from the jump. By the final turn of these pages, we witness the motivation behind her hatred filled vendetta and the end of her pain-filled journey.
When it comes to the other side of this warzone, we got Padre who's been sitting on this throne of reputation and homicide this whole time. For a while, I thought he would make some wild, mind-blowing power move to show his formidable capabilities and influence. I was pleasantly surprised to learn the truth of it all.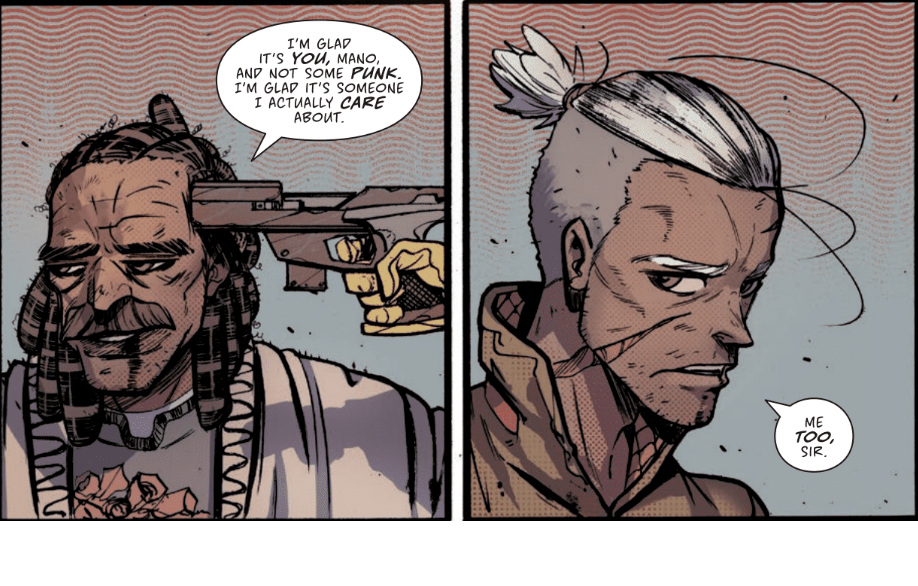 But the thing that made this issue more impressive than most of it's predecessors is that Millar infuses a formidable amount of heart into the end of this story and we're left questioning some of Hit-Girl's tactics, but loving her end game. We've seen plenty of bloodshed in this comic, but we get some genuine feels this go around.
The end of a mini Millar era has come! He and Ricardo Lopez Ortiz made sure to jam pack as much deception, carnage, and backstabbing into this final issue as possible. Despite the lofty goals, both artist and writer hit their mark. Hit-Girl finessed herself a killing machine partner in crime..or justice depending on your point of view and used him to have a sociopathic good time, cleaning up the gang banging streets of Colombia. Twas savagely beautiful.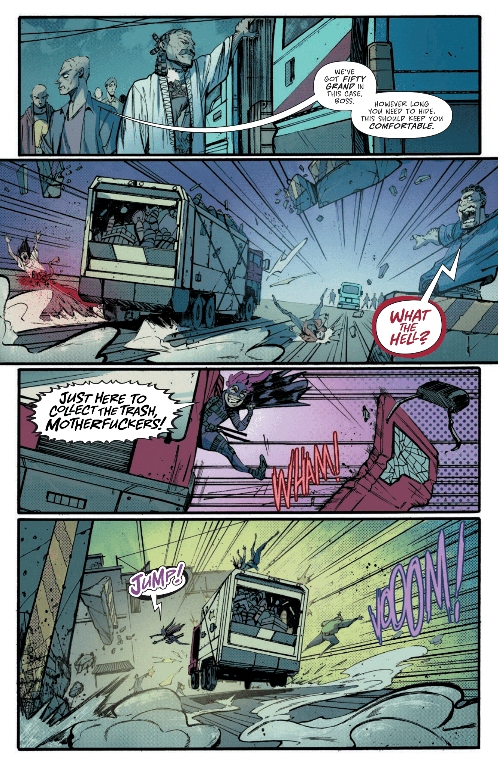 This was the wig snatchin, fade delivering, POC flooded, Geneva Convention banned, 007 gadget and tween rampage filled Hit-Girl comic book that Mark Millar fans deserved.
9 Garbage Truck Joy Rides out of 10
Check out the first 3 reviews of Hit-Girl here.
Are you following Black Nerd Problems on Twitter, Facebook,Instagram, Tumblr, YouTube or Google+?