Hotel Artemis looks like the Lock Stock and Two Smoking Barrels story of the Hotel from John Wick. This trailer is a red band trailer and I am hands up in praise for it.
The scene is straightforward, a hotel for criminals with a specific set of rules, one, I assume, is no killing in the hotel. Now the biggest part of this hotel, besides the high tension atmosphere of killers all in such close proximity, is that the hotel is actually for the treatment of wounded criminals. Jodi Foster is the Night Nurse of this world and is a character I have not seen her play before, which leaves me elated. Rugged, rule enforcer, doctor and someone who gives No F$#ks.
The story seems to follow one criminal that brings in his partner shot during a heist, but whoever they were ripping off is coming for more blood. Apparently, a pen holding 18 million dollars worth of diamonds made it into their possession and someone is definitely looking for that. "This hotel was built on trust and rules" Fosters character says, I'm thinking, this particular Boss coming for those diamonds also gives no F$#ks.
We got ridiculous talent out the wazoo! I mean look at this cast!
We got Sterling K. Brown – Mr. I eat, sleep, breathe the set life, being in every movie and TV show these days, this time playing our "Bank Robber." We got "Paper Boi" Brian Tyree Henry as our wounded criminal. They must have done something serious to piss of Mr… Jeff Goldblum as "The Wolf King"!!! Are you kidding me? A movie where Jeff Goldblum is the head honcho crime boss? Why haven't we had this earlier? He graduaGrandmasternd master to Grand villain, and we are here for it – hands down.
Then you got my girl, Sofia Boutella known for Atomic Blonde, the first Kingsman flick and just all around beautiful badass, I will watch any movie she is in.
We bring in Charlie Day, The funny Jenny Slate and Bautista as an orderly, this ragtag group of characters makes you think for a second, is this Guy Ritchie for real? Then the feeling of the movie is like, nahh…You find out it's that guy who directed Iron Man 3, Drew Pearce. Ummmm ok, that's cool it wasn't Iron Man 2 and he gave us a Mission Impossible – alright. Either way, he has created a world for us that is gun-toting, fast-paced, thrill ridden and tantalizing.
We're given glimpse into this world for a brief two and a half minutes, and the surroundings makes you feel like it takes place in today's world and then you see this…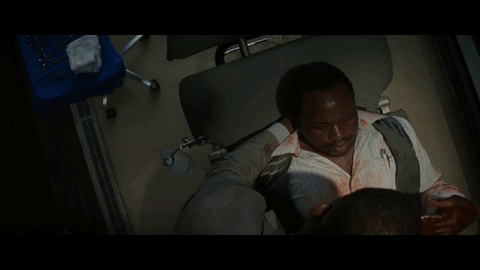 A room full of high tech gadgets and robotic arms. It could be set in today with a little Mission Impossible new technology, or we're in a future crime world we as audiences will get to explore. The crazy thing is, we're just seeing this now, this movie comes out in like 2 weeks! In Theaters June 8th. No matter what, we are in for a ride and you better believe I'm already reserving my seat.
Are you following Black Nerd Problems on Twitter, Facebook, Tumblr or Google+?