Writer: Jonathan Hickman /Artists: Pepe Larraz and Marte Gracia / Marvel
Be safe. Be strong. Win.
–Cyclops
You know what it is. Wednesday came and went, so Hickman backkk!
The Orchis mission took a hit off the rip, with agent Erasmus sacrificing his life in order to blow the X-Men's modified Shi'ar class scout to hell. Archangel and Husk caught the fade off the rip. Wolverine out here putting his decimated body back together like Mr. Potato Head. Nightcrawler caught the ill internal injury but fam is soldiering on to support Cyclops' statement that "We can finish it. We have to. Or this was all for nothing." Straight heat from the undisputed leader.
I commend Hickman for many things, but arguably his greatest ability is to take these X-Men who have developed decades of ride-or-die fans and still manage to paint these characters in a light that makes you appreciate them more than you ever have. He captures each mutant's voice in a way that showcases their most endearing qualities and at the end to the day, makes them look like a straight-up badass. Scott's determination in the face of certain defeat is infectious, evident in his ability to rally any team to the Professor's cause. Wolverine's gruff, any-means-necessary mindset has always drawn fans to him like metal to magnets. By the end of this issue readers will have another reason to Stan the adamantium laced Canadian.
Mystique's questionable body language and stand-offish nature continues, but proves her worth, without a doubt. Monet is a new character to me, but she made an indelible mark on the kid after her delightful statement to some unlucky Orchis lackeys, "My goodness, you have bitten off more than you can chew". Nightcrawler, my second favorite X-Man of all time (whattup Mr. Summers!!!), is the MVP of this issue for me. He is tasked with teleporting everyone to their respective control collars (to release the Mother Mold, stopping Nimrod from coming online), as well as taking down one of the collars himself. He goes about this task all while pushing through his punctured lung, lacerated kidney and large intestine filled with shrapnel. Let's just say, the X-Men live up to their extraordinary name. But at what cost?
The idea of Death was at the center of issue #3, with Professor X and Magneto explaining that no one can truly die, as long as they're remembered. And if you help to found a sovereign nation, you can never be forgotten. This theme permeates throughout issue #4 in so many ways. By the close of this one, Charles Xavier is done with the smirks and the pleasantries. Homie is fed up, tears have replaced his hope and optimism and it's looking like he might be fast tracking his ambitious plan for something far more wrathful. I can't wait to see it all unfold.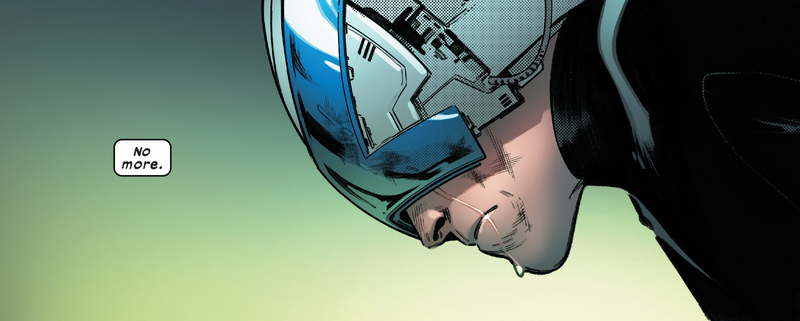 Without giving much away, I need to talk that Larraz and Gracia crushin the game ish! At this point, you know what we're going to be blessed with. The perfect example is the telepathic link between Jean and the team back at the Krakoa moon base, but more specifically the watery representation of Marvel Girl that appears when talking to Charles and company. The hydraulic form is glistening with beauty and I continue to be amazed at the things Hickman, Larraz and Gracia concoct for this story.The action sequences have a flow and progression that make you wanna slap your favorite artist for not producing work this pristine. Finally, let me just say that the final pages we see Wolverine in are beyond stunning. They made me, a Logan hater, marvel at his greatness. House of X Issue #4 brings the Nimrod eliminating mission to a close and does so in wildly dramatic fashion. Another phenomenal issue for Jonathan Hickman, with Powers of X up to bat next week.
10 I'm Not Taking Prisoners Today out of 10
We know you're reading House of X/Powers of X. You can read our other reviews here.
Want to get Black Nerd Problems updates sent directly to you? Sign up here.
Follow us on Twitter, Facebook and Instagram.