Lucius like "I know Jack-Jack might be the reincarnation of Thanos, but…you really gon let him speak to you like that?"
Disney Pixar dropped a hot new Incredibles 2 trailer on us during the Winter Olympics, and the 90s kids collectively yelled, "FINALLY!" We honestly thought we were gonna get Detox before Incredibles 2 showed us anything.
The trailer picks up right where the last scene of the first film left off with Mr. & Mrs. Incredible facing off against human internet troll The Underminer. This mole in the face looking boy threatens to sink the city's citizens and their tax dollars down to his level, so Helen and Bob gotta give em the PG hands right quick. Just so long as the kids are at a safe distance.
Back at home, Dash says with his chest that him and the other chirren can go just as hard as the adults; it's time for them to stop freestyling and drop some day-saving bars on they own superhero mixtape. But Elastimom ain't having nunna that, cuz the feds are cracking down on superhero activity.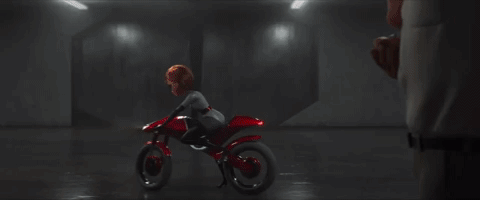 Just when when it seems like the superfam is gonna have to go back in deep cover, Bob's day one/actual other side of the pillow Lucius 'New Freezer' Best slides out of his Frozone with a new come up. This tycoon dude wants to reboot the Supers, but they need a need a new angle. Lucky for them, Elastigirl can stretch in every angle possible, so she hits the road solo while Bob stays home with the kids.
Violet's old enough to handle herself but Dash needs help with his math homework (that new math line is classic), and Jack-Jack needs…OK, that child needs Professor X. Seriously, he's got more powers than kids got apps on their phone. They need to do something before he starts channeling the Phoenix Force.
Never mind. Hopefully Edna's got a suit for that.
The world of the Incredibles doesn't seem to have missed a beat. The characters are just as sharp, the animation upgrade makes everything we loved about the universe look even better, and our favorite theme is blasting through our earholes.
It's gonna be a blast seeing grown adults with W2's and college debt stiff arm small children to see their favorite Pixar heroes return to the big screen June 15.
Are you following Black Nerd Problems on Twitter, Facebook,Instagram, Tumblr, YouTube and Google+?